An ordinary West Yorkshire family leading a fully grown tiger around the streets of Holmfirth on a lead sounds just like as fanciful as any classic fairy tale but it actually happened.
The Overend Family were a former circus act who brought the tiger back to West Yorkshire as the second world war broke out and Fenella became a much loved local character.
Now award winning children's writer Mike Kenny will tell this bizarre and amazing story in A Tiger's Tale which he has written for M6 Theatre.
"When they were in South Africa the family worked in a circus that toured in a train that went from town to town and village to village," says Mike. "The circus had a menagerie where the mother tiger give birth to two cubs that she couldn't raise, and the owner of the train asked the Overend family if they would try to keep them alive.
"One of them died, and when war broke out the international circus had to go their separate ways, so the Overends came back to Holmfirth. They didn't really know what to do as the tiger had been kept in captivity all its life, and there was nowhere for it to be, so they made this extraordinary decision to bring the tiger back with them."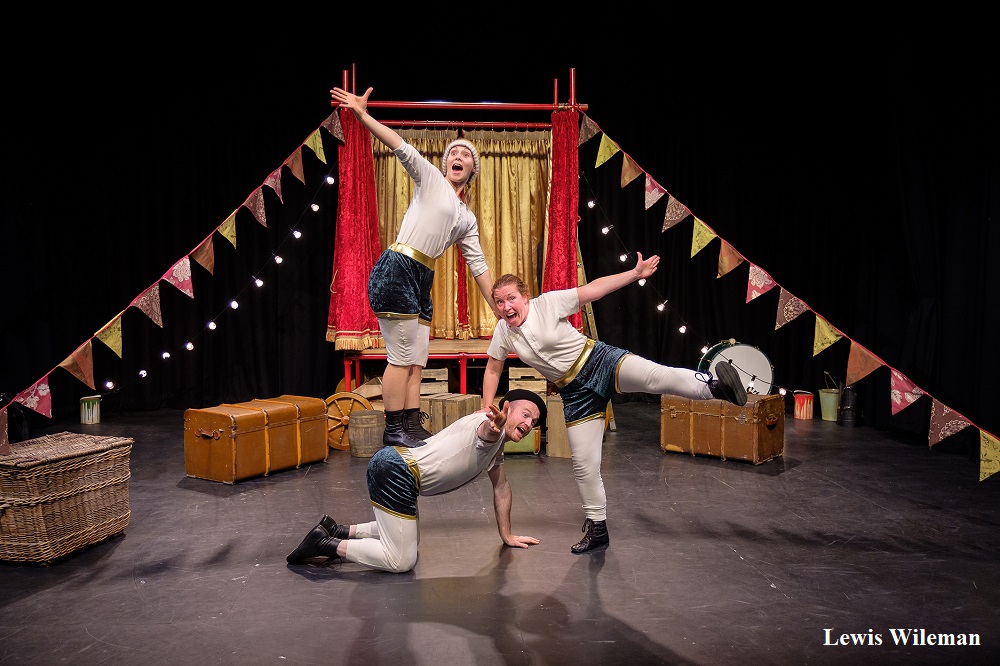 The story then gets so surreal that even Little Britain star turned best-selling children's author David Walliams would dismiss it as fanciful, but the Overends cheerfully got on with rehousing their growing furry friend in their home, and she became known as the Holmfirth Tiger.
"They made a pen in their back garden because this tiger was one in a million as it was completely tame, and it never, ever did any harm to anyone in the course of its 14 year life. So they kept Fenella in their house in Holmfirth, and took her for walks. She became a local character and kids would come round to pet it.
"The house is still there today and you can still see the scratches on the door that the tiger made. It's extraordinary in its very ordinariness."
Kenny is a masterful adaptor of children's stories for young theatre fans and couldn't his luck when such an extraordinary tale of real life courage fell into his lap.
"I have the reaction that everyone has, which that this is amazing, and you couldn't make it up. But when you sit down to write it this is a story where nothing happens. The thing that is amazing about this story is doesn't obey any of the rules of a story.
"If you were writing it, and put a tiger in the story something bad is going to happen, but what is extraordinary is nothing bad does happen. So for me the challenge was to write a play where all these things are in place that look extraordinary, and none of the bad things that could happen actually happens, and make that interesting."
At the heart of every fairy tale is children's story is someone deciding to take a big risk to help other people or being a decent human being in the most extraordinary circumstances.
"It is absolutely about doing the right thing, and it is about how amazing ordinary people could be. It's also about how real life can often be more extraordinary than the big stories," muses Kenny.
"I think we gravitate towards the sensational in the media. It's interesting that reality telly has become such a big thing but at the same time even within reality people push for things to be heightened and more dramatic than reality,"
"I don't know what that does to us living in the world, and I work a lot for kids, so I'm not sure how we can say to kids just have a normal life and that's alright."
It's all well and good having such a sensational story to tell, but how will Kenny and M6 keep young minds engaged with the action in front of them?
"We've framed it as the family as a travelling storytelling circus group so there is music, songs and circus tricks to tell the story. One of the performers is a circus performer and all three of them can play instruments and sing.
"There is quite a few surprises in the way the tiger is portrayed and some quite amazing puppetry. "
Kenny's bread and butter is adapting classic yarns so the challenge of taking a real life story and making it work has pushed him to his limits as a writer.
"The way that my business of doing stories for children has gone over the last 20 years is that people are less and less wiling bringing to bring their kids to a story they've never heard. You can understand it, but with adaptations of books and traditional fairy stories you can only do so many of them.
"We do have to start doing new stories and this one is great in that really happened, but it also has that feel of a traditional tale. Any time I get I get asked to do an original piece it's the best."
A Tiger's Tale 2018 tour dates:
Theatre by the Lake, Keswick - SAT 10th – MON 12th FEB
New Wolsey Theatre, Ipswich - WED 14th & THU 15th FEB
Pocklington Arts Centre - FRI 16th FEB
Lawrence Batley Theatre - SAT 17th FEB
Warwick Arts Centre - FRI 23rd – SUN 25th FEB
the egg, Theatre Royal Bath - FRI 2nd – SUN 4th MAR
Rhodes Arts Complex, Bishop's Stortford - THU 8th – FRI 9th MAR
Half Moon Theatre - SAT 10th MAR
artsdepot, North Finchley - SUN 11th MAR
Pitlochry Festival Theatre - SAT 17th MAR
Eden Court, Inverness - SUN 18th MAR
Platform, Glasgow - TUE 20th MAR
Lyric Hammersmith - SAT 24th MAR
The Lowry, Salford Quays - SUN 25th MAR
Stamford Arts Centre - WED 4th APR
Norden Farm Centre for the Arts - THU 5th APR
Pontio, Bangor - SAT 7th APR