LIVER BIRDS FLYING HOME is the brand new musical featuring Beryl & Sandra, the iconic characters created by Carla Lane and Myra Taylor from the classic TV series The Liver Birds. The musical features lyrics by Barb Jungr, music by Mike Lindup and book by Barb Jungr, George Seaton and Linda McDermott. Produced by Liverpool's Royal Court, Olivier Award winning West End producer James Seabright and George Seaton and directed by Benji Sperring, the musical opens for a limited engagement from Friday April 13th.
In the late spring of 2013 Barb Jungr and George Seaton were walking down Hardman Street in Liverpool and looked up at the Liver Bird statues:
"I wonder why no-one's ever done a musical of The Liver Birds?" Barb commented
George: "Why don't you?"
Barb: "We'd never get the rights"
George: "I know Carla Lane"
Barb: "Call her!"
Carla Lane, and subsequently her and Myra Taylor's estate, granted the exclusive rights to the creative and producing team to develop an original storyline and script using her beloved characters set predominantly in the present day - forty years after Beryl & Sandra tore up the city of Liverpool.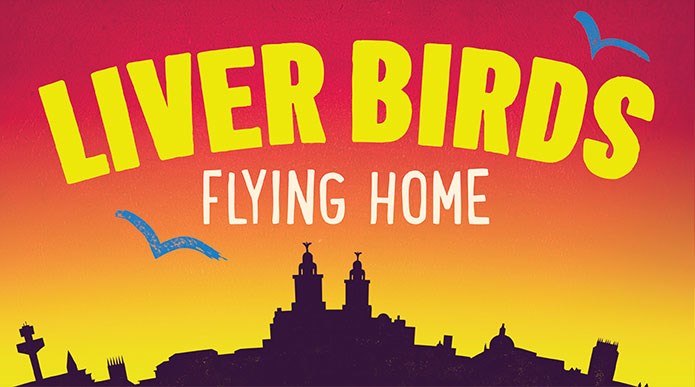 It's this city that is the backdrop for a story of enduring friendship, achievement and regret, changing attitudes and politics from the 1970s to the present day. Liver Birds Flying Home is a funny, emotional and ultimately uplifting musical with 23 brand new songs, which will delight fans of the original series as well as introducing the characters to a new generation.
Following a one-off concert performance in Liverpool in 2017, which received a standing ovation from the sell-out audience and five star reviews favourably comparing it with Blood Brothers, Liverpool's Royal Court is thrilled to be co-producing the forthcoming full production:
Kevin Fearon, Executive Producer at Liverpool's Royal Court: "The Liver Birds is a TV legend and we are delighted to be bringing Beryl and Sandra home. I have very fond memories of watching the show so when we were approached with this project I jumped at the chance to get involved. "
George Seaton, co-producer and co-writer: "The quality of Carla's writing is staggering and she was rightly protective of Beryl and Sandra. I'm thrilled that our idea to bring their lives into the present day met with her approval and honoured to be involved in continuing the story of The Liver Birds."
Barb Jungr, lyricist and co-writer "Women's lives, their hopes and dreams and the innocence of their young selves. That's all of us, isn't it?"
CAST:
Lucinda Lawrence - Young Beryl
Lesley Molony - Beryl
Joanna Monro - Sandra
Nicola Munns - Young Sandra
Mark Rice-Oxley - Con
Based on the TV series THE LIVER BIRDS by Carla Lane and Myra Taylor
Lyrics by Barb Jungr
Music by Mike Lindup
Book by Barb Jungr, George Seaton and Linda McDermott
Directed by Benji Sperring
Musical Director – Sean Green
Choreographer – Lucie Pankhurst
Design – Mark Walters
Lighting – Nic Farman
Sound – Kate Harvey
Produced by Liverpool's Royal Court, James Seabright and George Seaton.
'LIVER BIRDS FLYING HOME': Friday April 13th – Saturday 12th May 2018
Tickets and information are available from:www.royalcourtliverpool.com or 0151 709 4321