MTV's iconic Unplugged sessions from the mid-1990's are to be revived as Scottish band Biffy Clyro announces an acoustic album and subsequent tour. Biffy Clyro will play the Manchester Opera House on 22nd September and tickets will go on sale from 11th May. The MTV Unplugged tour presents a chance for a wider audience to see the band play a rare full-length acoustic set in magnificent surroundings.
Although their live shows are best known for their electrifying and explosive energy, Biffy Clyro have often demonstrated that their songs possess an added poignancy when stripped back to their essence. Now the band can announce details of their first acoustic album, 'MTV Unplugged: Live At Roundhouse London' on May 25th.
Recorded at London's famous Roundhouse venue on November 8th last year, the set represented the UK relaunch of the iconic MTV Unplugged series. Biffy Clyro follow in the footsteps of influential rock bands who had previously performed as part of the series, notably Nirvana, Oasis, Pearl Jam, R.E.M. and George Michael.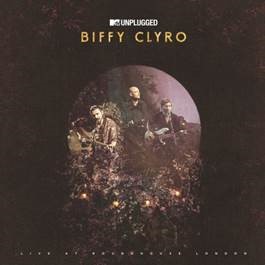 MTV will broadcast a global premiere of the Roundhouse performance on May 25th. Biffy Clyro 'MTV Unplugged' will premiere in the UK on Friday May 25th at 9pm on MTV and at 10pm on MTV Music.
The set is rich with favourites from the Biffy catalogue. 'Machines' is already long established as a highlight of the band's live shows as Simon Neil performs accompanied by a single acoustic guitar, while the likes of 'Many of Horror', 'Re-arrange' and 'Medicine' are all natural fits for an Unplugged performance. Yet the band also flourish with stripped-back performances of songs that were more aggressive and dramatic in their original form, such as 'The Captain', 'Black Chandelier' and 'Bubbles'.
The album also presents some special treats for Biffy fans. A stunning take on the Beach Boys' classic 'God Only Knows' is an undoubted highlight, while a brand new original song is also included in the shape of 'Different Kind of Love'.
Tickets for the dates go on general sale from 11th May from www.atgtickets.co.uk/manchester