Sherry, Walk Like A Man and Big Girls Don't Cry were all massive US number ones but how many people know who recorded them?
The answer, pop pickers, is Frankie Valli and the Four Seasons, and now Jersey Boys recounting their rags to riches story is coming to Leeds Grand Theatre from Tuesday 20th November.
Declan Egan was in the long running West End version of the show playing Bob Gaudio who saw the potential in Frankie Valli's distinctive falsetto penning all the hits for a quartet of top class vocalists who were the very first boy band.
"The Four Seasons were marketed for a younger audience but the older characters, Tommy DeVito and Nick Massi, were actually in their mid-thirties when they gained that first success," says Declan who is back playing Gaudio on tour.
"They lied to the press shaving off their ages to create a much more approachable, fun, teenybopper sound to create that idea they were a boyband, and to get that boyband look. You have this amazing chemistry and successful formula because without any one of those four people we probably wouldn't be speaking about Frankie Valli and the Four Seasons."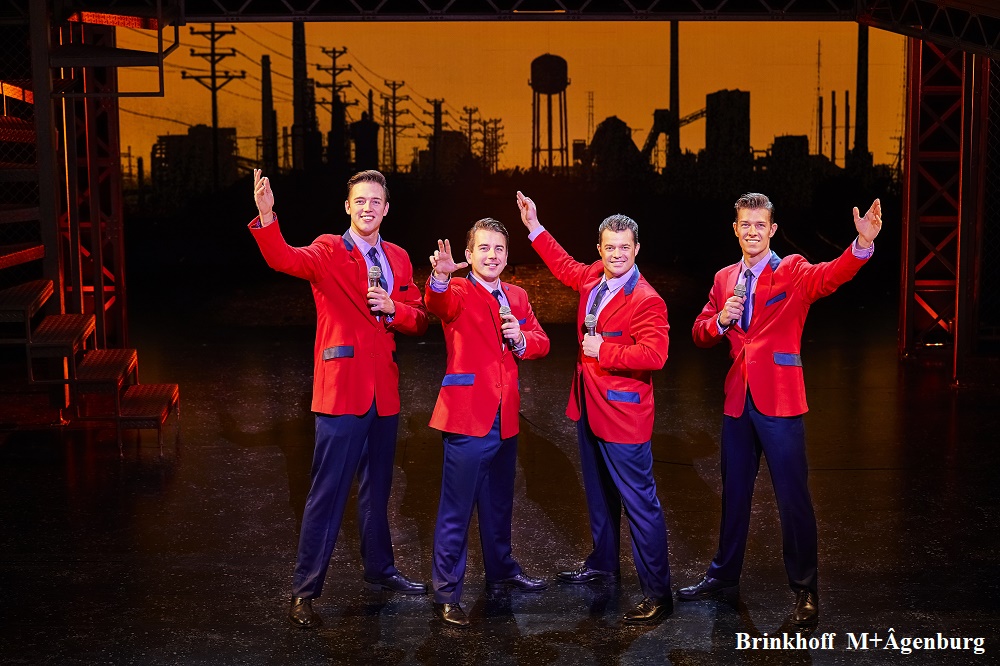 Gaudio has some short lived success in a teen band scoring a novelty hit with Short Shorts, but he hit the jackpot with Valli as they became the biggest American act in the early 1960s before he left the touring line up a decade later.
"Bob was the musical genius behind it all as he wrote all of the songs, hit after hit after hit, he moves out of the group later on in the show, but to this very day is a producer who worked with people like Michael Jackson and Barbara Streisand. He is now very much behind the scenes in the music business, and with the show as he is one of the main producers."
Jersey Boys ran from 2005 to 2017 on Broadway winning four Tonys along the way. It made it to the West End in 2008 picking up a Laurence Olivier award for Best New Musical before closing last year.
What is interesting about Jersey Boys is that unlike other jukebox musicals it is full of songs you probably could hum along to, but might not know who recorded them, or that the band sold over 100 million records worldwide.
"What is so fascinating about Frankie Valli and the Four Seasons is that the songs are incredibly famous, but not necessarily synonymous with the band," notes Declan. "You may not know Sherry, Rag Doll, Can't Take My Eyes Off You are actually from that band, which is a very exciting element of coming to the show.
"You've heard of Frankie Valli and the Four Seasons, and then go I think I know some of their songs but I don't know if I actually know them. You come along to Jersey Boys and you are surprised because it is hit after hit smacking you in the face.
"Those songs we all know are embedded in popular culture through movies like Mrs Doubtfire and The Deer Hunter, so you come out thinking they are band we don't much about, but were very, very successful. They should be mentioned alongside the names of The Beatles and the Rolling Stones."
Frankie Valli is still out on the road in his seventies with the latest version of the band, but the Four Seasons' pioneering vocal harmonies has seen them inducted into both the Rock and Roll and the Vocal Group Halls of Fame
The show is also unusual in using the four seasons – see what they did there – as each member of the band tells their version of how four blue collar Italian Americans used music to escape their roots. But given their home state was the fictional home of Tony Soprano and his gang of aging hoods the Four Seasons even had a brush with the Mafia.
"We're talking about people coming from New Jersey which is not all lovely roses round the door and unicorns prancing around the place. It is a really gritty place to grow up and Tommy DeVito got the band into a lot debt taking loans from certain groups as he wasn't wise with money. He got the group into a lot of trouble by dealing with the Mafia."
Jersey Boys is at Leeds Grand Theatre from Tuesday 20th November to Saturday 1st December. To book www.leedsgrandtheatre.co.uk or 0844 8482700,