Emmerdale legend Kelvin Fletcher is swapping dodging bullets in Britain's most dangerous village to head down the yellow brick road starring in a lavish new production of The Wizard of Oz.
Kelvin spent 20 years man and boy playing rugged farmer Andy Sugden before leaving in 2016 to take on new opportunities, including this musical version of the beloved L. Frank Baum classic that opens at Blackpool Opera House on 7th December.
"It's the Royal Shakespeare Company's version so it would be very similar to the film, but obviously adapted to the stage," says Kelvin. "The story has got all the original essence and beauty capturing the innocence and the intrigue.
"I'd forgotten how good it was as I watched the film like most people many times, then I read the script, and I watched the movie again. As I am reading more of the script I was realising what a lovely, lovely story it is, and there are many things within it that I'd skimmed over when I watched it as a kid."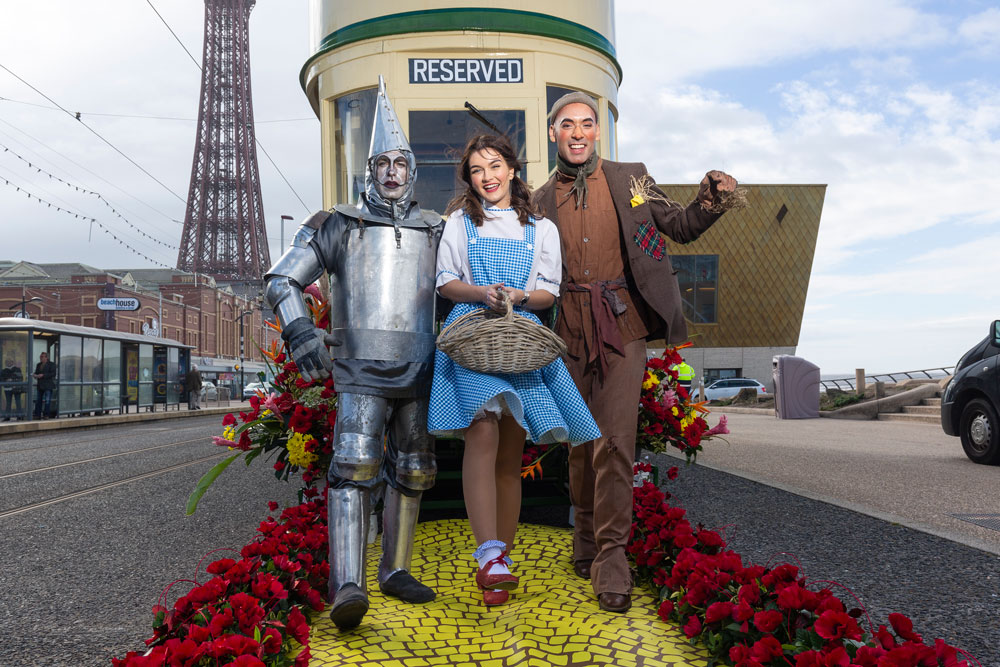 This is Kelvin's first professional gig as a musical theatre performer, but he is surrounded by experienced cast members, and X Factor's Holly Tandy as Dorothy. The Wizard of Oz is a tricky piece that is much loved across the generations but Kelvin is looking forward to his latest post Emmerdale challenge.
"I'm playing the Tin Man and, first and foremost, I was really, really keen to do musical theatre. I grew up onstage as a kid and my first introduction into acting was doing musicals and theatre. My career went down a TV route, and did do so for some time, but once I had the opportunity to do other stuff then musical theatre was one of the things I really wanted to do.
"There is an element of mystery with the Tin Man as he seems very gentleman like and endearing. He is so eager, wants to love, but feels he can't, so there are lots of layers to the character."
So the million dollar question with only a matter of days before opening night is Kelvin coping with acting and singing?
"It's tough but I guess it's everything I knew it would be," notes Kelvin. "I've been a musical theatre fan for years, and I will go out to watch shows on a regular basis, so I wasn't taken back by everyone's talent because I knew how talented they are. When you see it in a rehearsal space you can't help but be in awe of these people who are ridiculously talented. The way they move, the way they express themselves through song, dance so it's really nice to sit back and watch that.
"I naturally try to emulate that, but it is so different acting on TV to acting onstage. It's been a real learning process, as the others are comfortable in this environment, like I would be comfortable in a TV or film surrounding. It's a big challenge, but one I've got the confidence that I have the tools to do it justice."
It is an easy trap to fall into given his epic stint on Emmerdale to think Kelvin is a Tyke, but he was actually born and bred in Oldham. It is also easy to forget that Britain's most famous resort has a rich year round theatrical history, and Kelvin is bringing the show to a place he is very familiar with.
"Being from the North West it was where we went for holiday before the launch of Easyjet and cheap flights to the Costa del Sol because Blackpool was your weekend away and your holiday," recalls Kelvin. "I've been many times as a kid with my family and doing first one to spot the Tower. I have very fond memories of Blackpool so I can't wait to get back there in a completely different capacity as a performer."
Away from the stage Kelvin has been hard at work building his motor racing career which has seen him race high performance cars in the British GT Championships. Paul Newman was another actor to have successful track career and Kelvin has just had some good news about winning a seat in a car.

"I've just signed with a new team for 2019, and I can't say who yet, but they are a prestigious British brand so this is the biggest deal I've signed so far in racing. Five years ago that started out as a bit of a hobby, so I gave it a bit of a go, and it is like another career. The two are so different, racing and performing, but there are elements that can transfer.
"With more experience I'm getting better and better, and I think the same will apply to musical theatre. I want to show a glimpse of something completely different so to be onstage as the Tin Man is a real opportunity for me."
Nowadays Emmerdale is a more dangerous place to live than even Midsomer, which was once the TV murder capital, and Andy Sugden was one of the few characters to leave the Dales in one piece. The door remains open for a return of a much loved characters but Kelvin isn't rushing into a decision about going back to his dysfunctional onscreen family.
"I don't think I have had a chance to breathe let alone think about that," muses Kelvin. "I welcomed a new daughter into my life, I had a drama in Edinburgh, I've always liked presenting so I did a show for Channel 5, I did a short film and now I'm doing The Wizard of Oz.
"As regards to going back I've not explored that but I can't speak highly enough of Emmerdale. I spent 20 years there, and to be there that long is testament to the environment they create, and it is a fantastic show.
"They are winning all the awards at the minute, which is richly deserved, and I'm just really proud to have been a small part of that, but I'm in a different place now."
The Wizard of Oz is at Blackpool Opera House from Friday 7th December to Sunday 30th December. To book go www.blackpooloperahouse.co.uk or 08444 8561111.