It's been well over six months since Liverpool Network Theatre's last production, so I was pleased to catch up with Donna Day, director of their forthcoming production of Henrik Ibsen's A Doll's House and find out what it's all about.
Day explains that A Doll's House is the story of Nora, the wife of a banker, Thorwald. Nora has a dark secret encased in naiveté and good intentions which she has kept from her husband for many years. When Christina, Nora's old school friend, arrives for a surprise Christmas visit, Nora's deception threatens to tear her family apart.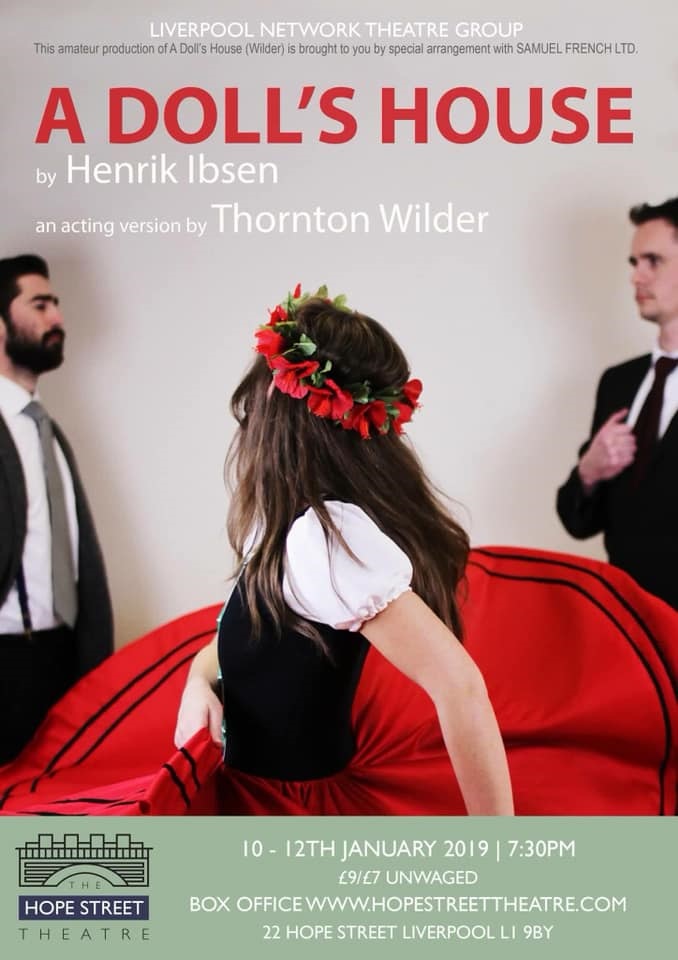 I'm intrigued – we all love a good secret, but Day's lips are sealed: no plot spoilers here. She notes the use of a later translation and a more modern setting to help the audience to better appreciate the play and its themes which explore the roles of power and control within a relationship, issues as relevant today as they were over one hundred years ago when this play was first performed in Norway to some controversy. Day highlights that the plays focus is on humanity rather than gender although she is keen to add that whilst it is easy to dismiss the current #metoo movement as merely being in vogue, we do so at risk of turning a blind eye to deeper, darker issues prevalent in society at large.
It's a point well made as Day continues: our current 'obsession' with social media drives people towards creating impressions of their perfect life as they post the right images, say the right things, and we all get caught in the trap of trying to keep up with the Joneses and the life that they show us. I mean, after all those 'perfect posts' who needs to know about the pack of cookies consumed between the morning gym session and the balanced healthy lunch? Behind that apparently perfect façade cracks are appearing.
I can certainly see the connection between then and now and Day believes her audience will also connect that little bit more: start to look at things from a different angle and recognise the signs when someone needs help and be the one to put your hand out to help; talk to people rather than simply live through a plate of glass. At this time of year – the season of goodwill – that's a pretty good message to take away: how many of us managed to sit as a family unit for Christmas dinner? How many of us managed to put down or even turn off our phones at the same time?
Day hails from Pudsey in Yorkshire and since moving to Liverpool a few years ago – where she works as a freelance proof reader – she has been able to focus on her love of writing – her short stories feature in a number of anthologies – and all things theatrical which has seen her act, write, direct, and following this play, she will be taking up the mantle as Chair of Liverpool Network Theatre. I need to pause for breath just to take some of that in but looking at the drive that has taken her this far, I can imagine it won't be long before that novel gets published, the play gets performed, and Liverpool Network Theatre is taken onto a higher level of accolade. Day says she prefers acting over directing – playing another person. Well, I reckon she's doing a pretty good job as herself: watch this space.
A Doll's House performs at The Hope Street Theatre 10th – 12th January at 7.30pm. Tickets are priced at £9.75/£7.75 with easy online booking at http://hopestreettheatre.com/whats-on/