It is always a joy to drive over to Sheffield and preview Manor Operatic Society shows at their superb rehearsal facilities on the edge of the city centre. This year they are deep into preparations for Our House which opens at City Hall on the 15th May. I have been reviewing Manor for nearly 5 years now and somehow this group of talented amateur performers just seem to get better year upon year.
First premiered in London 17 years ago Our House is a musical with music and lyrics by Madness and one song "It Must Be Love" written by Labi Siffre and a book by playwright Tim Firth. The show features songs from the ska/pop band Madness and was named after one of the band's popular hit singles, "Our House".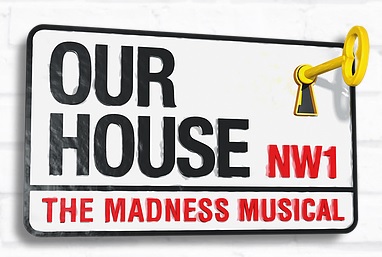 My overriding feeling after seeing one of the final rehearsals before moving into City Hall was one of exhaustion. One of the things Manor does so well are the big numbers using the entire cast. You only have to look at their pantomime act 1 closing numbers to know this. Our House is no different with some breath-taking choreography and highly energetic routines which utilise the skills of this cast perfectly.
The story follows Camden lad Joe Casey (James Smith) who, on the night of his 16th birthday, makes a decision that will change his life. Trying to impress Sarah (Emily Mae Hoyland), the girl of his dreams, Joe breaks into a building development overlooking his home on Casey Street. But things take a turn for the worse as the police turn up. Joe's life splits into two; the Good Joe who stays and gives himself up and Bad Joe who flees and leaves Sarah to run from the police.
Our House follows the two paths that Joe's life could take after that fateful night; one path means a criminal record and social exclusion, while the other will lose him the girl that he loves. Over a period of seven years and two alternative lives Joe deals with the consequences of that night. Whilst one Joe fights to keep Sarah, the other is marrying her in a glitzy Vegas wedding and, ultimately, while Good Joe fights to save his house on Casey Street, Bad Joe is determined to demolish it with tragic consequences. All this is watched over by Joe's deceased father (Simon Hance), who pulls the two stories together.
Jack Skelton and Digory Holmes have teamed us as Emmo and Lewis to provide some superb comic moments throughout the show. Kirsty Taylor and Emma Flanagan-Holmes also impress as Billie and Angie.
Once again Richard Bradford and Linda Kelly as directors, producers and choreographers have brought the best out of this cast and promise a night of fun, great music, drama and some of the fastest costume changes I think I have ever seen in the stunning Sheffield City Hall.
Our House plays from the 15th – 18th May 2019 and tickets can still be found at https://www.manoroperatic.com/