All too often budding actors are lost to the profession when they leave college as the endless struggle to find work can smash their dreams which prompted performance arts teacher Jennie Fairclough to do something about it.
Jennie formed a new theatre company WonderIf Theatre in Bury where she teaches, and their second production is an adapted version of Jez Butterworth's 1995 work Mojo at the town's The Met theatre. She has also joined Greater Manchester Fringe's ever expanding programme, and in a neat twist everyone involved in the production is one of her former students as she puts her money where mouth is to offer them a professional standard gig.
"There are six characters in the play, and Mojo is an examination of the status and power struggles within this group of men who exist in a gangster culture," says Jennie "What happens when one really significant event happens, which is when a character never seen onstage, only referred to offstage, is killed.
"This is the character who has the biggest status, is constantly referred to, and he's killed so it is then how the other six characters react to this death. It is just an interesting examination of masculinity because it is a masculine world."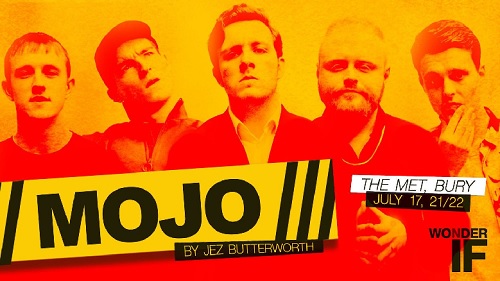 This is the fledgling company's second show at The Met, who have been really supportive of the new team, but as with all really ambitious theatre companies they have not rested on their laurels after the success of their first production.
"The last play we did was Airswimming for International Women's Week, which was very gentle, it's a really beautiful examination of the friendships between women, and how they become very dependent on each other. I feel like I've been thrown from this very female orientated world to this very masculine orientated world."
Jennie and her team have kept true to Butterworth's text which was set in 1950s Soho, but they decided it give a risky resetting to the height of the crazy 1990s Madchester period when the city went all 'Aciiiid House' as floppy fringed ravers in bell bottoms took over the world famous Hacienda nightclub.
"When I first read the play the first thing that struck me was how much I recognised these characters," recalls Jennie who lived through that northern Summer of Love. "I grew up with a background of Sankey's nightclub, the Hacienda, Cream in Liverpool and the characters were identifiable to me because of that. There is a reference to drug taking in Jez Butterworth's original text, and it was the hierarchy and sense of danger that I sensed when I was out clubbing at that age.
"It fits so neatly as there is over 40 years difference from when the original was set, and where we set it, and those relationships haven't changed. Human nature is exactly the same, so the idea of rising to the top, or to bully someone in these fragile relationships between the men, they still exist in 2019."
One common thread that links the original seedy setting and Jennie's new version is that beneath the glitz and fun of both Soho and Madchester there was a sinister undercurrent of violence and intimidation that was even noticed by the blissed out punters on the dancefloor. In the case of Madchester it all came to a head when gangsters sprayed the door of the Hacienda with bullets effectively closing the club and the scene.
"There was always a sense of the threat all the time, and that is something that has been brilliant to explore in their relationships to find out where does that threat come from?," reflects Jennie on her time in the club scene. "You'd walk in a club where there was always the clusters in corners and always the runt sent out on watch, sideways glances or the bulk of these doorman.
"It is fun trying to capture that and pulling that out to find out who is the runt of the litter, who is all about that strength that the audience recognises as your typical doorman and who is the brains of this operation? It just fits like a glove to that time."
As well as running her fledgling company Jennie has a day job teaching performing arts at Holy Cross School in Bury where she has been shaping raw talent since 2002. And that talent has rallied round as her current cast and the creative team are Holy Cross alumni keen to put something back in.
"I really want to contribute to creating an alternative to the amateur dramatic groups in Bury which are the main provision that we have here," notes Jennie. "I wanted to do something for those students between 18 and 24 when they leave here and if they going onto drama school, and they need some industry experience, but there seemed to be a gap in the market.
"There is some incredible talent and sometimes if they are not harnessed they could do an apprenticeship, or go and read English at university, when all they need is support for a couple of years. I have some cast members who are professional actors who are mixing in with some actors who have literally just left college and are on their gap year."
As well as the real challenge taking on a rarely performed piece by one of our best playwrights, Jennie has had a rare front row opportunity to see how the pupils she taught have found their artistic feet since they left the relative safety of a college stage.
"What I like most about this production is seeing how they have grown and what they bring to the table that is new. When they leave they have had years at college where they've matured, and we can teach technique, but in that time away they find their own way in the world.
"It's interesting I'm not necessarily working with the same students who left me as they come with new skills and views of the world, which I'd not anticipated. When we got in the rehearsal room I thought I know your strengths, and how you would typically approach a character, but they are coming with new and exciting ideas which is fantastic."
Mojo is at The Met on Wednesday 17th July, Sunday 21st July and Monday 22nd July. To book www.themet.org.uk or https://twitter.com/WonderIfTheatre Age guidance 14 plus.