Sparkle and shine, it's panto time! Well, not quite yet, but the cast of this year's pantomime at York Grand Opera House are excited and raring to get started!
This year tells the classic story of Snow White and the Seven Dwarfs. A wicked Queen's beauty fades, as told to her by her magic mirror, as Snow White is now the fairest of them; so, Snow White is banished to the forest, where she is comically cared for by seven dwarves and spoiler alert…. eats a poisoned apple. It is however nice to hear from the cast that this year York's panto intends to deliver a somewhat fresh formula.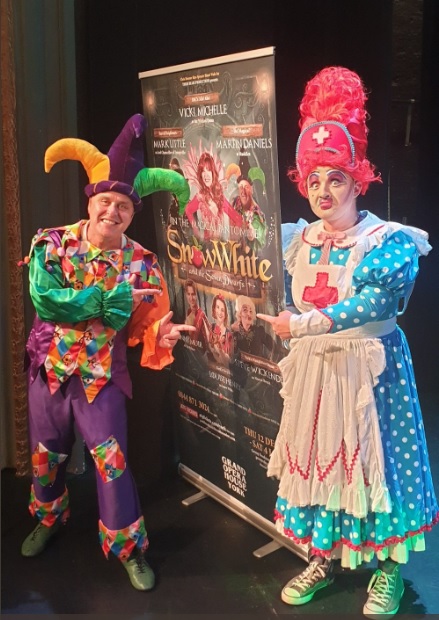 It's lovely to hear that for everyone, having fun is at the centre of the show, and the cast already clearly have a great camaraderie. All the things we love and expect at Christmas time, the laughter, audience interaction, singing etc. will be present, but the cast are keen to explore and share familiar characters and storylines with a twist. As Mark Little (star of Neighbours, playing Lord Chancellor of Trumpville) explains, his Villain will be not just disliked and "boo'able", but misunderstood and quirky.
York Grand Opera House should also be proud of casting, not only a host of family favourites, such as Vicki Michelle (BBC's 'Allo' Allo!, playing the Wicked Queen), but also bringing new faces to our stage, such as Jonny Muir (playing The Prince), and Louise Henry (playing Snow White). Louise is a local girl from Harrogate, already familiar with the Opera House boards, a lover of all princesses –voicing Arial the Little Mermaid, or show she had all her friends believe aged six- and Michael Bublé; while Jonny is a keen cricketer, hoping to bat his way in to Snow White's heart he's already nailed the charming part.
This year's panto promises lots of fun, laughter, songs, and sparkles, which I am sure will come to fruition with such a warm, lovely bunch of people at the helm. We can't wait to see these characters come to life, as well as the giant mushroom on stage, in one of our classic fairy-tale pantomimes retold.
Previewer: Amanda Hodgson
Previewed: 22nd July 2019