How far would you be willing to go for the ultimate job? Eight talented candidates have reached the final stage of selection to join the ranks of a mysterious and powerful corporation. Entering a windowless room, an Invigilator gives them eighty minutes to answer one simple question, however, this is no normal EXAM.
As the Candidates turn over their EXAM pages to begin, they are shocked to find the paper is blank, how do you answer the question if you don't know what the question is?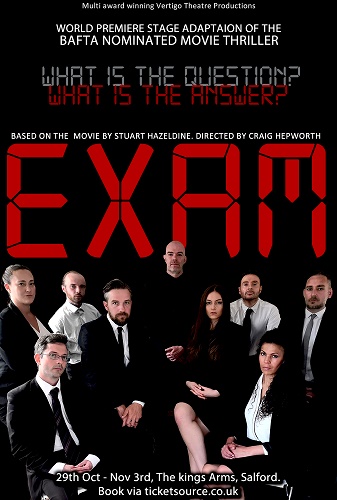 It's not long before tensions rise and true colours are revealed, as the group frantically race against the clock, it becomes every man and woman for themselves, especially when the job is so important......and especially with what's going on on the outside world.
EXAM is a tense psychological thriller that will leave you on the edge of your seat.
Written by award winning screen writer and director Stuart Hazeldine (Exam, The Shack), adapted to the stage by multi award winning Vertigo Theatre Productions with direction by award winning Craig Hepworth (Porno Chic, Fake News, Die, Mommie, Die! Noir), Exam is a thriller you do not want to miss
So book today to catch this exciting new contemporary thriller before it moves Off West End in July 2020. Running from October 29th to November 3rd (8pm start time), at the Kings Arms, Salford tickets are only £15. Some nights already sold out so book today.
Tickets available at https://tinyurl.com/y3wagflo
The Cast of EXAM
CANDIDATE 1 – Danny Beattie
CANDIDATE 2 – John Mackie
CANDIDATE 3 – Gavin Stamper
CANDIDATE 4 - Nicola Fisher
CANDIDATE 5 – Rebecca Clare Evans
CANDIDATE 6 – Celine Constantinides
CANDIDATE 7 – Haydn Holden
CANDIDATE 8 – Andrew Marsden
INVIGILATOR – Steve Connolly