Quirki by Cirque Surreal is coming to intu Trafford Centre for a strictly limited season this October half-term, in what promises to be an unforgettable show for the whole family.
'A Night at the Museum' meets contemporary circus in this big top spectacular. Audiences will be transported from the heart of Mexico, to unexplored worlds of fantasy, where strange creatures from supernatural realms illuminate and come to life in spellbinding set-pieces of physical improbabilities.
Electrifying thrill acts, including a giant space wheel and motorcycle thunderdome, are given an ultra-modern twist by some of the greatest circus artistes from around the globe, woven together with surreal comedy from Chico Rico. This Mexican clown will prove no wall can stand in his way and no barriers can prevent true talent from thriving.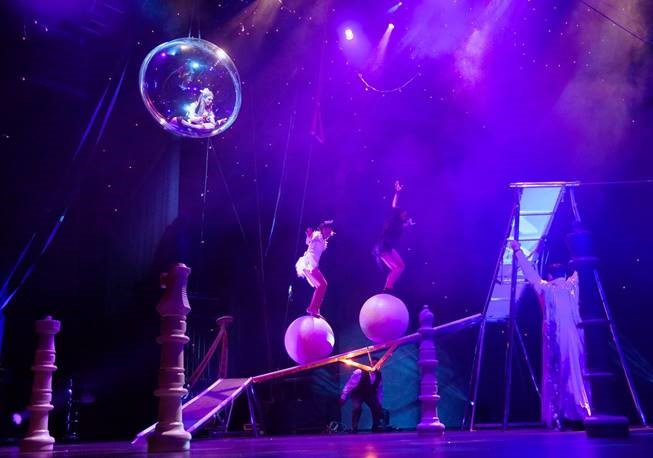 Cirque Surreal leaves behind out-dated big top traditions through its dramatic internationally-renowned contemporary interpretation of 'circus'. It has toured extensively around the Far and Middle East, and continues to evolve with unique staging, innovative sensory concepts and dynamic artistes, providing the benchmark for other modern circus productions.
Alison Niven, centre director for intu Trafford Centre, said: "We're always looking for new and unique experiences to delight our visitors, so are delighted to welcome Cirque Surreal in what promises to be a spectacular show that will put a smile on the whole family's face."
Don't miss out on the early bird offer – a massive 30% discount on all tickets (including family tickets!) booked during the month of August and now extended to September!
What the critics said on our previous tour…
"…one of the most memorable shows ever staged in the United Arab Emirates"
TIME OUT DUBAI
"Thank you for one of the greatest experiences of my life"
BBC RADIO SUSSEX
"Hugely entertaining, maim to get a ticket…"
THE SCOTSMAN
"Really is state of the art, a show you won't have seen the like of..."
VENUE MAGAZINE
"Cirque Surreal is an event that can truly be appreciated by all ages, children will love it... A superb exciting and refreshing evening"
BATH CHRONICLE
"… circus to fire the imagination…highly entertaining performance which is guaranteed to thrill the audience"
LONDON EVENING STANDARD
"Recapture the world of your childhood where people can fly, amazing physical feats are commonplace and clowns are actually funny!"
EVENING NEWS, EDINBURGH
"An amazing show blending illusion, dance, drama and circus acts into an
unmissable treat for the whole family."
DAILY MAIL
LISTINGS
Quirki by Cirque Surreal
Theatre Big Top, intu Trafford Centre Peel 7 Car Park, Regent Crescent, Trafford, M17 8AA
Friday 18th October to Saturday 2nd November 2019
SHOW TIMES
Friday 18th October – 7.30pm
Mondays to Saturdays – 2.30pm and 7.30pm daily
Sundays – 2.30pm and 6pm
BOOKING INFO
Visit cirquesurreal.com or call 0871 705 0099*
*telephone charges apply
Box Office open on-site from Friday 11 October, 11am to 8.30pm daily.
ADMISSION
Adult Concession
Side View £30 £20
Circle £40 £30
Centre Circle £60 £40
Ringside £70 £50
Access Tickets: £45 or £35 for concessions (limited availability).
Family Ticket (2 adults and 2 children or 1 adult and 3 children):
Circle: £110
Centre Circle: £120