As a theatre goer of 43 years I have seen so many wonderful productions, watching the blossoming of performers and the rise and fall of many shows. I am incredibly lucky to be able to review for North West End UK which has grown so much over the years and has covered hundreds of performances all over the country.
2019 has been a tough year for me following the loss of my mother, the woman responsible for passing the love of theatre to me from the age of 7 years old. For her I am truly grateful theatre became a massive part of my life. So theatre reviewing, following the loss of my mum had been on hold. I therefore have only reviewed 5 shows this year, which limits my choices of the best three. However I will still put my top 3 out of the 5 up for you to read.
Circus 1903 – The Lowry - 19th November 2019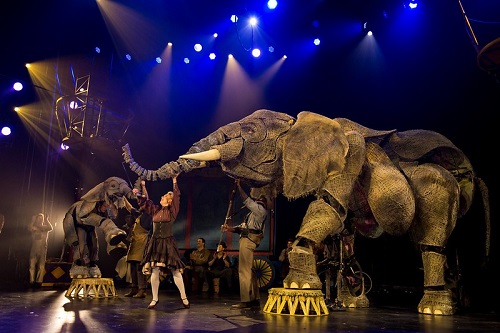 Neil Dorward, Circus 1903 brought together artists from across the globe in a series of breath-taking acts including juggling, balance and acrobatics. Circus 1903 will be held in my heart and mind for a very long time as one of the best evening entertainments I've experienced. It was beautifully crafted and definitely a highlight of my year.
In the Night Garden Live – The Lowry - 3rd March 2019
Presented by the Minor Entertainment Group, In the Night Garden Live was one of my favourite family events. With all the ingredients of a perfect family show In the Night Garden Live burst into life from the minute you entered the auditorium and was enchanting from beginning to end. Watching children enjoy theatre from such a young age just like I did is truly wonderful as these are the next generation of theatre lovers. In the Night Garden Live was vibrant and perfect to hook all those that saw it into loving live theatre.
Toast – The Lowry - 11th November 2019
Nigel Slater's autobiographical work Toast was commissioned by the Lowry theatre to be adapted as a staged show, written by Henry Filloux-Bennett and directed and choreographed by Jonnie Riordan. Toast was a delight to all the senses as it took me through a rollercoaster of emotions, sights sounds and smells. This was a magnificent piece of theatre and was perfect for food lovers like myself. Toast was a fabulous show and was a pleasure to review. Again this was another very memorable night at the theatre.
Victoria Wilmot
Atlantis Banal: Beneath The Surface - Traverse 2, Edinburgh - 22nd November
Fully expected to give this 2 stars with a roll of the eyes, but was absolutely cracking. Poised comedy that celebrated the world of Art while satirising.
Barber Shop Chronicles - Lyceum, Edinburgh - 26th October
Vibrant, thought-provoking… and the action started before the play and involved the audience!
Alex & Eliza - Traverse 2, Edinburgh - 13th November
This was EMOTIONAL. I swear the writer (director & performer!) Umar Butt was as close to tears (if not actually crying) as I was at the end.
Roger Jacobs