The team at Halifax's Square Chapel Arts Centre have recruited an all-star cast for an exclusive fundraising reading of Martin McDonagh's The Pillowman.
The cast for this one-off reading on Sunday 2nd February includes Square Chapel patrons and Corrie legends Reece Dinsdale and Ian Puleston-Davies. They will be joined on stage by Silent Witness star Karen Henthorn, Rev's Steve Evets and Emmerdale stalwart Mark Charnock'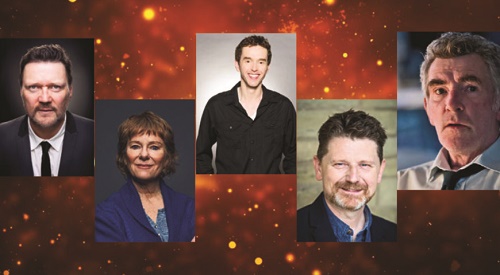 The play is based in an interrogation room where a writer Katurian is being interrogated by two detectives. Next door the writer's mentally disabled brother Michael waits, but the interrogators want to know why Katurian's stories feature gruesome plots about child murder and torture that seem to mirror a string of recent child murders in the area.
The Pillowman was a hit for Irish playwriter, screenwriter, producer, and director McDonagh who has also directed movies like In Bruges, Seven Psychopaths and the multi Oscar winning Three Billboards Outside Ebbing Missouri full of dark humour. McDonagh has been described as someone who possessed the sickest mind of his generation and put that to good use creating thoughtful, funny and disturbing plays like the Pillowman
This fundraising event was the idea of Square Chapel Patron Dinsdale who has been a huge supporter of the arts centre since he took on the role. He will be reading the part of Katurian, and his fellow Patron Puleston-Davies will play one of the interrogators Topolski
To book tickets visit www.Squarechapel.co.uk or call the box office on 01422 349422. Tickets are priced at £20 and all proceeds will be invested back into the arts centre for future development and programme.