Red Ladder Theatre Company's new production is set in a dystopian world in which a government drive aims to tame unruly women through a network of sinister Smile Clubs.
Smile Club is a darkly comic one-woman show performed and written by Andrea Heaton and Adam Z. Robinson
Smile Club follows Lisa who been through it all and she now knows that nobody likes a girl who makes a fuss, or a girl who can't take a joke. She knows too, that life is simpler when you let things go. And she certainly has, all of it.
In this show Lisa descents into dejection, rage, and bloody violence, before a remarkable transformation into a smiley, well-adjusted human.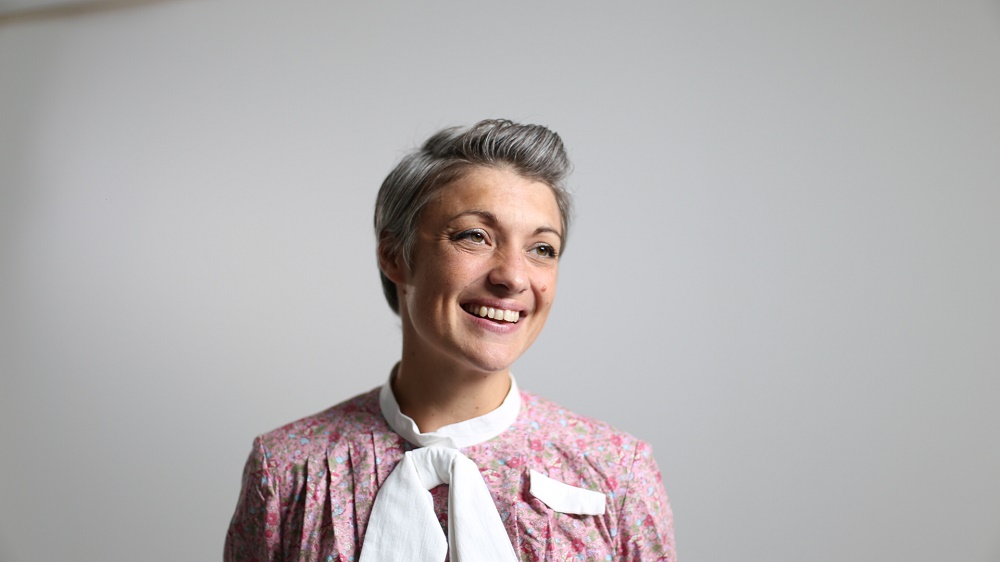 "Smile Club started as an idea from an anecdote from a friend, about a man who wouldn't allow a woman through the barrier of a train station until she'd given him a smile," says writer and performer Andrea Heaton.
"It takes place is a dystopian near-future where women are routinely sent for smile treatment to correct their behaviour, wearing them down to the point of giving in and accepting the status quo. The play is inspired by movements such as MeToo and Everyday Sexism, as a way of voicing anger about the way women are treated, but it's darkly funny and thrilling."
Smile Club will be directed by Red Ladder's Artistic Director Rod Dixon and the production opens a national tour at Leeds Playhouse on Thursday 5 March before touring nationally to theatres and community venues in March and April,
"Smile Club explores a very plausible near-future when women become a little 'too outspoken for their own good', and have to be reconditioned in an institutional facility," notes Rod.
"It's a satire about the oppression of everyday sexism, but it's also funny and speaks very well to the times we live in. I wish it was far-fetched, but actually this play's draconian dystopia is so close to the truth it makes me shudder."
Tour listings
Leeds Playhouse, Leeds, Thu 5th Mar 2020 – Sat 7th March, 8pm, Sat matinee 2.45pm.
Theatre Royal Wakefield, Wakefield, Sun 8th March, 7pm.
Cast, Doncaster, Wed 11th March, 7.15pm.
Harrogate Theatre, Harrogate, Thu 12th Mar and Fri 13th March, 7.45pm.
Theatre Deli, Sheffield, Sat 14th March, 7.45pm. In association with Shefest 2020.
The Dukes, Lancaster, Tue 17th March, 7.30pm.
Hunslet RLFC, South Leeds Stadium, Wed 18th March, 7.30pm.
Arts Centre Washington, Sunderland, Thu 19th March, 7.30pm.
Square Chapel Arts Centre, Halifax, Fri 20th March, 8pm.
Rockingham Centre, Hoyland, Barnsley, Sat 21st March, 7.30pm.
Hawksworth Wood Village Hall, Leeds, Tue 24th March.
Gipton WMC, Leeds, Wed 25th March, 7.30pm.
Shaw Lane Sports Club, Barnsley, Thu 26th March, 7.30pm.
Queen's Mill, Castleford, Fri 27th March.
St John's Parish Hall, Barnsley, Sat 28th March.
Grove Hall, Pontefract, Sun 29th March.
Hull Truck Theatre, Hull, Tue 31st March, 8pm.
Lincoln Drill Hall, Lincoln, Wed 1st April, 7.30pm.
Torch Theatre, Pembrokeshire, Thu 2nd April, 7.30pm.
Tobacco Factory Theatres, Bristol, Fri 3rd and Sat 4th April, 8pm. (press night Fri 3rd April)
The Cluntergate Centre, Horbury, Wakefield, Sun 5th April.
Booking details are all available on www.redladder.co.uk