Multi-award winning youth musical theatre company bring a bit of the wild west to Manchester this February.
Manchester Musical Youth proudly presents 'Calamity Jane' at Z-arts, Manchester. 12th - 15th February 2020. 7:30pm. Tickets are priced £16 and £12, available from Z-arts Box Office on 0161 232 6089 or www.z-arts.org
Following a hugely successful and busy 2019 programme, which included productions of Footloose, Shrek and Oliver!, Manchester Musical Youth return to the stage to kick off 2020 with the timeless classic 'Calamity Jane'. This musical western based on the 1953 Warner Bros film starring Doris Day and Howard Keel features the iconic hit songs "Windy City", Secret Love" and "The Deadwood Stage".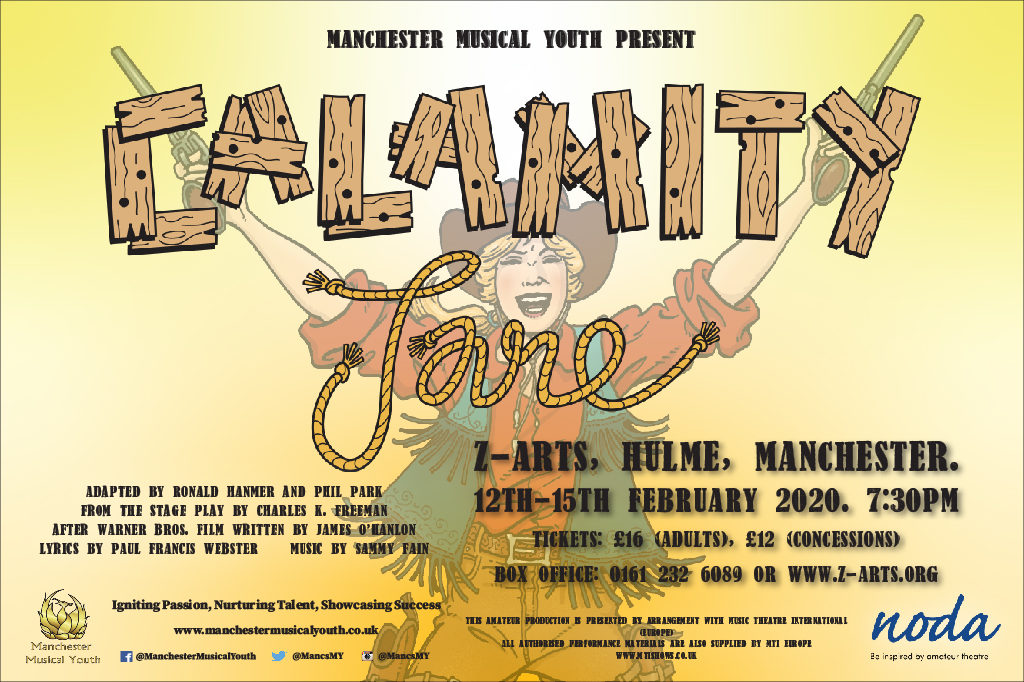 The production will be performed by their cast of 52 incredible young performers, representing all corners of Greater Manchester.
2020 has already started on a high for this young group who scooped 4 gongs at January's NODA District 1 awards, including Best Musical Director (Kimberly Holden), Best Male Comedy Performance (Harry Warburton), Best Female Comedy Performance (Sarah Barron) and Best Supporting Female (Keirah Kirton), for performances during 2019.
Speaking about the process running up to the show founder and musical director Kimberly Holden, winner of best musical director 4 years running, said "The cast rise to every challenge we give them, and continually impress audiences with their professionalism and high calibre". 'Calamity Jane' marks the start of another exciting and challenging season of shows for MMY, with announcements of 'Zorro The Musical' in July and 'Singing in the Rain' for the end of August also confirmed. 2020 is shaping up to be another fantastic year starting with a not to be missed family favourite.
Manchester Musical Youth (MMY) is a multi-award winning youth theatre company based at Zarts, Hulme Manchester. Ran by an established, experienced and successful artistic team with a track record of creating the very best in youth theatre productions, MMY aims to bring together, encourage and develop the most talented 5-19 year old performers throughout the Greater Manchester area.