In response to the COVID -19 restrictions imitating the dog will screen their greatest hits online.
The series will include their critically acclaimed latest show Night of The Living Dead - Remix, a daring shot-for-shot stage recreation of George A. Romero's classic 1968 zombie movie that airs on Friday 17th April.
Every fortnight on Fridays for the foreseeable future the ground-breaking company will air selections from their theatre performances and sited work.
Future presentations will also include: Arrivals and Departures (1st May), a Hull 2017 commission which looked at the city's legacy of migration, the company's theatre production 6 Degrees Below the Horizon (15th May) which is a macabre and playful tale involving sailors, pimps, barflies, chorus girls and nightclub singers; and Yorkshire Electric (29th May), a projection project using clips from the Yorkshire Film archive.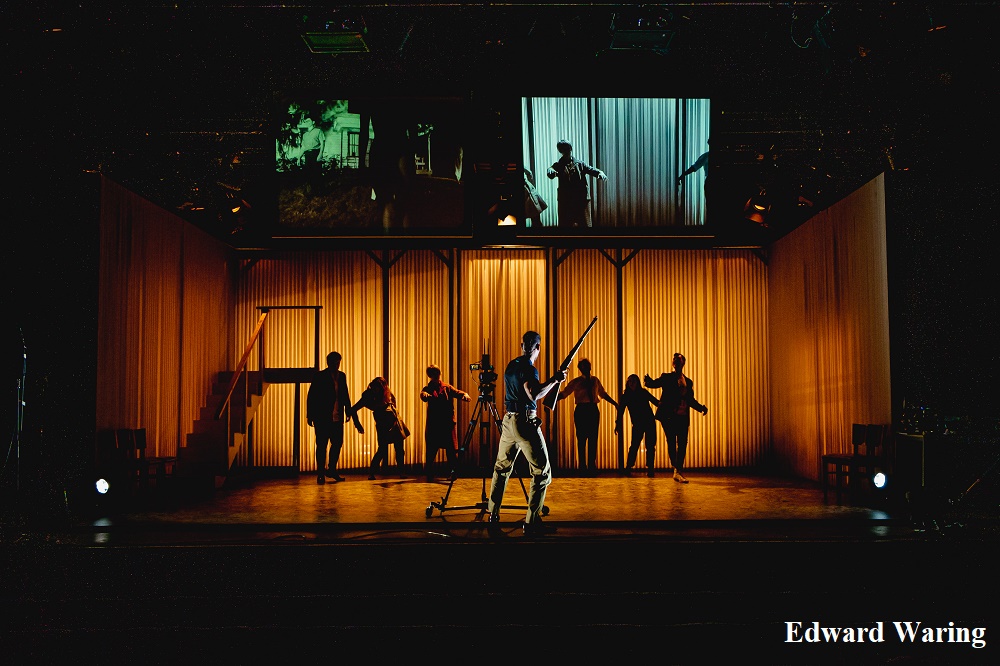 Each production will remain on their website and can be viewed on a Pay-What-You-Like basis. The income from this will go into a development fund for the company to support freelance artists and practitioners to create new work.
"With the end of our own Night of The Living Dead™ - Remix tour cancelled and so, so many events and performances now postponed we thought we'd make some of our past shows available for people to watch online," says Simon Wainwright, Co-Artistic Director of imitating the dog.
"We're in a lucky position to have some fantastic recordings of past work, mostly filmed by our friends Shot by Sodium. It's obviously no substitute for the real thing but in these isolated days, and until we can get together in a room again, we hope these videos will provide joy, thinking and entertainment in equal measure."
For more information and to watch productions visit http://www.imitatingthedog.co.uk/watch/
Future presentations will include:
Friday 17th April
NIGHT OF THE LIVING DEAD™ - REMIX
In 1968, Night of the Living Dead started out as a low-budget independent horror movie telling the story of seven strangers taking refuge from flesh eating ghouls in an isolated farmhouse.
Fifty years on, seven performers enter the stage armed with cameras, a box of props and a rail of costumes. Can they recreate the ground-breaking film, shot-for-shot before our eyes and undertake the seemingly impossible?
With 1,076 edits in 95 minutes, it's a heroic struggle. Success will require wit, skill and ingenuity and is by no means guaranteed.
NIGHT OF THE LIVING DEAD™ - REMIX is an imitating the dog and Leeds Playhouse co-production, presented by courtesy of Image Ten, Inc.
Friday 1st May
ARRIVALS AND DEPARTURES
imitating the dog's work for Hull City of Culture 2017 put a poetic spin on the history of arrivals in and departures from the city. The piece looked at the history of migration from a contemporary perspective, exploring the journeys which have gathered a population and moulded a landscape.
Using The Deep as both canvas and building blocks, the piece pulled together some of the strands of the complex and universal issues of migration as a wider subject matter.
Created as part of the Made in Hull opening celebrations for Hull City of Culture 2017.
Friday 15th May
6 DEGREES BELOW THE HORIZON
6 Degrees Below the Horizon is a macabre and playful tale involving sailors, pimps, barflies, chorus girls and nightclub singers. In this startling and visually stunning work, the audience view the action through windows and moving frames to piece together a modern fable of failed dreams, lost love and the guilt of absent fatherhood.
Building on the successes of Hotel Methuselah and Kellerman, in 2012 the company created a memorable and immersive experience for audiences with this captivating fusion of cinema and theatre. Part French film, part Edwardian vaudeville and drawing on the works of Genet, Wedekind, and Brecht, 6 Degrees Below the Horizon takes its audiences on a delightful and twisted voyage into a shadowy world in which there are no certainties.
Friday 29th May
YORKSHIRE ELECTRIC
Yorkshire Electric is a journey from the dales to the coast through the unforgettable footage of the Yorkshire Film Archive. Using video mapping, intricate lighting and a soundtrack from the band Hope & Social the show transformed the Spa Theatre, Scarborough and offered the audience the opportunity to wander through 100 years of Yorkshire lives and landscapes, from the farming hills to the holiday beaches and back again.
Bringing together award-winning company imitating the dog and architectural lighting specialist Phil Supple, the piece offered the opportunity to enjoy rarely seen footage of a century of Yorkshire life in your own time.