Award winning, critically acclaimed and THREE time MTA nominated Vertigo Theatre Productions are back with a crazy new comedy, Murder She Writes!
The company behind the critically acclaimed sell out plays Ascension, Porno Chic, Last Dance, Watching Goldfish Suffocate, M, Mysterious Skin and many others are letting their hair down and bringing you a comedy so insane, so demented, so over the top that it should be illegal.
In the town of Cabot Cove, Jessica Fletcher the super sleuth has been banished away for 5 years due to people dying every time she turns up. The quaint fishing town has now enjoyed peace, but due to its killer reputation the town is changing its name to help tourism, its new name.... Twin Peaks, what could possibly go wrong?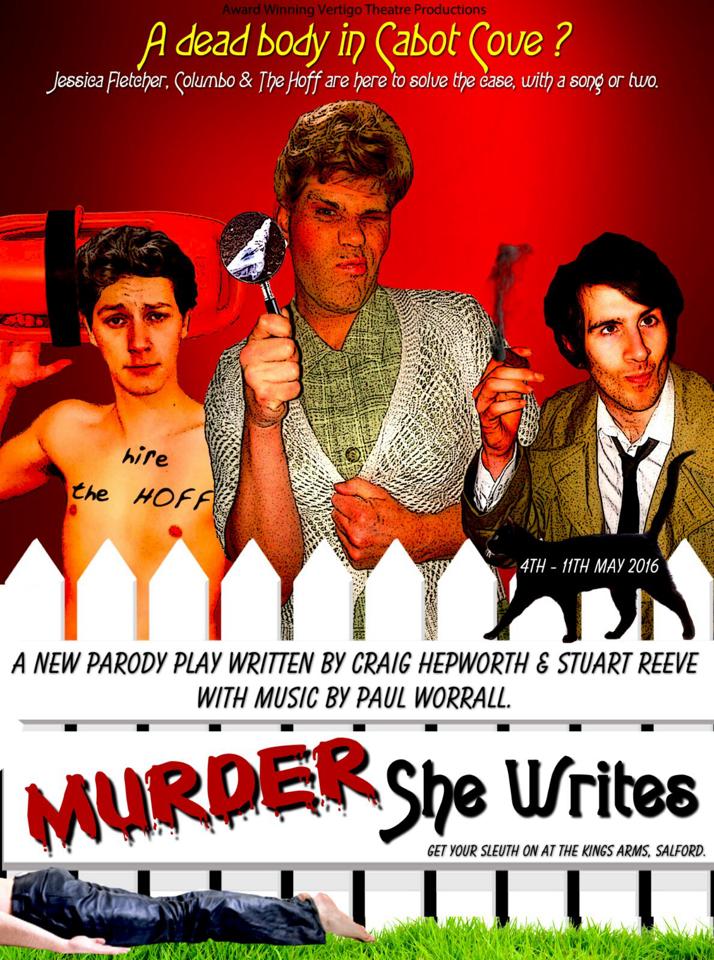 However, before you can say 'detective parody' a body turns up in the bay, that of 17-year-old Paula Lama. Never missing a beat (or a chance to write a new crime book) Jessica is back to solve the murder but this time Columbo and erm Mitch Buchannan Hasselhoff from Baywatch and Knight Rider are also here to help….. much to her dismay.
The residents from the demented Betty, the odd Gramma Frank, the love struck Amos, town gossip Loretta, Bob the pervert and many others are not going to make this easy, and with a rising body count and Jess seeming a little out of practice every one wonders if the crime will ever get solved at all?
A parody of the 70s 80s and 90s detective shows and more, as well as a fun outrageous comedy, Murder She Writes is written by award winning and MTA nominated Craig Hepworth and co-written by Stuart Reeve. The show also contains 8 original new songs (music by Paul Worrall, lyrics Craig Hepworth and Stuart Reeve) and promises to be fast paced, silly evening, perfect for a night out with friends.
Featuring 11 cast members including Dale Vicker as Jessica Fletcher, who won rave reviews in Die, Mommie, Die! Making his return to Vertigo and Richard Allen one of the most exciting actors on the fringe scene, the show also stars, Stu Reeve, Ash Preston, Jack Daniel, Natalie-Ann Stanley, Paul Worrall, Joey Laverton, Sean Roberts, Emma Morgan and Nik Grundison.
Opening this May and running from the 4th - 11th at The Kings Arms, the first week sold out on pre orders alone, but tickets are available for the 2nd week, so get your super sleuth on and come and join in the insanity that is Murder She Writes.
Not suitable for under 14s, contains some bad language and sexual comedic sexual content
Buy tickets here today - https://www.ticketsource.co.uk/vertigotheatreproductions
Check out the Vertigo website - www.vertigotheatreproductions.co.uk
Written by - Craig Hepworth and Stuart Reeve
Directed by- Craig Hepworth
A.D - Stuart Reeve
Original Music – Paul Worrall
Lyrics - Craig Hepworth and Stu Reeve