Much-loved legend and First Lady of Musical theatre Elaine Paige OBE has announced a 20 date for a series of concerts from October to December 2016.
Entitled 'Stripped Back', it will be just that; performing her favourite tracks from an array of contemporary songwriters, with a small group of musicians. This follows her last solo tour in 2014 which was a sell-out celebratory concert encompassing her incredible 50 year career and saw her say 'farewell' to a full touring schedule.
Elaine delighted "I'm so excited about this series of intimate concerts. Having made the decision not to do a back to back tour again, this appealed to me not only because of the schedule, but as I've marked my 50 years on stage, this is going to allow me to do something completely different."
The brand new show will celebrate the contemporary songwriters she loves such as Harry Nilsson, Randy Newman, Jim Webb, Burt Bacharach, Leonard Cohen, Sting, Elton John, Lennon & McCartney, the list goes on.
"Their music has been the soundtrack to all our lives, not just mine and it's the ideal opportunity to perform in an intimate way…I recently played the Royal Albert Hall with the 60 piece BBC Concert Orchestra…I'm doing these new shows 'Stripped Back!"
Elaine has performed live in concerts all over the world and, as a recording artist, has worked with legendary producers such as Tony Visconti, Dennis Lambert, Peter Matz and Phil Ramone amongst others and has released 22 solo albums (4 multi-Platinum and 9 Gold), been featured on 7 cast recordings and has had major worldwide hits with iconic songs such as Memory from Cats and I Know Him So Well from Chess.
As a performer, born Elaine Jill Bickerstaff and raised in the London Borough of Barnet, Elaine has made a major contribution to the modern musical. Trained at Aida Foster Theatre School, after an original ambition to become a professional tennis player, she has starred in more smash hit West End and Broadway musicals than anyone else of her generation and continues to present the hugely successful weekly BBC Radio 2 show Elaine Paige on Sunday, which is devoted to musical theatre and film music, and continues to delight audiences of over 2.5 million listeners each week with its mix of music, news and interviews.
In 2014 she also presented The Elaine Paige Show on Sky Arts TV. As the series went to air a brand new Warner Music CD The Ultimate Collection was released to celebrate Elaine's 50th year in the business featuring hits, rare unreleased tracks and a brand new re-mix of Be On Your Own, from the musical Nine, by Almighty Records. The year ended with a sell-out UK tour including a spectacular night at London's prestigious Royal Albert Hall accompanied by the BBC Concert Orchestra which was not only broadcast on BBC Radio 2, but was filmed and released in cinemas worldwide and later as a live DVD/CD as I'm Still Here - a song, the original of which was adapted by Stephen Sondheim to recognise the highlights of the great lady's achievements, from the show Follies.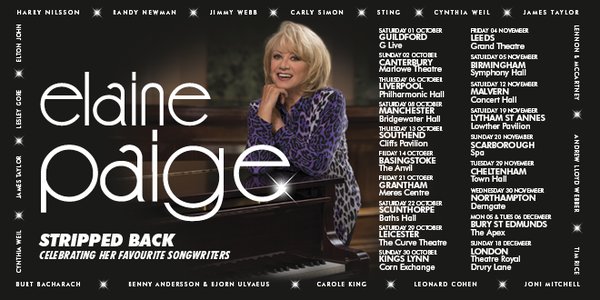 Her first role on stage was playing Susanna in a school production ofMozart'sThe Marriage of Figaro and, after graduating, her first job was modelling children's clothing at theIdeal Home Exhibition. Paige's first professional appearance on stage was during the UK tour of theAnthony Newley/Leslie BricussemusicalThe Roar of the Greasepaint: The Smell of the Crowdin 1964playing the role of aChineseurchin.To audition for the role she sang "I'm Just a Girl who Can't Say No" but was rejected the first time.She was successful the second time around after being convinced to re-audition under a new name.Browsing through a phone book for inspiration, she became aware of the "page" she was observing and decided upon that name with the addition of an "i".
At the age of 20 she made herWest Enddebut inHairon 27 September 1968, remaining in the cast until March 1970.While also being an understudy for the character of Sheila,she played a member of the tribe in the chorus,for which she was required to be naked on stage in one scene.She also appeared as an urchin in the West End'sOliver! and, over the next decade, played roles in various musicals includingJesus Christ Superstar, Nuts andGrease; in which she played the lead role of Sandy from 1973 to 1974;Billy, from 1974 to 1975 playing Rita; andThe Boyfriend, as Maisie (1975-1976).Paige had a minor role in the 1978 sex (soft porn) comedy filmAdventures of a Plumber's Mate.
Tickets for her latest tour are on sale now and will cover the following dates, of which there is sure to be a bang on bonfire night in Birmingham (at Symphony Hall on Saturday 5th November), stopping of at various North West venues including the Liverpool Philharmonic Hall (Sunday 2nd October), Manchester's Bridgewater Hall (Saturday 8th October), Leeds Grand Theatre (Friday 4th November) and the Lowther Pavilion in Lytham St Annes (Saturday 19th November), concluding with a spectacular finale at Theatre Royal Drury Lane.
Further dates are available to see on elainepaige.com/events and Feature Reviewer Christopher Oatway's interview features Elaine's advice on staring out in the industry and details of her career and radio show.
Listen to Chris Oatway's interview with Elaine Paige HERE!