At first I was afraid, I was petrified…but it turned out to be the best ride of my life (no pun intended).
I tried, without success, to watch the original 1994 movie from start to finish, (entitled The Adventures of Priscilla, Queen of The Desert); but couldn't for the life in me get into it. The show received rave reviews during its run in London's West End in 2009, at the Palace Theatre. The original cast included Jason Donovan as Mitzi (aka Tick), Tony Sheldon as Bernadette and Oliver Thornton as Adam (Felicia). It was mainly due to the fact that my childhood crush (Jason Donovan) was announced as reprising his role as Mitzi/Tick in the UK tour which made me have the urge to go and catch the tour. Having seen him in previous stage musicals, including War of The Worlds (Birmingham Arena) and Annie Get Your Gun, Aylesbury Waterside Theatre), I was a little apprehensive about how this role would suit him, however within minutes of entering the stage (to a huge rush of cheers and applause from the packed out audience) he took away any doubts and fears. This role was made for him!
From start to finish, Priscilla is camper than Boy George in Soho during London Pride! Packed with witty one-line insults and innuendos, the show is packed with glitz, glam, disco and divas!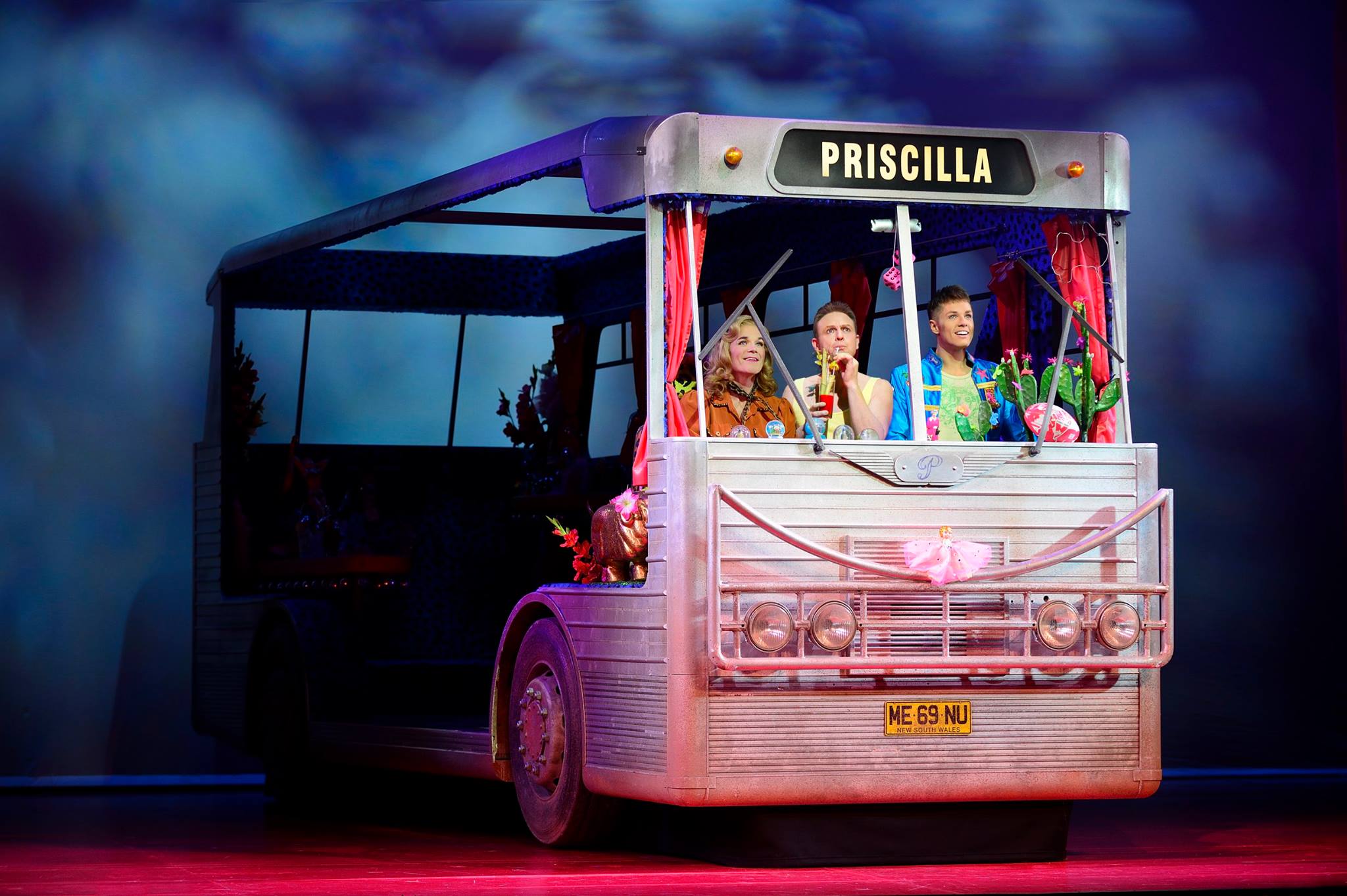 The story is focussed around two drag queens (Tick/Mitzi and Adam/Felicia) and a transsexual, Bernadette who contract to perform a drag show at a resort in Alice Springs, a resort in the remote Australian desert. This is a favour called in by Tick's (real name Anthony) wife, with whom he has been separated from for several years due to his homosexuality. Part of the reason behind Marion calling in the favour, is that Ticks now eight year old son is eager to meet his father for the first time. Tick is worried that his son will not accept him due to his sexuality and career choice, as his son is not aware of the full extent, only that his father works "in show biz". They head west ("Go West") from Sydney aboard their bus, a "budget Barbie Camper Van" which the trio christen as Priscilla.
Along the journey, they meet hero Bob when he comes to their rescue with a broken down Priscilla, face prejudice as well as expressing their inner-Minogue!
The show is filled with popular camp songs from Venus (Shocking Blue/Bananarama), Go West (Pet Shop Boys) to I Will Survive (Gloria Gaynor) and witty, bitchy one-liners. The costumes are fabulous – flamboyant, camp and very over the top. Priscilla herself is a stunning full size 360-degree rotating heap of a metal bus with an equally camp and flamboyant interior décor.
I have not laughed and cried (at the same time!) so much from one musical since The Book of Mormon. I thought parts of that musical (BOM) were camp ("Turn It Off") as with current West End musical Kinky Boots, however this is London Pride on acid multiplied by a million!
Priscilla is a musical with a book by Australian film director-writer Stephen Elliott and Alan Scott and uses well-known pop songs for its score.
I only wish I had seen this sooner. The best night out ever! Grab your stilettos and feather boa and catch a ride on Priscilla before she heads west into the desert!
Reviewer: Lottie Davis-Browne
Reviewed: 23rd May 2016