As part of The Royal Exchange's eclectic season, this was the World Premiere of Hattie Naylor's stage adaptation of Sarah Waters' acclaimed novel, The Night Watch.
We were transported back to 1940 and London at the start of Hitler's bombardment of the city. The main story revolves around a love triangle between Kay Langrish [ Jodie McNee ] and her two girlfriends Helen Giniver [ Kelly Hotten ] and Julia Standing [ Lucy Briggs-Owen ], whilst a sub-plot revolves around the reuniting of two conscientious objectors after their time in prison; Duncan Pearce [ Joe Jameson ] and Robert Fraser [ Ben Addis ] and their kindly and elderly prison guard Mr. Mundy [Christopher Ettridge ].
At first we didn't understand much at all, as we were simply given small and seemingly unconnected vignettes which overlapped each other in quick succession. We were forced to work hard to try and join all the dots, and as more and more scenelets were played out before us, some set in the present day (1940 ) and some as flashbacks, we started to get a much better picture of who is who and their relationships with each other. It was very fast-moving; there was no time to take a breath once the play started, and hopefully by the end you will have completed your mental jigsaw as everything was revealed to you.
The acting in general was excellent, but I especially liked Pearce as Duncan. He more than anybody else for me seemed to embody that era in his whole being. Ettridge was also in fine form as a very believable and likeable old closet queen, and the trio of ladies mentioned above were also excellent, especially Briggs-Owen as Julia. Again, for me capturing and embodying the zeitgeist so effortlessly.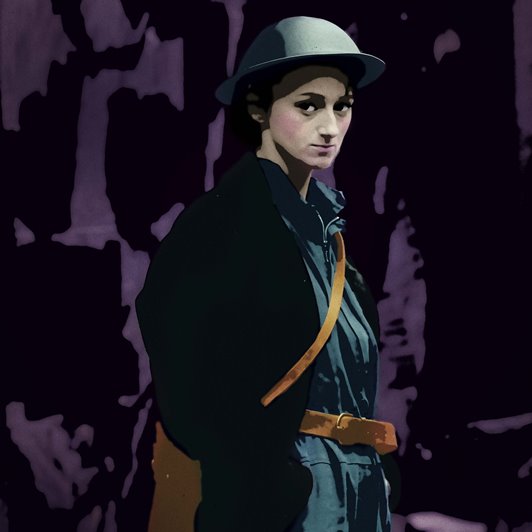 With so much in its favour, why did it fail to hit the mark for me? The answer to this lies in the staging and directing. The set, designed by Georgia Lowe was metallic, grey, and consisted simply of a revolve which once it started at the beginning of the play didn't stop turning until the end. It was quite simply boring and uninspiring. A chair or a table being brought on as and when necessary, and the only real item of set of any significance was the prison bunk bed, and the final 'surprise' that the centre lifted up. However, we knew that already due to the length of unnecessary time the chains were kept dangling.
The directing, by Rebecca Gatward was safe, neat, tidy and tame.
Moreover in our time, what was presented to us last night was neither shocking nor really interesting. We know London was bombed during the war; we know that living at that time were many closet homosexuals, and we know that they had to hide their feelings for fear of imprisonment or worse. Seeing women kissing, or men masturbating holds no longer neither voyeuristic thrill nor shock value. I left the theatre last night therefore wondering what the purpose of the evening had been. What were they trying to say and how were they trying to make me, a member of the audience feel and react towards their presentation? Unfortunately I was unable to emote with the characters last night; I was detached and distanced from them rather than being drawn in to them as I should have been. It was a very clinical production and sadly left me somewhat cold despite the superlative acting.
Reviewer: Mark Dee
Reviewed: 24th May 2016