This was a lovely piece of theatre. A simple story of boy meets girl, boy isn't right for girl, boy leaves girl but comes back. Well directed by Bill Kenwright with the set being simple but effective and all that it needed to be, for this romantic look back at a difficult time.
The young lovers, Curtis and Marie were played very well, by Jason Denton and Elizabeth Carter. Both Denton and Carter oozed stage presence coupled with experience and vocals to die for. Their chemistry was perfect. Cheeky chappie, Milton was played by Anthony Costa (Of 'Blue' fame) and he did it very well. His vocals were very good but there was just one number that didn't cut the mustard with me, and that was "Surrender" – I felt that this was perhaps a little too high for Costa and although it wasn't ruined, it was not as good as the rest of the musical numbers he sang.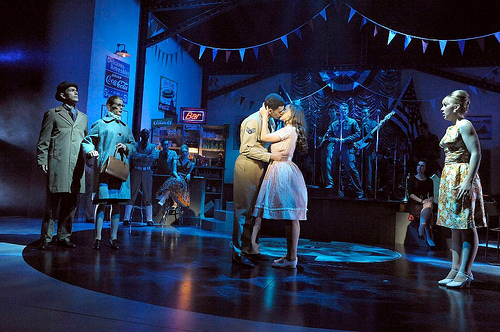 Marie's big sister, Jennifer was played well by Lola Saunders who had fabulous vocals and although lacked the experience of some of her fellow cast members (debut show) definitely warmed and relaxed into the role as the nerves subsided – I think in time, she will be a valued musical theatre asset.
Jennifer's love interest is none other, than Mr Whoopsie - the ice cream man, Carlo, played well by Alan Howell. He is the Italian Brummy with a big heart but a sometimes wavering Wolverhampton accent. However, when he opened his mouth to sing, it was fantastic – what a voice!
There was no-one on that stage that didn't deserve to be there and everyone looked like they were having fun, but I have to mention two voices in particular – firstly, Sackie Osakonor who played base Sergeant, Rufus, and whose vocals were amazing.
Secondly, to the man who led this super cast in not one, but two pieces of acapella. I had to ask the sound and lighting crew at the end if they could identify him from the program pictures to make sure I had it right, because the depth in this man's voice was incredible – I've heard many a bass before (being involved in theatre for over 30 years) but never have I heard one so clear, precise, deep and velvet and so on beat. He never faltered or led them astray in any way... And to do this without a MD in front must be daunting... Well done to Sheridan Lloyd – you truly have a phenomenal voice.
I loved the fact that the band members were actors who could play (and very well, I might add). They were equally at home playing the saxophone and playing 'mum & dad'... Superb... Being a very big Elvis Presley fan, the music did not disappoint. Costumes, hair and make-up were on point and no-one looked out of place – well done. Sound & lighting were excellent – no opening night issues at all. The choreography was well done, however I do feel that there may have been a little more 60's style in certain places but what I did absolutely love, was the acknowledgment of this 'divide' between the races as depicted in Curtis' & Marie's first dance with a replica of the start of Tony & Maria's dance in West Side Story – this was extremely clever.
One more thing and this is directed to the audience not the show, whist we were greeted by friendly and courteous theatre staff, perhaps more thought should be given to the allocation of seats to the reviewer, when as was made clear from the start that audience participation would be encouraged at the end of the show, being sat 7 rows back in the centre of a row, we missed seeing the last 5 minutes of the show as the audience in front stood up. If you go and see this show and want to stand, have a quick look behind you and check you are not blocking somebody else's view who may not be able to stand with you.
I very much enjoyed this evening's performance and wish you well for the rest of your run, and will definitely encourage people to come and watch.
Reviewed: 31st May 2016
Reviewer: Hazel Bumby