The Regent Theatre Stoke is currently showing Jackie the Musical based around the popular magazine, now being a nineties baby I truthfully didn't know what to expect here. This Jukebox musical played host to some of the most popular sixties and seventies songs imaginable. Some that I knew and some that I didn't, however the ones that I didn't had the audience singing at the top of their lungs.
As I said I truthfully didn't know what to expect, but this is what I got one of the best feel good nights at the theatre I've had in a very long time. Why? The audience was electric and reacted to the dramatic scenes with gasps and oohhhs. The show had some really heart felt moments and also some moments of absolute comedy gold. I do feel a few went over my head as they were possibly era based jokes but from the general age range of the audience I'd kind of expected this anyway. There were lots of groups of ladies just loving the show and some even up on their feet and dancing throughout. Was the show a little cheesy? Yes but that's what made it brilliant! It was almost stilton level cheese but that was everything it needed.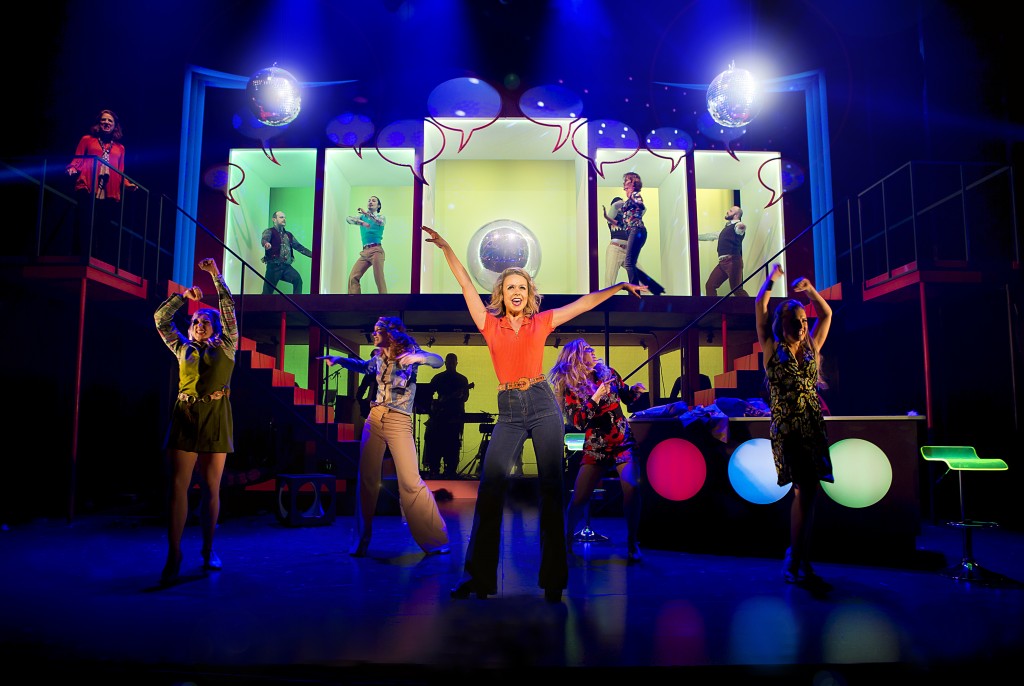 The choreography in the show was stunning, the shows choreographer was Arlene Phillips. The dances were sleek and perfectly fitted to every number such as tiger feet the dance was bouncy happy and just lovely to watch. It also incorporated beautifully into the set which was brilliant made up of two levels and two lots of stairs that moved around to create different areas and houses this was brilliant. I do sometimes think the scene changes were slightly long but they were filled with music so it wasn't a huge problem. The costumes were time appropriate and some were stunning. It did at points get a little confused when some people were still in seventies attire whilst others were in modern day attire. But I later thought they could have been fragments of the lead character Jackie's imagination as she throughout the show talks to her past self.
Older Jackie was played by Janet Dibley, she was brilliant on the stage. The whole story is based around her who is in the middle of a divorce at 54 and she begins to go through a mid-life crisis. She has absolutely brilliant stage presence and has the ability to hold the audience in the palm of her hands. The audience loved her they were cheering her on throughout the whole show and with the shows girl power ending the audience lapped up this performance.
She had a son in the show played by Michael Hamway, who was my favourite character. He was the right level of teenage stroppy and still massively caring. He was madly in love throughout the show to a big reveal later, but with who that is a spoiler so I'll let you watch the show because you'd be silly to miss it. He had the sweetest tone to his voice and every song he sang felt like he was serenading the audience. This was a brilliant performance, he played the perfect nineteen year old.
His father was played by Graham Bickley, who'd left Jackie for a younger woman. This was a lovely performance he had a beautiful voice and was a brilliant comedy actor. Tricia Adele-Turner played Gemma the woman he ran away with, this again was a brilliant comedy performance they together worked wonderfully. Nicholas Bailey played Max in the show this was a very human performance and so truthful, he was exceptionally swarve. However Young Jackie played by Daisy Steere wasn't keen on Max at all. This was a humble performance and it was highly obvious that both Dibley and Steere had worked together to learn each other's mannerisms.
Lori Haley Fox played Jill, Jackie's best friend. She was comedy gold and would probably be the embodiment of everyone's best friend. She also worked brilliantly with Bob Harms who played Frankie the funniest character in the show. Firstly, what a voice! He sang Puppy Love and everyone in the audience was in stitches.
Overall, this show is a must see. It is a really lovely girl's night out, it's a feel good show. I recommend anyone to go and see it.
Reviewer: Leanne Ashworth
Reviewed: 31st May 2016