Five women joining a pole dancing class, five very different women with little in common but each with a reason and story to tell for attending the class.....and who by the end form a strong bond and a friendship that will last as they support each other through their trials and tribulations and discover themselves.
Gabby, perfectly portrayed by super fit Louise Michelle (daughter of Vicki Michelle also in the play) runs the fitness group at the Village hall and starts the pole dancing class with the intention of whipping the five into shape. First on the scene are Bev and Faith who are different as chalk and cheese with 'fat,' sex mad Bev, hilariously and well acted by Amy Drake who delivered the more risqué lines throughout the evening and the gawky, lanky, yet to have a boyfriend Faith, played by Eve Burley who delivered some brilliant one liners and the comedy timing between the two is just perfect. Bev makes fun of herself, laughing at her weight and literally throwing herself into the pole dancing but is secretly longing for love and not one night stands but comes over as the loud couldn't care less, 'happy as she is' individual. Faith has little confidence in herself and you can't help but laugh at her endearing naivety.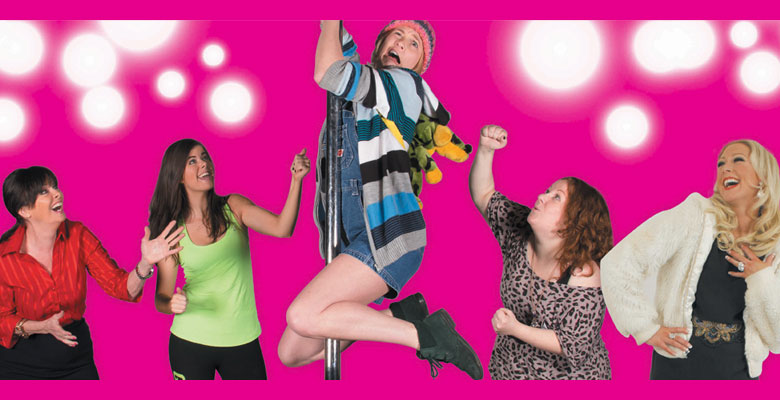 Super snob Tricia was tonight performed by understudy Sasha Cairns. This self obsessed individual has the perfect life and can't help but boast about it to the others...but is all as it seems? Cairns depiction of Tricia was spot on, she irritated those around her with thoughtless comments and her bragging, totally oblivious to anyone else's feelings.
Rita, the tough cookie who isn't really, joins the class and is seriously considering taking up pole dancing as a career in an effort to get away from her abusive husband. With another change to the cast, Rita is acted tonight by Lorraine Hodgson with a good believable performance.
Middle-aged Sarah has her reasons for joining the group which are later revealed to the group and this becomes the turning point as the women pull together, putting their differences aside and begin to help each other on their journeys. Sarah was compassionately portrayed by Vicki Michelle who starred as Yvette in the comedy series 'Allo 'Allo. Sitting midway in the theatre I struggled to hear some of the dialogue when Sarah was speaking in a low voice to the others.
As a result of Sarah's revelations, Gabby suggests the five perform at a charity gala to bring awareness and raise funds and starts making plans and setting out their routines which brings a lot of hilarity with their attempts at pole dancing! The play actually does support the Macmillan Cancer Support charity, a charity close to the heart of director Lisa Riley (star of Emmerdale, Strictly Come Dancing) after losing several family members to cancer.
The whole play is set in the village hall with no scene changes and to show the passing of the weeks the lights are dimmed after each scene and with 18 scenes that's a lot of dimming of lights, some of which I thought were dimmed a little longer than necessary but that is just a minor niggle on what was a superbly performed play by all of the cast.
The audience were mainly women, men being outnumbered by at least 50/1 but I would not say it is something men would not enjoy, although as expected they are the butt of many of the ribald jokes so it's a brave man who does go. My husband had no choice as my plus one, but he did enjoy it.
The Naked Truth written by Dave Simpson (also the writer of acclaimed Girls Night Out) is a story of differing lives brought together with comedy but resulting in poignant moments which unites them all. It's a hilarious play which leaves you laughing but brings home how cancer can affect anyone at anytime and the fact is acted with dignity. Emotive and inspirational its one to see.
For more info and tour dates: http://www.worldonstage.net/the-naked-truth.html
Reviewer: Lorna Weekes
Reviewed: 1st June 2016
North West End Rating: ★★★★