Hamlet is Shakespeare's longest play; and at over 4000 lines of dialogue even the faster speakers would struggle to do the entire play in less than 3½ hours. Cuts must therefore be made. Some of these cuts seem to be universally accepted as being ' the right ones', and seldom if ever are kept in; others remain at the director's discretion. I have thus far seen three performances of Hamlet this year, and this one, presented by Shakespeare At The Tobacco Factory (STF) was the longest and most faithful of the three, lasting three hours including a twenty minute interval.
The set at the smaller of The Lowry's two main theatre's was simply perfect, (Max Johns) appealing to my minimalist Brechtian principals greatly. The stage had been built out into the stalls with some rows of tiered seating built onto what is normally the prosc arch stage, allowing for a clever T-shaped stage to develop with audience on all four sides. Much more in keeping with the up-close-and-personal performances at The Swan in Stratford or even The Globe in London itself, and certainly much closer to the style of performance it was written and intended for.
Various small additions were made to this blank canvas as the need arose, such as benches, chairs etc, but always the absolute minimum and always sparingly. This made you concentrate so much more on the acting and the dialogue and improved our experience of the play by so doing.
The one major drawback to this style is that the LX needs to be just that little more creative in order to create the correct hues for each scene and make sure we are able to distinguish between midnight on the battlements from a field in Denmark from a room inside the castle. There were small and subtle changes in Matthew Graham's design, but my biggest bugbear was a large pool of light staying in the central part of the thrust for majority of scenes for no apparent reason.
Another massive plus for this production was their decision to stage the play in the correct period and costume. Oh how much better doth the words and actions of such a play befit the era in which it were writ; an era of letter-writing, belief in apparitions and superstitions, a time when the throne was thine only for as long as thou didst manage to keep alive to slay thine enemies afore they slayeth you! A time when a dual was fought as a matter of honour and swords and daggers as commonplace then as the mobile phone is now. It all makes sense and fits so wonderfully like a hand in a glove. Why can't more directors of modern productions see this and understand this?!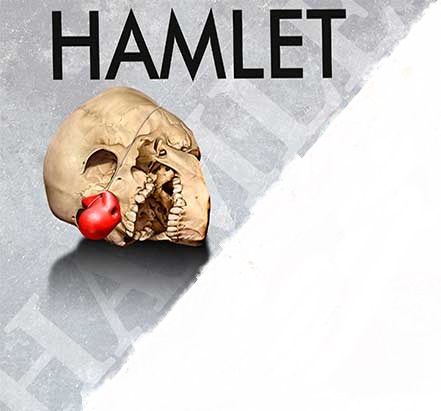 In general too, the acting was of a high standard. The biggest consideration however, when casting a play called Hamlet is that the play centres around him, the plot does not advance without him, and he has the most to do and say throughout - the clue is in the play's title! This means that whomsoever is chosen needs to be not just good, not just acceptable, but exceptional. Alan Mahon was the first two, but sadly not the latter. He did not have the experience nor the gravitas to carry off this role, failing to impress both myself and my companion for the evening.
Of all the actors on stage tonight, it was those who had been classically trained and projected their voices correctly with clear diction and clear intent who impressed most, and of those the outstanding performances came from Alan Conevey as Horatio, Ian Barritt as Polonius and Paul Currier as Claudius.
Of the modern breed then Isabella Marshall's Ophelia was noteworthy.
John Sandeman did a superb job devising such a wonderful and authentic duel sequence, and make-up made certain that both Laertes and Hamlet drew blood; why then was the stabbing of Polonius behind the curtain so 'AmDram' and no blood?
I found the directing (Andrew Hilton) rather static. First, the placing of cast on stage was almost like a game of chess, and seemed unnatural and there simply because of sight-lines. Second, the whole play moved at a similar pace. I was once told by an excellent director and friend that a play should be performed as is a piece of classical music. Take a piece of classical music that you know well; there are sections which are very quiet, sections which are very loud. There are moments when there is no sound at all, and moments when all the instruments play together - sometimes discordant, sometimes in harmony. There are fast sections and slow sections; and yet, the whole thing cannot be played in small bits, the composition only works when played as a whole and the whole thing flows as a continuous yet ever-changing melody to reach the conclusion. It's a good analogy and one that has stayed with me all these years. There were not enough changes in dynamic in this play, even in the denouement. And third and finally, Hamlet is essentially a tragedy, and therefore requires a grand build up of suspense and tension. The moments of gentle humour were superbly found and played, but the moments of catharsis and the final horror were underplayed.
It was undeniably an enjoyable performance and I greatly appreciated being so close to the action; it was just a real shame there was so little actual action.
STF are performing this play in tandem with All's Well That End's Well at The Lowry until the 11 June and the continuing on tour until the 25 June. Having seen this company perform a tragedy, I would now be very interested to see the same team perform the comedy; but unfortunately I'll not be able to do so.
Reviewer: Mark Dee
Reviewed: 7th June 2016
North West End Rating: ★★★