Everything It's Cracked Up To Be And More
The time is Elizabethan England and this comedy by Karey and Wayne Kirkpatrick, co-written with John O'Farrell (of Spitting Image fame), opens energetically as Minstrel (Bud Weber) and Ensemble bid us 'Welcome to the Renaissance', a corresponding farewell to the grim Middle Ages, and gives us our first glimpse of the main antagonist, William Shakespeare (Christian Borle), in this musical comedy which pokes fun at the very idea of a musical as well as a satire of everything Shakespeare including whether he actually wrote any of the works.
The opening scenes serve well to introduce the main protagonists as we meet ambitious stage producer Nick Bottom (Rob McClure) and his sensitive and creative brother Nigel (John Cariani) who are down on their luck as their proposed production of Richard II is shut down as Shakespeare, who has recently had a smash hit with Romeo and Juliet, has a play of the same name scheduled to come out: their patron, Lord Clapham (Edward Hibbert), threatens to withdraw his support unless they can provide him with a sure-fire success in the next 24 hours. Nick proclaims his frustration with 'God, I Hate Shakespeare' (didn't we all think that at school at some point?) whilst we discover that Nigel is in fact a secret fan. We are also introduced to the puritan and anti-theatre crusader Brother Jeremiah (David Beach) and his daughter Portia (Jenny Hill) in one of the evening's many nods to the great works which also includes Shylock (Gerry Vichi), a Jewish moneylender determined to get into producing, that cues a number of Jewish gags which, despite drawing a sharp intake of breath from some audience members, works in a New York setting although may not travel as well.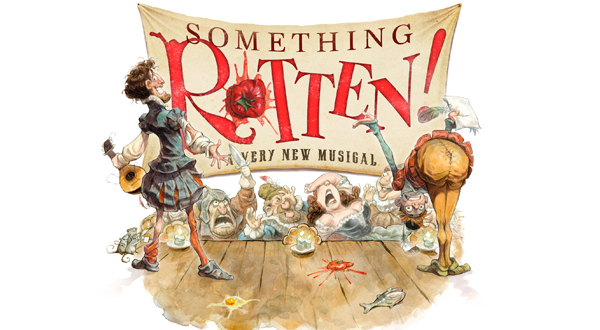 Back at home, Nick's pro-feminist wife Bea (Heidi Blickenstaff) offers to become the breadwinner in 'Right Hand Man' as she cleverly anticipates the changes that are going to come: there's even a woman on the throne. Desperate Nick decides to seek out the future for himself as, taking the family savings, he approaches Soothsayer Alley where he encounters Nostradamus - or rather his nephew Thomas (André Ward) - who foretells a future where stories are dramatised in song and dance and following the spellbinding 'A Musical', Nick is on his way with this new idea. Sadly the catchy little number 'The Black Death', complete with dancing grim reapers, does not meet with the approval of their patron who quits.
We now discover Portia and Nigel's shared passion for poetry and plays as recounted in 'I Love The Way' which sees them fall for each other and sets another story running within the main theme. They are invited to a private recitation by Shakespeare who we now meet in his full strutting glory with the showstopper 'Will Power' where, surrounded by sycophants laughing at his every whim and word, it becomes clear that he is intent on stealing Nigel's notebook of ideas. The appearance of Nick allows the feuding back story between the Bottom brothers and Shakespeare to be explained before Nick again seeks the assistance of Thomas but this time wanting to know what Shakespeare's greatest play will be so he can steal it. Unfortunately for him Thomas looks beyond the prediction of Hamlet and sees cats and singing nuns with the resultant scramble becoming the world's first musical, Omelette, and leading Nick to declare 'Bottom's Gonna Be On Top' as we head into the interval.
A reprise of 'Welcome To The Renaissance' gets the audience back in the swing followed by Borle's Shakespeare, accompanied by his Backup Boys, superbly entreating it's 'Hard To Be The Bard' whilst Nick and the Male Ensemble Trio cook up 'It's Eggs!' Portia and Nigel's love story resumes gospel-style with 'We See The Light' that successfully mimics many a Broadway show. Nigel refuses to work any further with Nick in 'To Thine Own Self Be True' and walks out though Bea's reprise of 'Right Hand Man' suggests there is a future together for the two brothers.
Nick's make-or-break show launches us into the delightful medley of 'Something Rotten!/Make An Omelette' and all appears to be going well until the troupe's new York actor (think about it...) takes off his disguise and reveals himself to be Shakespeare and tells everyone how Nick stole his yet to be written work. Nick is disgraced, Nigel is betrayed and it is not long before they are in court facing execution. In a clever nod and twist to The Merchant of Venice, it is the disguised Bea rather than Portia who appears as their lawyer and the two brothers are reconciled to a reprise of 'To Thine Own Self'. Despite this they are found guilty and it is a redeeming Shakespeare who saves the day, as well as removing his competition, and the brothers are banished instead to the New World along with their so called musicals and with their 'Finale' we are treated to the very first American musical as the story comes full circle to the present day success that this Broadway musical most definitely is.
All of the main cast members get a chance to shine but on the night the show was well and truly stolen in turn by Borle's Shakespeare and Ward's Thomas Nostradamus. Cariani's neurotic Nigel reminded me on one hand of a younger Woody Allen and on the other, Rick Moranis in the 1986 film version of Little Shop of Horrors (or Whores as Ward's Nostradamus unsuccessfully predicts!) Beach's Brother Jeremiah perfectly delivers every bawdy and risqué line whilst McClure's Nick anchors the whole proceedings throughout.
Scott Pask's inventive set design is perfectly complemented by Jeff Croiter's lighting and combined with Gregg Barnes' rich costumes and Casey Nicholaw's direction and choreography, they perfectly bring Tudor Stratford-upon-Avon to life in every sense of the word.
With superb wordplay and demonstrating both a knowledge and love of Shakespeare and Broadway, the songs are catchy and remain playing in your head long after the production has finished. Gags abound, some obvious, others less so, but ensuring an eclectic appeal to a wide audience. If you want clever and fun entertainment then this is the show to see, I've never had a better time.
The St. James Theatre is a Broadway theatre located at 246 W. 44th St. in New York City. It was built by Abraham L. Erlanger, theatrical producer and founding member of the Theatrical Syndicate, opening in 1927 as The Erlanger. Upon his death in 1930, control passed to the Astor family, who owned the land it was sited on, and who renamed it St. James Theatre. In 1970 it became part of the Jujamcyn Theaters, the third largest theatre owner on Broadway, owning five of the 40 Broadway district playhouses and with an enviable business model which has accounted, at times, for one-third of the gross revenues on Broadway.
Something Rotten! previewed on 23rd March 2015 with its opening on 22nd April 2015 since when it has delighted audiences and is a 2016 Tony Awards Nominee for Best Musical. Christian Borle won a Tony Award for Best Performance by an Actor in a Featured Role in a Musical in 2015 for his performance as Shakespeare.
Reviewer: Mark Davoren
Reviewed: 4th June 2016
North West End Rating: ★★★★★