Jim Cartwright's latest offering begins with a blinding flash of light and the unmistakable buzz of a sunbed. As the audience's eyes readjust to the darkness Shane appears in a pool of blue light, resplendent in sunbed goggles and superman undies, preparing for a night on the town with a quick 'nine-minute blaster'. James Cartwright (Shane) assuredly commands the audience, who are as up for a good time as the character he portrays, walking us through his preparations for the evening ahead. Anthony Banks's direction is evident from the get go turning the scene in which Shane gets dressed into a kind of reverse strip tease, with slick blocking and some great eyebrow acting from Cartwright Junior (if you hadn't guessed James is Jim's son).
This is a one-man show with verve and energy. The fourth wall is ignored as Shane directly addresses the audience challenging us to sniff his deodorant and laugh at his Paddy McGuinness impression (or rather his impression of his friend Micksy's Paddy McGuinness impression!) as he takes us into his confidence and shares his fail proof plans for the girls - "I've got a veritable aviary in here." - and the drugs - "get the cocktail right, hit the moments of the night".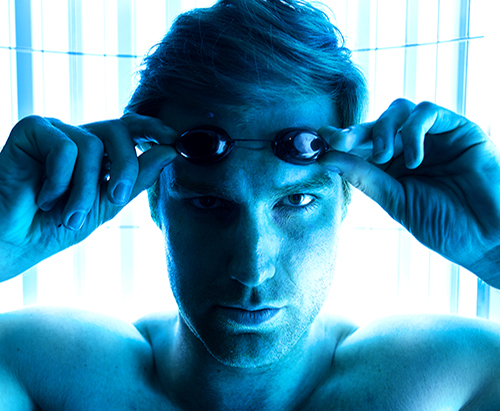 Cartwright Senior's command of language, in evidence in his earlier plays 'Two', 'Road' and 'Little Voice', is top notch here and Shane's monologue is full of clever rhymes and striking images (the descriptions of the end of the night human detritus and al fresco copulation are particularly vivid). He's also created a great mouthpiece for "the generation that got forgot" and Shane articulates the reality of dead end job and no prospects highlighting the pathos and politics at the heart of this entertaining work. James is excellent in the role, fluidly swapping between characters in the blink of an eye, making us laugh with him and feel for him as the cracks in his buoyant personality begin to show.
At 52 minutes this is a perfect pre-night entertainment, although be warned you spend the whole night with Shane which may cause you to swap your post show tipple for a water! It is also a masterclass in stamina from James Cartwright, in concise direction from Anthony Banks and in writing from Jim Cartwright. A worthwhile exploration of living for the weekend.
Reviewer: Clare Chandler
Reviewed: 10th June 2016
North West End Rating: ★★★★