If you go along to a jukebox musical expecting anything remotely challenging then you're out of luck as Save the Last Dance for Me is merely an excuse to have fun listening to classic rock 'n' roll numbers strung together by a feeble story.
Thanks to an energetic cast, and the genius of Elvis' favourite songwriters Doc Pomus and Mort Shuman who provide all the tunes, this glossy touring production does comfortably sail over the fun bar - albeit one set very low. It seems inconceivable given the thinness of the plot that Lawrence Marks and Maurice Gran, who provide the contrived links between songs, once wrote something as caustic as The New Statesman.
The 'story' such as it is involves Jennifer (Lola Saunders) and her teenage sister Marie (Elizabeth Carter) going off to Lowestoft in 1963 for their first holiday away from home. The sisters are invited by charming US Serviceman Milton (Antony Costa) to the local air force base to hear the band he fronts whereupon Marie falls in love with black serviceman Curtis (Wayne Robinson). There is a flimsy attempt to inject some dramatic tension around Curtis' experiences of racism here and at home before quickly getting back to the young lovebirds battling to be together.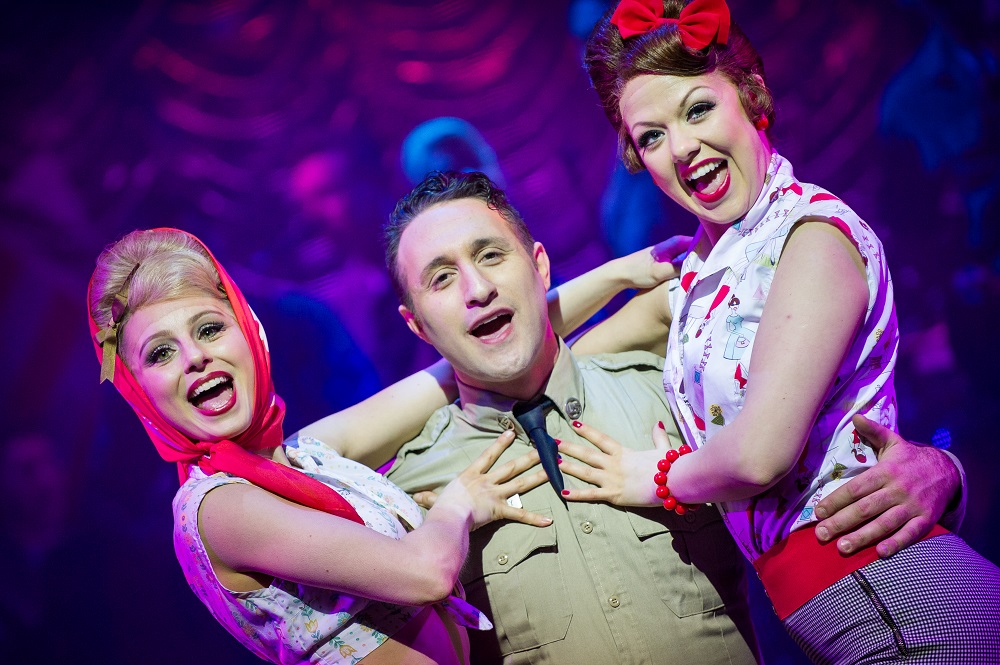 Now, a jukebox musical becoming a hit like this one relies on the quality of the songs which is why Mamma Mia has grossed millions despite being lumbered with an even weaker book that this one. Luckily Pomus and Shuman wrote some of the greatest songs every written like Can't Get Used To Losing you and Suspicion brought to life by a slick seven piece live band, and cast members belting out twenty odd hits.
The cast for these shows are often a mix of West End regulars on the way up, ex-pop stars and reality TV survivors. Costa has put his days in boy band pioneers Blue firmly behind him as he manfully maintains his American accent – which has defeated better actors than him – and he shows some nice comic touches, Oh, and he can knock out a tune having great fun with Viva Las Vegas.
Former fishmonger Saunders came tenth in 2014's X Factor and she acquits herself well on their debut stage tour knocking out the Elvis hit Little Sister as she tries to protect her innocent younger sibling. She sparks well off the more experienced Carter, who has form as she was in the West End cast of Dreamboats and Petticoats created by the same team, and her heartfelt version of A Teenager in Love sparked a singalong - despite most of the audience last being teenagers when these songs were written.
West End veteran Wayne Robinson manages to breathe some life into cardboard cut-out Curtis, and has far the strongest voice belting out Save The last Dance For Me which not surprisingly closes proceedings.
If you think Call The Midwife is gritty social commentary, or are pining for the return of Heartbeat, then this show is exactly what you will want on a night out, but for the rest it's a chance to focus on song-writing genius and how bizarre dance moves were in the sixties.
Save The Last Dance For Me is as Leeds Grand Theatre until Saturday 18th June and touring nationwide until Saturday 8th October. To book at Leeds Grand go to www.leedsgrandtheatre.com or box office 08448482700.
Reviewer: Paul Clarke
Reviewed: 13th June 2016