Never in over twenty-five years of theatre visits have I been left speechless before. Until Wednesday evenings visit (and a first time visit at that) to Leeds' West Yorkshire Playhouse, where a collaboration of West Yorkshire Playhouse and Opera North have co-produced the Sondheim classic "Into The Woods".
Following a successful box-office hit of the musical film version in 2014, starring Meryl Streep and James Corden, now seems the perfect time for various stage productions to hit theatres once more, almost thirty years since it first hit Broadway. What this production brings to the stage is purely magical, like nothing I have ever seen before, and the two company's interpretation of the fairy tale book by James Lapine (with music and lyrics by Stephen Sondheim is simply genius!
Without giving too much away (and believe me it is so hard not to!), this production differs greatly from other productions of the same musical by putting their own spin on how the story is told. This teamed with a breath taking stage set, including one very scary giant - how the children in the audience were not crying with fear I do not know as I was wishing I could fit under my seat to hide, West-End worthy costumes (my favourite being the Witch's dress post-transformation), the clever use of a digital screen and outstanding vocals, there is nothing I could find fault with in this production, it is simply flawless.
By the end of Act One - which is focused around the wishes of various characters (The Baker and his Wife, Cinderella, Little Red Riding Hood, Jack and his mother), my friend and I were totally speechless at just how amazing the show was so far (Act one last over an hour). At the end of the show we found ourselves talking about the quality and detail of the show well into the early hours of the following morning!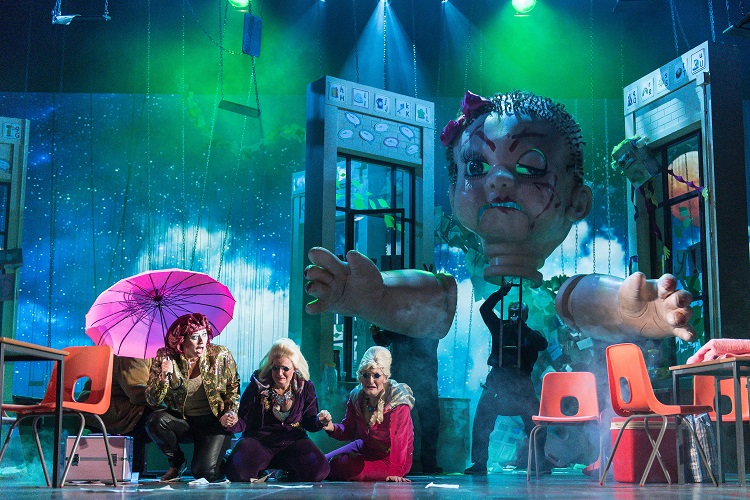 No expense has been spared on this production making it a magical experience for audience members both young and old. The clever use of digital media along with excellent casting, makes this show worth seeing again and again. I am already eagerly trying to plan a second visit but I honestly think that even two visits alone is not enough to be able to take in every single fine detail this performance has to offer.
David Llewellyn gives a humorous but loveable performance as the Wolf. With an air of camp-ness and raunchy sense of humour, we found he had us in fits of giggles one minute but then genuinely scared the next. Claire Pascoe was outstanding at the Witch, again putting just the right level of fear into the audience but then winning us all over after her transformation to her former youthful and glamorous self. Amy Freston stole the show with her vocals as Rapunzel giving a performance worthy of a standing ovation. However, in Act Two my attention was drawn to Gordon D Shaw as the Steward - he was just full of humour and charm.
I could say so much more about this spectacular production but in doing so would ruin the wonderful spin on it. Forget the Hen laying golden eggs - I left on such a high that I could literally burst out golden eggs!
The show has a wonderfully long run, having opened on 2nd June, the final performance is scheduled for 25th June, therefore still plenty of time to squeeze in a few trips to witness the magic for yourselves as believe me once will not be enough!
This was my first visit to this wonderful gem of a theatre and after this evenings performance I now cannot wait to return to both this production and future productions.
Sondheim's mantra in "Into The Woods" is "be careful what you wish for" - but I beg to differ - all I currently wish for is for this production to either tour or transfer to the West End so that I can relive its magic over and over again. I have given this production five stars but feel it is worth an entire galaxy of stars.
Reviewer: Lottie Davis-Browne
Reviewed: 15th June 2016
North West End Rating: ★★★★★