I really wasn't sure what to expect when I entered the theatre for the performance of Puppetry of the Penis. However I was soon put at ease and pleasantly surprised. The show began with a warm up act who was simply brilliant. She quickly got the audience to relax and join in with her alternative comedy style. The highlight was when she played a ukulele and sung popular songs with a twist using novelty lyrics. This was a delight to watch and really set the tone for what we were all about to witness.
The two puppeteers then entered the stage, wearing superhero capes and trainers. The audience patiently waited as they cracked jokes before dropping their capes to the ground. All the females erupted into a loud cheer - although this was more in a supporting and excited way rather than a tacky hen party roar. The grandma to my left at this point chose to pay for the binoculars in her seat which made everyone around her laugh uncontrollably. It turned out she didn't have to do this as the show was then projected onto a large screen to ensure everyone could see the wonders that awaited.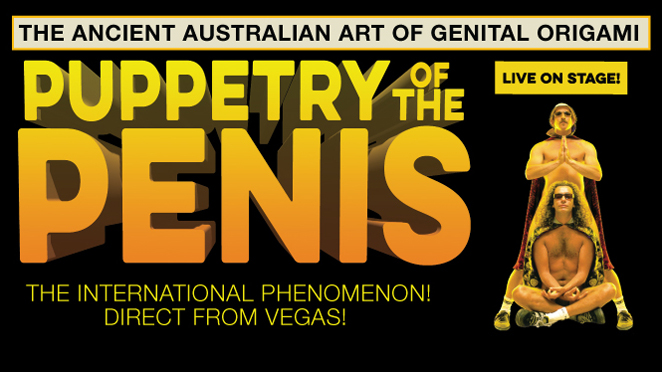 The due then began showing us what impressive things they could do. Recreating the Eiffel Tower, The Loch Ness Monster and a wealth of food items, such as hot dogs, hamburgers and a scarily realistic piece of KFC chicken. The whole audience were clearly memorised trying to figure out how they had done these bizarre things. Who would have thought you could create a giant pelican by a few simple bends, folds and stretches?
The show has been running for fifteen years and played in over 35 countries. It's hard to imagine how they have made this concept into a one hour show. However it is the constant banter and viewer interaction that manages to hold the audience's attention and laughter. They pair clearly also work very hard to keep the show fresh and current using jokes about Donald Trump and Kim Kardashian.
The show is highly recommended to anyone wanted a good laugh. It is purely about the funniness of the penis and is not a show about sex. It is simply two charming and witty men that are good at entertaining a crowd. The whole audience were in hysterics from start to finish and almost crying at their brilliant finale. You also knew that the few men scattered about the theatre were desperate to try out the moves when they got home. This show is not to be missed for anyone needing a good girly night out.
Reviewer: Ellie Close
Reviewed: 18th June 2016
North West End Rating: ★★★