A dance fest packed with songs everyone knows, including - love it or hate it - I've Got a Lovely Bunch of Coconuts.
From Gene Kelly to Judy Garland, That's Entertainment was a delightful tribute to hit songs from the 40s and 50s that made the audience at The Regent Theatre in Hanley 'chase all [their] cares away', sing-a-long and have a right ol' 'knees up (Mother Brown)'.
A dazzling mix of tap and ballroom dancing was one of the highlights of the evening, eight dancers wowing the audience during classic numbers such as Puttin' on the Ritz and I've Got Rhythm. Our compère for the evening was confident tap dancer Simon Schofield whose transformation into a tramp for We're A Couple of Swells with Emma Kate Nelson was a comedic triumph.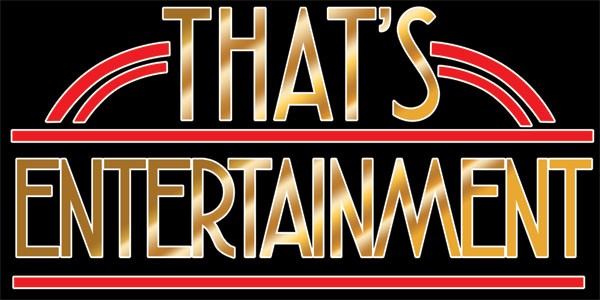 Stepping into the limelight as a special guest on this leg of the tour was Britain's Got Talent finalist Becky O'Brien, who's vocal prowess leant itself perfectly to songs by divas such as Judy Garland and Barbra Streisand. Her rendition of I'm The Greatest Star from Funny Girl seemed very timely with the show back in the West End. My only slight disappointment was that she mainly sang Garland songs, having just finished performing in a musical dedicated to the star, and she did not sing with the rest of the cast in the finale. I also felt that a concert piece like this would have benefitted from a live band.
The star of the show for me though was X Factor finalist Sean Smith (one half of Same Difference). Smith drew the audience in with his soaring voice and charisma, which he got to showcase during heartfelt solos such as On The Street Where You Live and Some Enchanted Evening. The latter formed part of a South Pacific medley that included a skilful dance involving towels for I'm Gonna Wash That Man Right Out of My Hair and I also enjoyed seeing dancing feet emerge beneath the curtain at the start of Act Two when they re-created the famous moment from 42nd Street.
I did feel like the evening was aimed at an older audience, especially during the Pearly Kings and Queens medley, but all overheard comments were very positive. I think that every musical theatre fan would find something to enjoy in this celebration of the golden age of musicals.
Reviewer: Robert Brown
Reviewed: 23rd June 2016
North West End Rating: ★★★