Six women, a pole dancing class and a lot of laughs arrived at the Stockport Plaza tonight in the form of The Naked Truth, a comedy play that has a depth to it that at the beginning of the evening you don't see coming. Directed by Lisa Riley and written by Dave Smith this is a play for women, about women who are united in a common cause following shocking news from one of the group.
This show is a cross between The Full Monty and Calendar Girls and features a superb cast of six very talented actresses. Each character has their own personal story interwoven into the show and it is impossible not to either relate to or sympathise with each and every one of them. Former pole dancer turned teacher Gabby (Louise Michelle) gains 5 new pupils, all very different from each other and wanting to learn a new skill for different reasons. Michelle impresses throughout keeping the class in order and performs some impressive pole dancing moves through the evening.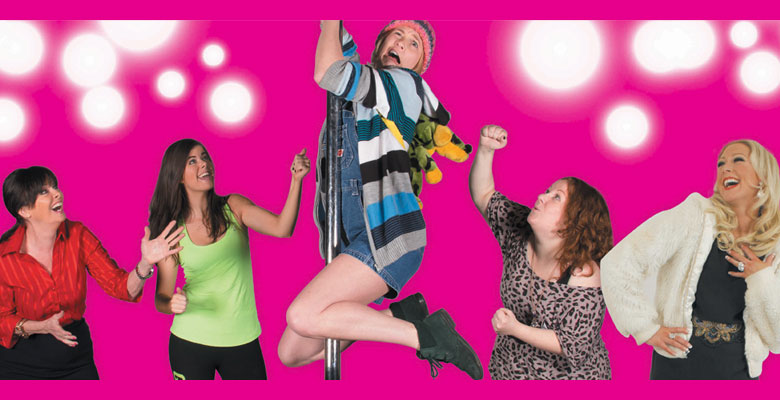 Amy Drake as Bev almost steals the show with the riskiest lines in the script which bring audible groans from the Stockport audience, add to that her valiant attempts at pole dancing and in any other play she'd be the highlight. Another 'almost' show stealer is Eve Burley as Faith. Incurably daft and obviously having led a very sheltered life some of her comments or replies to questions are pure comedy gold.
Rita (Lorraine Hodgson) is for me one of the most believable characters in this show. With a failing relationship at home she sees the chance to learn a new skill and make some extra money working in the clubs. Hodgson played the role tonight in a very understated way which was just perfect. Vicki Michelle as Sarah has her own reasons for joining the class however her past makes an unwelcome return and becomes the overriding reason everybody wants to become the best performer they can.
Faye Tozer plays the incredibly over bearing and complete spoilt brat Tricia. Tozer steals the show for me. From start to finish she provides an absolute masterclass in acting and comedic timing and also dance. This is a complete performance from start to finish and deserves the loudest applause.
The biggest problem with this show is its pace. Broken down into individual scenes each separated by a blackout each time, some seem to be overly long and some don't really need to be there at all as they do not help progress the story. A perfect example of this was a dance rehearsal scene towards the end of the second half, it just served no purpose whatsoever. If the pace could be quickened up this will change from a good show to a great one.
The Naked Truth is a fun night out with a very heart-breaking sub plot. With the high calibre of talent on the stage it is just a shame the pace of the piece can't match the same high standards.
Reviewer: Paul Downham
Reviewed: 23rd June 2016
North West End Rating: ★★★