Award-winning writing duo Lawrence Marks and Maurice Gran have created yet another Jukebox Musical in world where this style of show seems to be the plat-du-jour. This one does work a little better than most though. There is a very credible and understandable storyline, into which the songs - mostly - fit, without having to be made to fit with a crowbar.
This is a Musical which celebrates the writing partnership that was Doc Pomus and Mort Shuman. And already I hear you cry, "Who?!" Well, to be honest I had never heard of them before either, but they did write, among many other hits, the famous song which forms the title of this Musical. And with 30 such numbers to perform throughout the course of the evening, there is bound to be at least one that you will know. Rhythm Of The Rain, Viva Las Vegas, Sweets For My Sweet, A Teenager In Love, Please Mr. Postman etc.
I do find this style of show somehow insubstantial and inconsequential, and have never been a huge fan, but that's just the whole point of them - they are not there to make you think or to make the audience wonder at the deep and meaningful characterisations, or to be mentally challenged in any way - they exist simply as feel-good tributes for the audience to forget their troubles and sway along with some lovely music and go out of the theatre humming the tunes in a happy mood. And so from that perspective this show ticks all the boxes. Mission accomplished.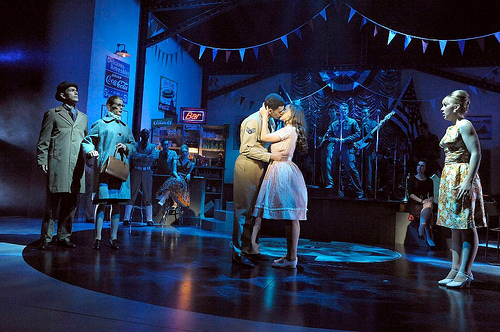 Once my eardrums had accustomed themselves to being bombarded with over-amplified and not quite balanced too-loud music, and my brain and eyes could discount the extremely odd, pointless, and altogether wrong choices of colour wash from the LX department, (their choices of colour as wash and backdrop throughout were simply baffling and didn't make any sense) then I could sit back and enjoy the show. And actually, I have to admit, in the main, I did enjoy it. It didn't make me want to sing along and dance in the aisles, as some of tonight's audience were doing, and it certainly won't go on my list of shows I would see again; but it did provide a pleasant evening's diversion from the grim world we live in, and for those old enough, a trip down Memory Lane too. There were two stand-out numbers for me; and unsurprisingly perhaps they were both a cappella, involving the whole cast's vocal not instrumental talents. Sweets For My Sweet and Hushabye.
It is 1963 and two sisters from Luton go on a Summer holiday together to Lowestoft. Five miles out of Lowestoft's centre is a large USAF Base, and yes, that's right, the two girls end up visiting the base and falling in love. The older girl has a fling with one of the Americans (Milton), but actually finds the Brummy charms of simpleton ice-cream seller Carlo more interesting; but the main plot revolves around the younger sister (just 17 if we are to believe the narrative) falling in love for the first time with a young black American from the base, Curtis.
Basically it is a love story. True love will win no matter what the odds. There is also some humour in the piece, and because the year is 1963, we can find humour in taking the Mickey out of laid-on Regional accents, racial stereotypes, and the differences between US and British English (which we all now simply take for granted and understand). And the whole thing is performed inside a seaside postcard which seemed like a great idea since the show was very mono-dimensional, despite giving us a slight insight into how both America and England reacted to black people at the time.
Wayne Robinson played the main role of Curtis with ease and charm, the ladies in the audience falling for him straight away, and it was easy to see why; talented and keeping his cool, he oozed charisma and sensuality. Playing opposite him in the lead role of younger sister Marie was the very capable Elizabeth Carter; and they were ably assisted in their journey of discovery by Antony Costa as an aging Casanova Milton, who tries it on with everything in a skirt, but has a good heart and is perhaps the most human of all the characters we meet; Lola Saunders is the older sister, and although her very thick London accent helps her through the dialogue, she cannot avoid revealing her Geordie roots when she sings; and Alan Howell is the 'Italian' from Birmingham, Carlo.
The singing, in general, is very good, and the onstage band also provide backing vocals and act small cameo roles too, and so despite it looking like a rather long cast list - most were band members for majority of the show. The dancing was really surprisingly simplistic and not very adventurous at all. This is a number 1 tour with a headline cast playing at premier venues throughout the country, so why were we not given some exciting and imaginative choreography too?
A great show to go and see on a rainy day after a bad day at work - it'll put a smile on your face and you'll go home in a good mood. Just don't expect to see realistic sets, ( a cardboard cut-out of the side of a caravan with absolutely no attempt to even try to mask the entrances and exits from behind ), and deep and meaningful acting. What you will get though is plenty of good tunes, and a cast that will undoubtedly have you stamping your feet and swaying your body before too long!
Reviewer: Mark Dee
Reviewed: 27th June 2016
North West End Rating: ★★★