The stage is set with a loft scene designed by Morgan Large and works fantastically well with this show, as George, who expressively, with probably the fewest words ever spoken by a narrator, takes us on a journey of his life.
The Last Tango performed at the wonderful Grand Theatre in Blackpool was simply stunning from the very first step...and that was up the ladder to the loft!
Taking those steps was Teddy Kempner performing as George, who upon searching through his possessions came across several items evoking a whole range of emotions and memories which are portrayed through dance by Vincent Simone and Flavia Cacace and supported by an amazingly talented ensemble of eight. With each item holding a special place in his heart, George reminisces and the pure poetry of the show begins as the story unfolds with the first meeting of young George (Simone) and his wife (Cacace) at the seaside. With fabulous dance routines from the onset we are taken back to the 1930's with songs from the decade including the upbeat, feel good 'When You're Smiling' as our young couple meet, then a first dinner date to 'When I Fall in Love' performed by the wonderful vocal talents of Matthew Gent. We share their wedding day, their separation by war, the reuniting and Christmases, the children, the hopes and dreams of a young couple in love.
Such is the power of dance that words are not necessary to express this passionate love story from beginning to end, however, the wonderfully chosen songs with crooner Gent and several sung by the multi talented dancer Rebecca Lisewski, simply enhance the performance with 'At Last', 'Beyond The Sea', 'Boogie Woogie Bugle Boy', 'Perhaps, Perhaps, Perhaps' and the apt 'Save The Last Dance For Me', just a few transporting us through the years.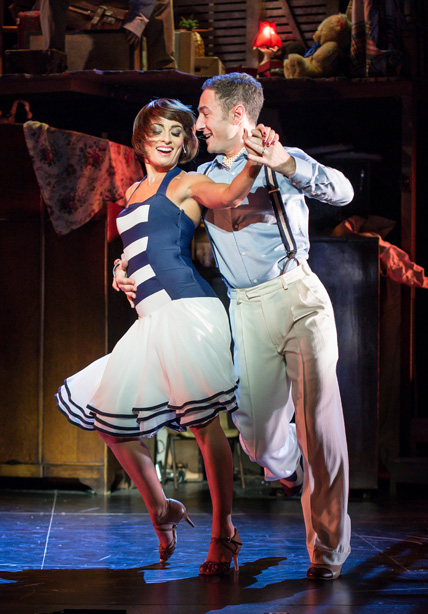 Each scene has been beautifully choreographed whether it be the whole ensemble or Simone and Cacace together and credit goes to them and director/co-choreographer Karen Bruce. Scenes at times are lively with energetic moves and performed as a group or in couples, others danced with style, elegance and grace, all faultlessly. The costumes designed by Vicky Gill, are simply perfectly fitting (pardon the pun) and compliment each dance from the beach wear to the flowing gowns. The show is supported by the excellent sounds of an orchestra under the direction of Steve Geere with some wonderful instrumentals. Adding to the atmosphere are the subtle lighting effects created by James Whiteside.
With a mesmerising, stunning 'Last Tango' by Simone and Cacace the show reaches its climax and sadly it is hard to take in that this truly will be the 'Last Tango' as the duo gracefully bow out with this, their third and arguably their best touring theatre show, following Midnight Tango and Dance 'Til Dawn.
Not just a dance show, nor a musical, just a wonderful experience appealing to all with an endearing storyline. I can honestly say I did not want the last tango to happen... captivated from the start, I wanted it to go on and on. Like all good things it came to an end but the show continues with performances at the Grand Theatre Blackpool until Saturday July 2nd. for info: https://www.blackpoolgrand.co.uk/events/
Reviewer: Lorna Weekes
Reviewed: 27th June 2016
North West End Rating: ★★★★★