"Oh you, pretty Chitty Chitty Bang Bang we love you…"
Chitty Chitty Bang Bang is the perfect family musical, a classic loved by both young and old. With popular songs including "Mi Ol' Bamboo", "Doll in a Music Box" and of course the title track, Chitty Chitty Bang is currently touring the UK, bringing magic and sweetness to the stage.
The current cast stars TV and theatre's Lee Mead, who appeared in TV talent show "Any Dream Will Do?" where he beat hundreds of hopeful contestants to become Joseph in the revival of Andrew Lloyd Webber's well-loved colourful musical Joseph and The Amazing Technicolour Dreamcoat". Following this, Mead has had a successful and versatile career, from solo and supporting concerts, Christmas light switch ons (Watford, Hertfordshire in 2012) and supporting West End performer Ramin Karimloo at gigs, as well has having a long run in BBC's Casualty, Mead proves that he is able to slip from solo artist to stage performer with ease. Mead is perfect for the role of madcap inventor Caractacus Potts, and certainly gives Dick Van Dyke (who originated the role in the 1968 movie) a run for his money. His rendition of 'Hushabye Mountain' was sensational, whilst he wowed the audience with his dancing in 'Mi Ol' Bamboo'. Carrie Hope Fletcher was perfectly cast as Truly Scrumptious, and her rendition of 'Doll in a Music Box' rang true to her character name.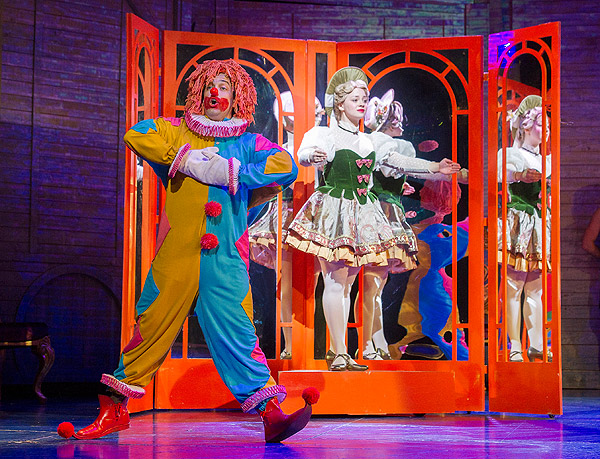 Having played the role of a Jemima Potts in Chitty Chitty Bang Bang as a child (London Palladium), Carrie has been performing for several years, with her most recent role as Eponine in Les Misérables at the Queens Theatre. Although I feel she played the role well for such a young performer, I feel the role of Truly is more suited to her.
I have yet to meet anybody that hasn't a) seen the original movie or b) is not a fan of the story and music, and tonight's audience proved that they certainly were huge fans of the film and musical. It was hard not to clap along at certain songs and embrace your inner child, especially whenever evil Childcatcher (Matt Gillett) graced the stage. In true pantomime baddie style, Matt received plenty of boos and hisses, and was sinister looking enough to scare even the adults in the audience (myself and companion included!).
However, for me, the most loveable characters in the performance are the hapless Vulgarian spies Boris (Sam Harrison) and Goran (Scott Paige), with their German-ish accents and utter camp-ness, the pair had the audience in stitches throughout the performance.
Other notable performances are the two ex-Eastenders stars, Michelle Collins and Shaun Williamson as Baroness and Baron Bomburst. It was hard to loathe their characters, especially during their fantastic rendition of 'Chu-Chi Face'. Both had outstanding vocal talent proving that there is more to their capabilities than TV series'.
The stage set itself is extremely impressive, with some clever use of digital screening projection, a grand windmill and a set that appears to be in 3D. Not forgetting the fantastic flying Chitty car! Unfortunately Chitty had a 'technical issue' which was announced towards the end of Act One. The curtain fell and there was a short pause of no more than five minutes before Chitty was back in action. Later on in Act Two, during the sewer seen with the 'kidnapped children', Carrie took a tumble over one of the children, bringing her to the ground, but she stayed in character and picked herself up and carried on as normal, almost making it believable that it was meant to have happened.
These minor issues did not take away any magic from this phantasmagorical performance. It is a real fantastic show for all the family that will stay in my mind for years to come. Speaking of family shows, I feel it only fair to mention 'Team Purple' which was this evenings Jeremy and Jemima Potts - both gave outstanding performances - bravo to Henry Kent and Lucy Sherman!
Catch Chitty before she flies out of Sheffield!
Reviewer: Lottie Davis-Browne
Reviewed: 29th June 2016
North West End Rating: ★★★★★