It's become almost a tradition between Mother and I (occasionally my aunt and uncle join us) to see the annual Dukes production in Williamson Park in Lancaster and as fan of JRR Tolkien's work I was rather excited when they announced they were going to do an adaptation of The Hobbit. So we "packed our bags for the Misty Mountains, where the spirits go now" (Led Zeppelin, 1971) and headed to see what turned out to be a rather special play.
A bit of background on what The Dukes shows in Williamson Park are all about is that from time immemorial (1987) the Dukes present a summer production in Lancaster's Williamson Park. Following the usual Dukes tradition of promenade format (indeed they pretty much invented it), The Hobbit visits a variety of settings around the park each night as magical tales are told against the background of the park and the beautiful backdrops of the Ashton Memorial and Morecambe Bay as the sun sets over it. Taking a picnic is highly recommended.
For those among you unfamiliar with The Hobbit, Tolkien's story, first published in 1927, is of a Hobbit named Bilbo Baggins whose deeply hidden desire for adventure is coaxed out of him on the visit of Gandalf the wizard and Bilbo is whisked off in the company of thirteen dwarves to recover stolen treasure and the dwarves mountain home. There's a dragon to defeat too but that's enough spoilers!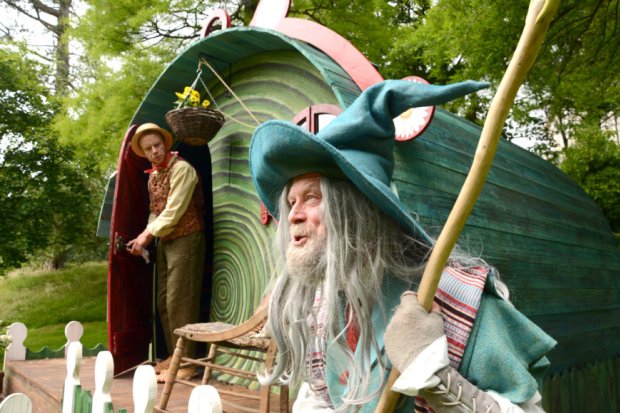 With a highly successful movie series of Tolkien's work including The Hobbit being split into three films, creating a theatrical adaptation which avoids the double risk of either imitating the films or ostentatiously attempting to be radically different presents a real challenge which director Joe Sumsion and writer Kevin Dyer meet with vigour. Applying intelligent solutions to magical problems they force the audience to use their imaginations to fill in some of the trickier aspects of the tale. This is in no way a bad thing but I would desperately have liked to have actually seen a giant eagle fly over the audience during the battle of the five armies. I'm probably too demanding.
As the first scene opens I get the impression that, delightfully, the play is sticking faithfully to the book including a beautiful rendition of the Far Over The Misty Mountains Cold by the dwarves. My advice to the real die hard Tolkien fans who see this play is do not be disappointed with the divergences (largely for practical necessity) which happen later in the story. While taking a few liberties here and there Dyer's adaptation keeps the spirit of the original story and the tone of this production is much closer to the book than modern perceptions might allow. This is great work.
While there are some notable performances from some of the cast members including Josie Cerise presenting a physical and engaging Gollum and Russell Richardson giving a stalwart portrayal of Gandalf as one of the key drivers of the plot, this production is not totally faultless. I was unimpressed by the direction in which Bilbo's character developed making him more into a simpering fool rather than the stoic underdog he's supposed to be. I'm not sure where the blame lies for that.
My mild concern is that despite a great adaptation, great direction and great performances there remains an overt and unnecessary need with this show to over emphasise other parts of the experience to a point where it is not adding to the story. As we walked to the final scene we were lead via the scenic route which, however pretty it looked with its lanterns and wood elves lining the wooded path, didn't drive the story and so was a missed opportunity.
I still feel slightly annoyed at one or two of the decisions on props. I know budgets are tight in Theatre these days but there are better solutions to propping issues than finding a fireman's helmet and spray painting it silver. Perhaps I'm being a monstrous cynic who forgets that this play is one which aims to really engage children in live performance as well as create an experience for everybody which goes beyond purely theatrical . I've no doubt that it does that and despite my whining actually does it rather well.
My tips if you are thinking of going to see this show are that you should book some tickets, take some food, prepare for challenging weather but hope for beautiful weather and just sit back and enjoy a wholly enjoyable few hours in great surroundings.
Reviewer: Karl Barnsley
Reviewed: 8th July 2016
North West End Rating: ★★★★
Picture: Darren Andrews