Written and produced by Ashley Luke Lloyd and Koryann Stevens, this is the latest in a plethora of 'jukebox' Musicals to hit town. Mad On Her is a conventional love story of hard-working career girl meets man of her dreams from out of town, - and then meets his fiancée! Of course, because this is a 'feel-good' show, everything works out fine and they get back together in the end. Set to a score of some of the most iconic pop music of the 80s and with some outrageously authentic 80s costumes and hairstyles, this is a retro Musical and a journey back in time to reminisce for those who were 80s teenagers. Although little of what we saw this evening was like our own teenage years. It was what we saw in the magazines and in the films, and it was the music which conjured those very American 'teen-dream' images.
This is a Musical that is still in the development process. It is a work-in-progress, and is playing now on a short tour to gauge audition reaction and interest. It is therefore working on a very small budget and playing in Fringe venues, and so I must base my review on this criteria. And so I will state here and now that yes, this Musical most definitely has potential. It was somewhat raw and needs more development in terms of character and character development; and the storyline needs the dots joining - it was far too disjointed as is; but, as the saying goes, this show has legs!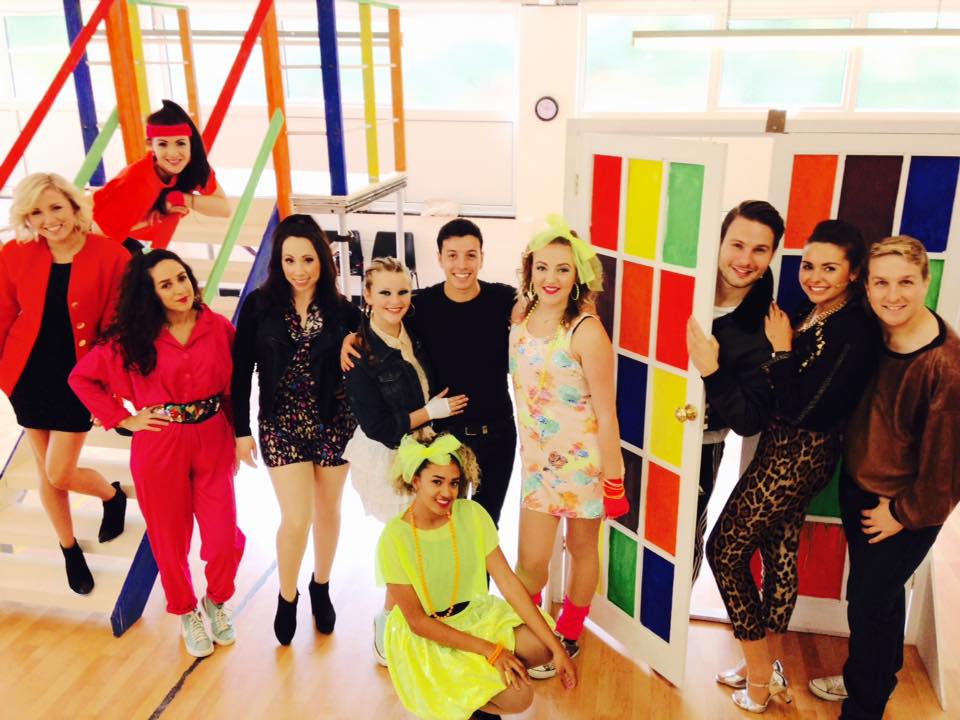 With a cast of 11 giving their all in such a small and intimate space I felt it was simply a little too close and not the right space for this show, but maybe I am wrong with this as majority of the audience were interacting with the characters throughout, [proffering advice, agreeing or booing as you would in panto, and singing along to all the songs] and to their eternal credit none of the cast ever once even so much as blinked an eye. However we were all invited to stand on stage and sing and dance the finale with them which we all did (well, most of us at least!).
Sarah Watson gave a most incredible performance. A real tour-de-force reincarnation of Blondie as Donna, with a very strong and just as capable love interest which came in the form of Matt Blaker playing Ricki. All the 11 were extremely strong and talented 'triple-threats' and the power, energy and commitment they all gave to this show was phenomenal. One simply couldn't fail to be moved and impressed by them. However, Georgia Bradshaw as Tina was for me the brightest to shine after the protagonists - but only by a smidgeon. I really liked Jordan Todd's Marti too; a very easy style to this actor and came across as very real. I also very much enjoyed the dancing and singing of Francesca Pattinson as Shelby, the youngest and least developed character on stage. I really would have liked to have seen her character do more.
The one thing that unfortunately spoilt it for me was the very unreal and over-the-top characterisation of Cindi, played by Laura Wilson. When all the other cast are believable characters, to bring in a caricature was misplaced. The hair and voice also reminded me very much of the character of Audrey in Little Shop Of Horrors.
The set was simple and colourful; but I didn't understand the reason for the steps leading to a platform. It seemed to be there simply to allow different levels, but served no purpose other than this and didn't lead anywhere.
This musical at the moment is still, obviously for reasons of trying to keep expenses to a minimum, is using pre-recorded backing tracks for the songs which worked fine this evening, although I am sure that should it be expanded, then a proper score and live musicians will be incorporated.
A highly entertaining, but slightly frivolous, very retrospective and enjoyable Musical in the making.
Reviewer: Mark Dee
Reviewed: 16th July 2016
North West End Rating: ★★★