Jacques Brel, although a Belgian by birth, became one of the best loved and most lauded exponents of the French chanson, and enjoyed a 15 year period of fame alongside other greats such as Edith Piaf, Maurice Chevalier and Serge Gainsbourg.
For Brel, as with his other contemporaries, the lyrics of the songs were far more important than the melodies as they told stories, very personal stories, which came from the heart of the singer. This is why, in many respects, it became, as still does become, almost impossible to listen to anyone else sing their songs because the song and the artist are so inextricably linked. Think of 'Je Ne Regrette Rien' by Edith Piaf and you'll know what I mean.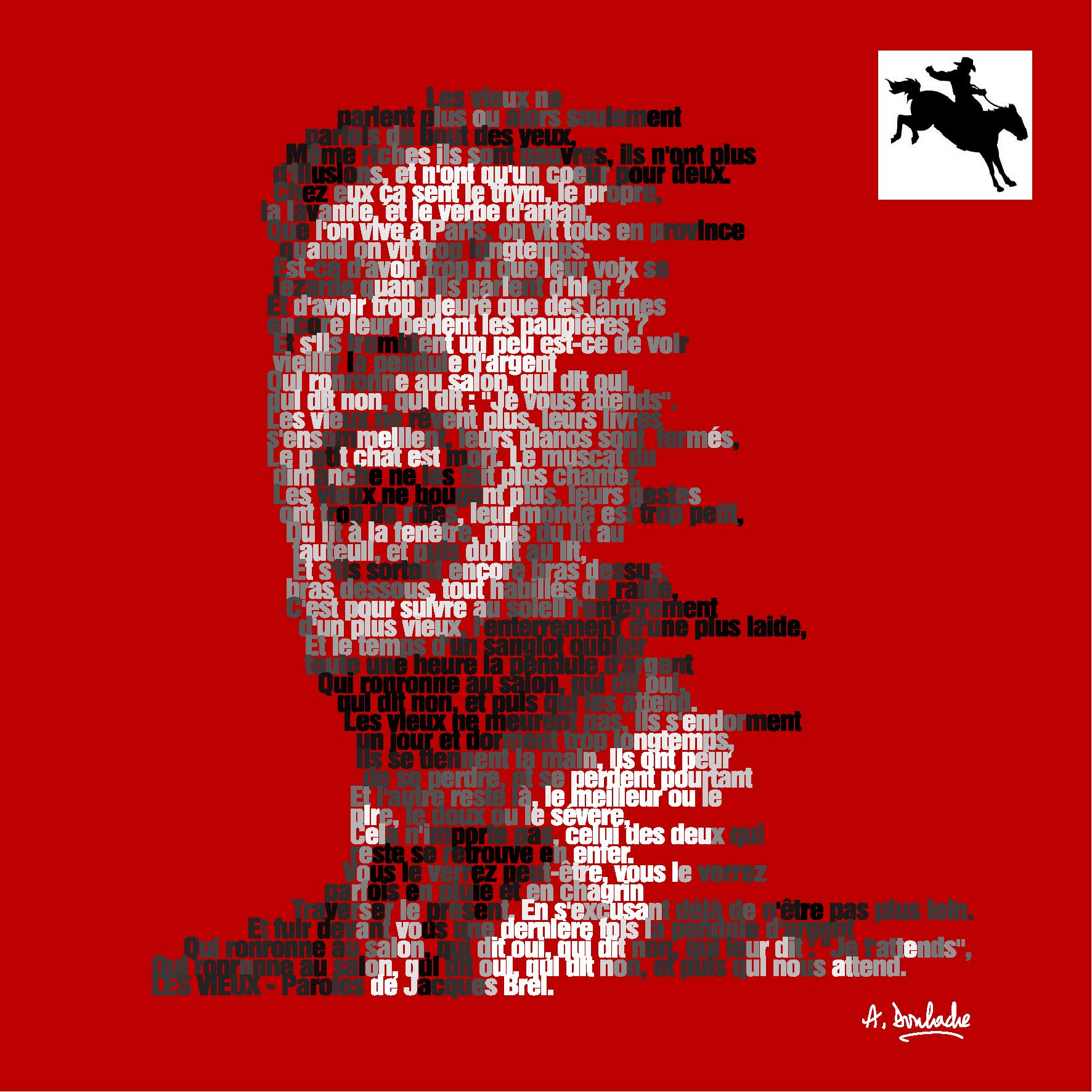 Jacques Brel was 6'1" tall, thin and 'interestingly' handsome. Not the classic chiselled look, but he most definitely had a certain appeal. He also had a very distinct and instantly recognisable voice, and when he spoke in English (which wasn't very often) sounded very much like the way we imagine all French do. Think of Chevalier's 'Thank Heaven For Little Girls'. He smoked and drank almost continually throughout his life, and in 1974 was diagnosed with advanced lung cancer, but he finally succumbed in 1978 dying of a pulmonary embolism.
Our Jacques Brel this evening was 5' nowt, chubby, with a distinct middle-aged spread, wearing a suit that was about 20 years to modern. He neither looked like nor indeed even sounded particularly like the great man himself, and with the exception of two of the songs, sung everything entirely in English. After listening though to the two songs he did sing in French, I can completely understand why. His pronunciation was terrible. It wasn't even school-boy French. If you are going to impersonate a native French speaker, and then speak in their language, it should be fluent. This was far from, sadly. I have no doubt at all that Simon Pennicott didn't invest an awful lot of himself into creating or recreating Brel, and tried to overcome the more obvious difficulties, and credit must be given to him for this. However, with an uninspiring script and no change of pace for the whole two hours, it was really rather boring, when it should have been uplifting and a fitting tribute to one of the greatest chanteurs to ever have lived. (no matter how historically accurate and chronologically correct the evening was).
Further, there was only really one song of Brel's which became truly famous in its English translation. Thanks to a young pop star called Terry Jacks, in 1974 England was given 'Seasons In The Sun'. And although this was one of the songs sung this evening, it was the only one I knew in both languages. The Musical about the life of Edith Piaf, called simply 'Piaf' is in English but all the songs are sung in French. The main problem with using English translations for the songs when performing a life story of this singer is that the song IS the story. There are nuances in his vocal delivery which can only be captured in the original French.
The evening was a one man show, and through a series of Brel's songs and monologues, we were given the life story of this master chanteur. There were few personal insights and he never delved deeply into anything, and as such we felt neither sympathy nor any real emotion at all at the death of his parents, his diagnosis of cancer, not even his death.
There is one thing however, for which I will give Simon Pennicott (Brel) great credit. Until the interval I did not realise that this one man show should have been anything other than that. However, on the entrance door to the theatre, there was an inconspicuous A5 sheet of paper stuck to it - so easy to miss - which read, "Due to a serious accident Babette Bell has suddenly had to bow out of the show. In the vein of the great man himself, Simon Pennicott will nobly carry on as a one-man show". I looked at the programme and found that indeed this play should also have had Bell perform the role of one of Brel's daughter's, France. So I take my hat off to Pennicott for continuing in the face of adversity and not letting the audience have the least idea that that wasn't exactly how the show should have been; and also, on behalf of all at North West End, I extend our best wishes for a speedy recovery to Miss Bell.
The set this evening was once again a surprise. One thing I really love about Hope Mill Theatre is the adaptability and versatility of their theatre space. Tonight it was a raised platform decorated with lights and crates with cabaret style seating around three sides. The design, by Mariah-Helena Farrah worked actually surprisingly well, despite there being only 16 in the audience for the first half and only 11 came back after the interval.
Reviewer: Mark Dee
Reviewed: 19th July 2016
North West End Rating: ★