Pigs with Wings Productions contributed their paean to feminism to the Shiny New Festival at the Lantern Theatre last night – the venue's fringe buzz will be sadly missed when it closes at the end of this month. Lady Parts saw performer and writer Rebecca Clarke embody three characters on a quest to challenge 'perceptions of femininity and social hierarchy whilst also laying out a 5 step plan to serve mother earth'; quite an undertaking for a 45 minute show!
Clarke was commanding and confident as Guru Harmony, Feminista and Radio Rachael riffing off the audience with some great ad libs to her Gran (who I assume doesn't watch every performance). She navigated technical hitches smoothly and showed a real comedic flair. There were great gags about the life threatening disorder that is stage four feminism and its treatment (a heavy dose of sexism to be administered aurally if you were wondering) and some topical references to the current Labour leadership debacle. Yet, more fitting comedic fodder - such as Melania Trump's recent plagiarism or Theresa May; a woman sorely in need of Guru Harmony's feminism and environmentalism – was overlooked.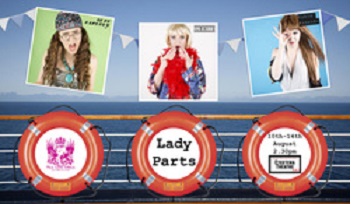 Whilst Clarke referenced key moments in feminist performance; such as Carolee Schneemann famous feminist scroll speech, the piece still tended to reinforce feminist myths and the bra burning stereotype. Clarke's best work was her shrewd critique of the YouTube culture explored through the engaging Radio Rachael; who's quest for fame sees her covering nineties and noughties classics with a dub step beat. Rachael's story and journey from vacant vlogger ("hashtag dreams can come true") to militant feminist, with a wonderful cameo from Shadow the dog, deserved further exploration.
Lady Parts is entertaining, Clarke is all singing, all tapping, all ukulele-ing and there is a great Cabaret gag (although this might have been more subversive had it been more real) yet the show doesn't feel like it knows what it wants the audience to take away from it. Should they be leaving itching to check out more of Radio Rachael's videos or ready to march on parliament to demand greater equality?
Reviewer: Clare Chandler
Reviewed: 20th July 2016
North West End Rating: ★★★