A Fistful of Collars is written by Royal Court regular Fred Lawless and was first performed there in 2010 during the early years of Liverpool Royal Court as we know if now. Since then, Lawless has gone on to write the theatres last six Christmas offerings before revisiting this play with primarily the original cast, but a new audience.
A Fistful of Collars is the story of two sisters, Eileen (Eithne Brown) and Pat (Lindzi Germain) who own a struggling dry cleaners, constantly under attack from unscrupulous landlord Curtis (Jake Abraham) and his sexy assistant Sally (Suzanne Collins).
When it looked like the sisters may have to make one of their loyal staff, fashion student Leona (Angela Simms) or innocent savant Billy (Lenny Wood) redundant, they find a Stella McCartney Original dress amongst the dry cleaning and hit on the idea of hiring out any high end dresses that they get in to clean. Of course they have to attract high end dry cleaning in before it can be hired out and that's done when they rebrand the dry cleaners to Le Maison Dry Cleaners with clients such as Coleen Rooney.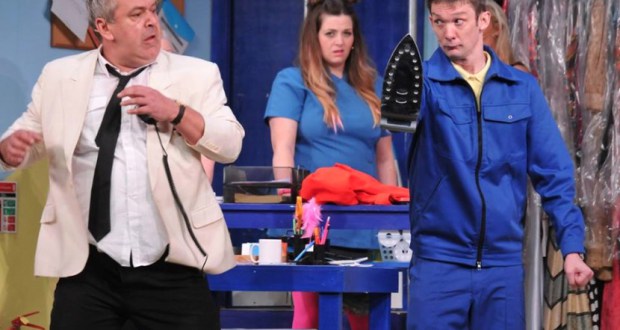 Before you know it, Billy has picked up the wrong clothes from Mrs Rooney and the dress she intends to wear to Ladies Day at Grand National has been hired out to Sally and they must get it back at any cost and hope that bumbling Special Constable Bernard Johnson (Alan Stocks) doesn't stop them!
This play starts a little slower than many I have seen at Royal Court but that is not a fault. It allows you to get to know the characters and the relationships they have so the audience is instantly routing for the dry cleaners workers. Once it gets going though it is fast paced, clever and wickedly funny with one-liners coming so quickly you could easily miss them.
The stand out performances were that of the Simms and Wood as Leona and Billy. The relationship was like that of siblings with the script and delivery razor sharp and perfectly timed. All seven of the actors are regulars at Royal Court and those personal relationships and familiarity really did shine through making it feel very much like a work family on stage and that the audience were a part of that extended family.
The set was beautifully designed and added significantly to the performance, almost becoming another character in the play. Director Bob Eaton, another veteran of Royal Court, enhanced both the clever script and beautiful set to produce something that was really a wonderful way to spend an evening.
I have heard people complain over the years that Royal Court productions can be predictable and I really don't mind that. What's not to love about a smart, funny script delivered by clever directing and talented actors in a beautiful theatre? That's what I got tonight watching A Fistful of Dollars and I left with a warm feeling and a big smile.
Reviewer: Helen Kerr
Reviewed: 27th July 2016
North West End Rating: ★★★★