Anarchic Medieval Mayhem to Delight the Whole Family
The Pantaloons are a young and vibrant theatre company who hail funnily enough from Canterbury and whose style draws from a wide variety of popular theatre traditions. There is a strong element of collaboration, both within the group and with their audience, that is clearly evident with an emphasis on physicality and on audience interaction.
The Pantaloons are touring three productions this summer and this was their ambitious and hilarious version of Geoffrey Chaucer's The Canterbury Tales and in a theatrical first they perform all 24 of the completed Tales with a cast of just five actors playing over 70 characters in approximately two hours. Oh, and just to make it that little bit harder, they also perform every tale in a different theatrical style including pantomime, puppetry, masks, musicals, mime, farce, reality television, horror and opera. Even my old friend Shakespeare manages a look in!
The Canterbury Tales, written over the last two decades of the 14th Century, is a sprawling collection of disparate stories linked together by the narrative frame of a group of pilgrims on their way to Canterbury and is considered a landmark in the history of English literature as, at a time when literary works were written in either Latin or French, the stories are presented in vernacular English, a language previously associated with the lowly and uneducated. They deal with contemporary life in Medieval England including, unusually for the time, women and working people, and satirise class snobbery, social pretension and corruption as well as a few well-aimed barbs at The Church. Substitute the latter in your mind for our current Parliament and you have stories that resonate easily with a modern audience including some old favourites such as 'boy meets girl', 'talking chicken meets fox' and 'red-hot poker meets naked bottom'. Anyone unfamiliar with middle English need not worry as the show has been translated into vibrant modern language.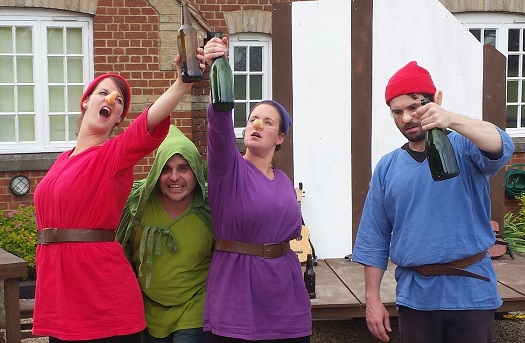 So to the evening itself: many of the audience, myself included, had arrived some 30-45 minutes before the scheduled start time, armed with our chairs and a picnic to get in the mood on what was a glorious evening. A simple set had been constructed on the lawns in front of Speke Hall and the cast moved amongst us freely whilst endeavouring, quite successfully it must be noted, to purloin a snack or two and a drop of champers! The hardest part of any performance, particularly comedy, is breaking the audience in quickly and this time was used wisely by the cast as with gags and songs, including the delightful 'Medieval Blues', they engaged with us before, with a 'Hey Ho, Hey Nonny No', launching into the Tales.
Our cast of five - Edward Ferrow, Kelly Griffiths, Neil Jennings, Stephen Leask and Alex Rivers - were straight into the action as dressed respectively in blue, red, green, orange and purple attire, they equally shone as storyteller or as part of the ensemble making up the story itself including musical accompaniment. Like Chaucer's rude original, the show provides plenty of bawdy fun but without ever truly over-stepping the mark which makes it a delight for adults and children alike as the 400+ eclectic audience last night can testify to. Playing on regional accent differences and with topical references thrown in, it was clear to see that this was not only a cast well versed by director Ross Drury, but more importantly one that was having fun - with themselves and with the audience - and that not only rose to the challenge of performing in a full range of theatrical styles but nailed it. The audience interaction was perfectly balanced, much to everyone's enjoyment, and orchestrations of clapping and singing in support of a character were handled with consummate ease as was the sensitive re-telling of the Man of Laws Tale which proved, with great puppetry, to be quite touching.
The story goes that an American once confided that whilst he loved the Tudor Speke Hall, he didn't understand why they had built it so close to an airport - as always an evening here is occasionally interrupted by a take-off or few yet the cast took this occasional outburst in their stride, even incorporating it into their final impromptu sketch. This was open-air theatre at its best and the stated aim of the company to 'always produce a performance which is experimental, eye-catching, moving and fun' was well and truly achieved.
The Pantaloons were established at the University of Kent in 2004 by Mark Hayward, Caitlin Storey and Stephen Purcell, all of whom remain involved in the group in varying roles. This summer they have three open-air touring productions - The Canterbury Tales; Gulliver's Travels; Romeo and Juliet - and an Autumn tour of Dr Jekyll and Mr Hyde is also scheduled. Full details on dates and venues throughout the UK and booking information are available at www.thepantaloons.co.uk
The Pantaloons also work closely with schools and have developed a programme for KS2 and KS3/4 designed in particular to give children a head-start with Shakespeare. Again, full details available at www.thepantaloons.co.uk
Speke Hall in Liverpool provided the perfect backdrop for tonight's performance as one of the finest examples of a wood framed wattle-and-daub Tudor manor house. It belongs to the National Trust and is open to the public. Amongst the many things to discover there are a thunderbox toilet, a priest hole and where the word 'eavesdrop' comes from. Further details available at http://www.nationaltrust.org.uk/speke-hall-garden-and-estate
Given that The Pantaloons tour so widely utilising the grounds of wonderful historic properties there is a great opportunity to spend an afternoon discovering some real local history before enjoying a show wherever you may be in the country and with three shows to choose from there really is no excuse.
The Pantaloons next appear at Speke Hall with their production of Gulliver's Travels on Wednesday 10th August at 7pm. Tickets available via telephone 0151 427 7231 or online http://bit.ly/2aiIXWL
Reviewer: Mark Davoren
Reviewed: 27th July 2016
North West End Rating: ★★★★★