There are so many great new shows coming off Broadway and indeed 'off Broadway' and the West End, it is sad that more people do not get the chance to see them before their short/early ended runs. As with our review of American Idiot and the recent licence releases of Legally Blonde, The Drowsy Chaperone and Priscilla Queen of the Desert, we are excited to be treated to seeing exactly what these new shows are all about and why they were invested and believed in in the first place. On my return to the Tip Top Productions' The Forum (Studio) Theatre in Chester, Monsta Productions presents Jason Robert Brown's 'The Last 5 Years' directed by John Garfield-Roberts..
The show takes us on a journey through the five year relationship between Cathy Hyatt and Jamie Wellerstein, but there is a twist. The one-act 'song-cycle' musical play opens and ends with Jamie leaving (Blood Brothers-esque in the same start and ending) before sparking Cathy telling the story from the breakup to their first date and Jamie, at the same time (well, in the alternating scenes), telling the story of their first date up to the breakup. The only scene fully together is the 'turning point' of their wedding, at the end of which we really see their contrasting emotions. There is no doubt that this is a clever yet challenging way of constructing a play and indeed the music, beautifully played on all strings (if the keyboard were a piano) by the band under the leadership of Trish Gaskell, who herself has a cameo in the show, aptly as the 'audition pianist'.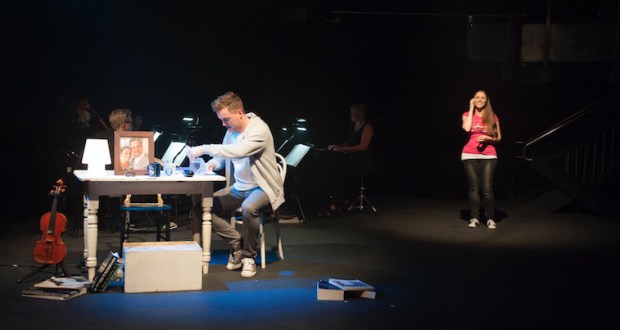 Jamie (Michael Thomas Jenkins) is a rising novelist, and Cathy (Laura Coard), a struggling actress. Throughout the piece (listed to start at 8pm, in the absence of an interval, but began a little later), we are taken along on their ingeniously planned life, through their struggles and highs, and even party to witnessing Jamie's affair with Elise. If I am honest, if I had been dating Jamie, his childish, bouncy, excitable and annoying manner would have made me wonder how I lasted 5 minutes let alone 5 years but Jenkins' character develops and matures as we proceed, although I did feel that there were occasional stumbles due to thinking about choreography and direction/movement. Coard's character was well-developed as we did see light and shade in both but Cathy was played rather innocent and sensitive throughout.
The two highlight scenes for me were the wedding (particularly the lighting) where the complicated format (if you hadn't pre-read the programme) began to really make sense. Also, the 'Audition Sequence' where we are treated to a more light-hearted element than the dark of the aggression and overwhelming passion and frustration. Most of Cathy's songs are fairly slow and serious/in thought whereas Jamie's (and this is shown through the catching of notes and fast-paced-ness) are jazzy until towards the end (there is also a question of punctuation when heads from his own book!). These styles work well in contrasting the stories. I also enjoyed the first song 'Still Hurting' as I had heard it before, likewise for 'The Next Ten Minutes'. 'I'm A Part Of That' is also nice.
It just shows that you really don't know someone as well as you think, even after (the first) 5 years!
In a show that usually features other bodies playing the various parts of 'audition girl', 'girl in dress', etc. this theatre lent itself to the intimacy of the show and the sound, controlled by Mr Daniel McAllister was spot on too.
If you like something a bit more intimate with some easy listening music and light and shade, you have to get to this place to see this show. By the writer of '13' and 'Songs For A New World', you will get a sense of "one of Broadway's smartest and most sophisticated songwriters since Sondheim" and see some great talent as well.
The Last 5 Years runs until Saturday 30th July, before moving onto Theatre Severn, Shrewsbury, from the 23rd - 24th September 2016. http://www.monstaproductions.com/
Reviewer: Chris Oatway
Reviewed: 29th July 2016
North West End Rating: ★★★★
Photo: David Mitchell