A Fantastic and Hilarious Voyage for the Whole Family
The Pantaloons are a young and vibrant theatre company whose style draws from a wide variety of popular theatre traditions. There is a strong element of both collaboration, both within the group and with their audience that is clearly evident with an emphasis on physicality and on audience interaction.
The Pantaloons are touring three productions this summer and this was their delightfully innovative version of Jonathan Swift's 'Gulliver's Travels'. We join Lemuel Gulliver on a fantastical and hilarious voyage into the unknown as we meet the tiny people of Lilliput and the giants of Brobdingnag. Importantly we get to see the other two travels (there are four in total in the original story but sadly for a modern audience they aren't always told in modern productions or films) as we also visit the flying island of Laputa and a country peopled (or horsed?) entirely by talking horses (Houyhnhnms) and their troublesome Yahoos.
Gulliver's Travels was written and edited between 1726 and 1735 by Irish writer and clergyman Jonathan Swift - he was in fact the Dean of St Patrick's Cathedral in Dublin, well worth a look if you are over there. The work is a satire on human nature including the state of government and religious institutions (all rather apt in the modern day) and on travellers' tales which optimistically reinforced human capability (it was published seven years after Defoe's 'Robinson Crusoe') - the irony of seeing this play a couple of weeks after their production of 'The Canterbury Tales' was not lost on me!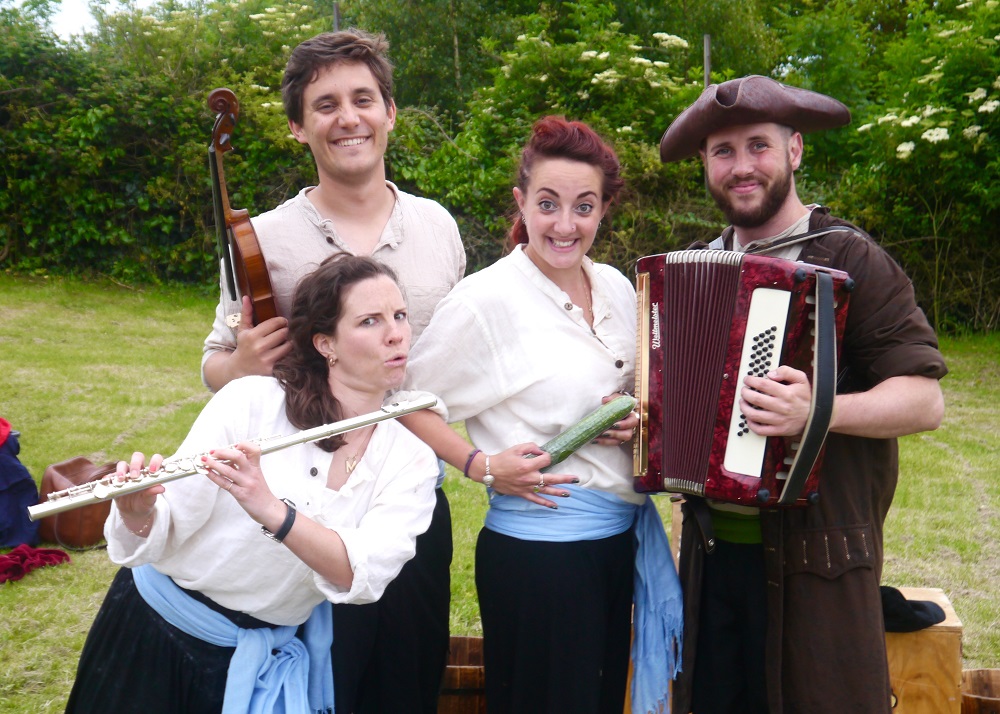 If ever special effects were necessary to reinforce an open-air theatre performance of continual shipwrecks then we got them last night and some. If I said it rained that would be an understatement: It rained. Then it rained harder. Then it poured down. And to the credit of this stalwart bunch of 'Loons (and I include the 100+ audience who braved it out in this too), the show most certainly did go on. The normally simple set constructed on the lawns in front of Speke Hall required the addition of a gazebo to protect the instruments and a 'borrowed' umbrella to safeguard the PA, but other than that, and their usual inimitable style of purloining food and mainly beverage (red wine) from the audience to steel themselves against the elements, our cast of four - Hannah Ellis, Maryann O'Brien, Ed Sheridan and the unflappable Christopher Smart - were straight into the action.
Superb use of mime and improvisation, for which they are deservedly renowned, took us to a world of small people as well as to a world of giants as through the clever use of finger puppets we were asked to suppress all logic and we willingly opened up our imaginations. Playing cleverly on the original satire of the piece, we were treated to an update that captured all that is at odds with our world whether that be WMD, Arts Council funding), or the state of the current Foreign Secretary.
Children howled with laughter as did the inner child of adults present but whose informed, intelligent side (never fully suppressed) reflected on the state of affairs and how little has changed in the almost 300 years since this was first written.
There was so much to enjoy here - I loved the rats sequence as well as the wasps performing to Star Wars; and how can anyone not love a Flapper and want to read the other less well-known parts of the original story? Musical numbers, including the pirates 'walk the plank', delighted, as did the accompanying improvised musical performances, including times without actual instruments when the rain came down too heavily, and the sheer enjoyment of being part of a show when improvisation well and truly took over and despite the weather gave us something quite special to enjoy. It is a challenge to engage an audience at the best of times so to pull it off in such extreme conditions and to achieve a level of engagement with audience members that allowed for a lot of unscripted moments to be seized upon and played out with such relish says much for the competence and confidence of this 'happy few'. Produced by Mark Hayward and Caitlin Storey, and directed by Ross Drury and Mark Hayward, The Pantaloons have much to be proud of after tonight.
The Pantaloons were established at the University of Kent in 2004 by Mark Hayward, Caitlin Storey and Stephen Purcell. This summer they have three open-air touring productions - The Canterbury Tales; Gulliver's Travels; Romeo and Juliet - and an Autumn tour of Dr Jekyll and Mr Hyde is also scheduled. Full details on dates and venues throughout the UK and booking information are available at www.thepantaloons.co.uk
The Pantaloons also work closely with schools and have developed a programme for KS2 and KS3/4 designed in particular to give children a head-start with Shakespeare.
Speke Hall in Liverpool provided the perfect backdrop for tonight's performance as one of the finest examples of a wood framed wattle-and-daub Tudor manor house. It belongs to the National Trust and is open to the public. Amongst the many things to discover there are a thunderbox toilet, a priest hole and where the word 'eavesdrop' comes from. Further details available at http://www.nationaltrust.org.uk/speke-hall-garden-and-estate
Given that The Pantaloons tour so widely utilising the grounds of wonderful historic properties there is a great opportunity to spend an afternoon discovering some real local history, wherever you may be in the country, before enjoying a show and with three shows to choose from there really is no excuse.
Finally, I must say a big thank you to 'Steve' of Speke Hall/National Trust who kindly held an umbrella over our food whilst we endeavoured, ever resilient and hopeful of a British summer, to prepare our evening picnic in advance of the show's commencement and also went and located another brolly for us from Lost Property to use during the show: little touches make all the difference.
Reviewer: Mark Davoren
Reviewed: 10th August 2016
North West End Rating: ★★★★★