The Opera House, located within The Winter Gardens, Blackpool, is the venue for the opening night of Dirty Dancing, The Classic Story on Stage, The New 2016/2017 tour. Dirty Dancing was originally a low budget film written by Eleanor Bergstein and released in 1987 and became a massive box office hit. The stage version has continued with great success and this presentation from Karl Sydow, Joye Entertainment and Paul Elliot in association with Lionsgate and Magic Hour Productions is no exception and dare I say....surpasses all previous productions!
Frances 'Baby' Houseman arrives at a holiday camp in 1963 with her parents and sister and being a typical teenager is bored with the usual activities on offer. After an encounter with Johnny Castle, the camps resident dance instructor and discovering the off duty life he and the other staff live, it all seems rather exciting to 'Baby' who watches as they dance the night away. Hers and Johnny's lives become entwined despite their very different backgrounds, when Johnny is suddenly in need of a dance partner for a local competition he has entered, but with his regular partner Penny, 'indisposed' and no one else to partner him, he reluctantly gives 'Baby' dance lessons. As she is a complete novice at dance this is no easy undertaking........
Making her professional theatre debut in the role of 18 year old Frances 'Baby' Houseman is Katie Hartland, who is the ideal leading lady to Lewis Griffiths playing Johnny Castle. Harland's portrayal as naive 'Baby' is absolutely brilliant as she grapples with the intricate sexy dance steps of the Mambo, with her ability to act as though she can't dance bringing laughter from the audience. Later routines show just how talented she is at dancing and there are massive cheers as she and Griffiths pull of the infamous 'Lift' at the end.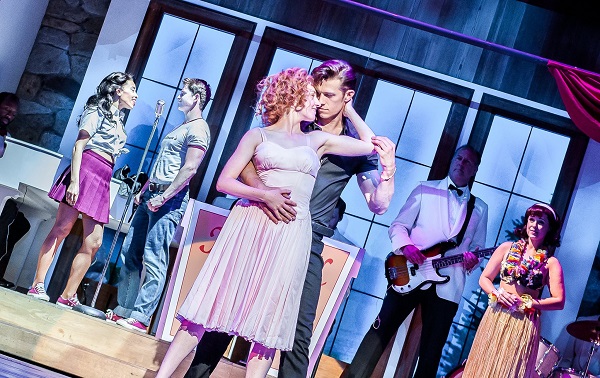 Griffiths has simply been born to play Johnny. With great physique and good looks he provides the sex appeal with his raunchy moves as he attempts to teach 'Baby' to dance. The anger, the frustrations and the falling in love are all portrayed perfectly, along with a believable American accent he has mastered for the part. There are many cheers from the audience at all the classic lines from the film and even more so at the removal of his shirt and amazing lakeside scenes.
Dr Jake Houseman, a family man with high principles, is convincingly performed by Julian Harries as he struggles to accept his youngest daughter is growing up. Lizzie Ottley plays the elder daughter Lisa, who falls for love rat Robbie (Robert Colvin). She gives a hilarious rendition of Lisa's Hula at the end of the season show.
There are fabulous vocals from Michael Kent as Billy, Daniela Pobega as Elizabeth and Jo Servi as Tito and some original recordings with songs such as Hungry Eyes, Hey! Baby, In the Still of The Night and Love is Strange before everyone is up and dancing to '(I've Had) The Time Of My Life'. Live music is provided from the 'Kellerman's Band' who are incorporated into the show and with dazzling dance routines (choreography by Gillian Bruce) throughout the show, you will soon be toe tapping and singing along. Special mention should be given in particular for Penny (Carlie Milner) whose high kicks are to be seen to be believed. The high standard set in her previous appearances in Dirty Dancing continuing into this.
There are extremely effective special effects and the sets are amazing and well designed, enabling smooth changes between scenes.
Having seen Dirty Dancing previously I was unsure as to how a new production could possibly measure up to that, tonight I was not disappointed.... same story obviously, but this is a completely different experience. This latest production simply is the show that has it all, song, dance, tears and laughter, with a very talented cast and a storyline proving love can conquer all. A must see (again) show.
The show continues at Blackpool Opera House until 30th August 2016. For further information and tickets see http://dirtydancingontour.com/tickets-tour/blackpool-blackpool-opera-house
Reviewer: Lorna Weekes
Reviewed on: 11th August 2016
North West End Rating: ★★★★★