I am a scaredy cat. I never watch scary films and I've only just started unplugging my 'Teletubbies' night lamp at night, and yet I find myself at Buxton Opera House for Talking Scarlet's production of Jekyll and Hyde by Robert Louis Stevenson; which is a piece of very spooky gothic fiction indeed.
Buxton Opera House provides the perfect backdrop for this kind of play, I imagine that the place could get pretty scary when it's empty so when a gothic horror play such as this is on with a 5 night run starting this evening, I'm scared to order the interval drinks for what spookiness might lurk out.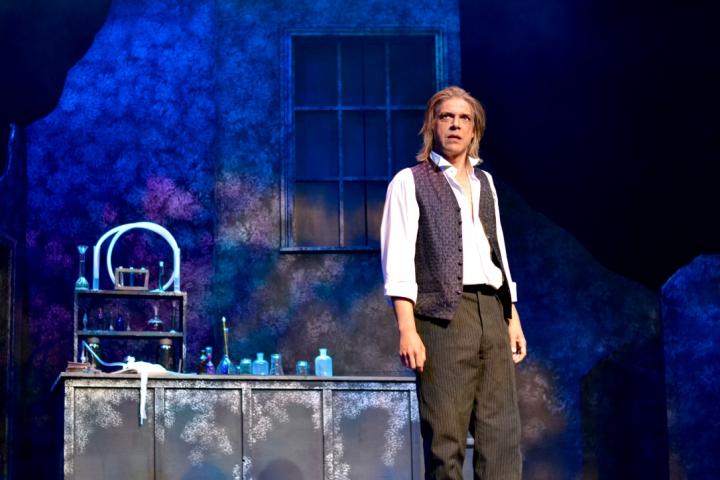 But after hearing very good things about Talking Scarlet's last production; Death Toll, I decided to be brave and give it a go, because theatre is there to experience new things and on entering, I wish more people would experience them too, the audience number was disappointing but then it is holiday time and this could be the reason, it certainly wasn't anything to do with the performance.
As the curtains opened to a bustling street scene, we were immediately drawn into the plot and ultimately meeting the very menacing Mr Hyde played by Andrew Fettes. Fettes played the role well, I was scared, intrigued and scared a bit more by the character, and it all added to the suspense of the production.
As the plot is unravelled by Mr Gabriel Utterson played by the more than capable Neil Roberts as he investigates and helps Inspector Newcomen played by Ben Crowe as they find the culprit to the ghastly murder which unfolded.
Crowe played the part of the inspector convincingly with Matthew Zilch as his 'constable' sidekick, although I didn't feel much rapport or chemistry between the two police officers and feel this was a missed opportunity. As the plot thickens, we meet more innocent characters who lead us to answers; Dr Hastie Lanyon played by Samuel Clemens, Mr Richard Enfield played by David Keyes and Mrs Poole played by Kim Taylforth who many people will recognise from the popular ITV show; London's Burning. The cast were all excellent, from the minor roles right up to the excellently cast Gary Turner as Mr Jekyll, his solo monologue was brilliant and had the whole audience captivated, not a sweetie rustle to be heard. The way the director; Nicolas Briggs has presented the production is very clever, with the story going back and forward in time so you only get tip bits of information which really whet your appetite for more.
This is a fantastically staged production which left me feeling a little scared which a story like Jekyll and Hyde should do, I guess the 'Teletubbies night lamp will be back on tonight.
It's captivating from the start to the end, A must see for anybody, even if you're not into horror like me!
Reviewer: Max Eden
Reviewed: 15th August 2016
North West End Rating: ★★★★