I was lucky enough to attend the press launch in May for the nationwide tour of West End hit Sunny Afternoon so I have been eagerly awaiting the opening for the past three months!
Over the past decade or so we have become accustomed to great pop and rock bands back catalogues becoming musicals. From We Will Rock You (Queen) to Mamma Mia (Abba) and even Viva Forever (Spice Girls), the appetite for revisiting musical memories of childhood seems unabated.
Sunny Afternoon is a little bit different though. Whereas other musicals in a similar genre fit stories around the music, many extremely successfully, Sunny Afternoon tells the true story of The Kinks, the most British of the British Invasion bands of the 1960s. Formed by brothers Ray and Dave Davies, Pete Quaife and Mick Avory, The Kinks are famous for heavy guitar riffs on songs like "You Really Got Me" and "All Day and All of the Night" and narrative tales of social disparity and individuality such as "Dead End Street", "Well Respected Man" and "Lola".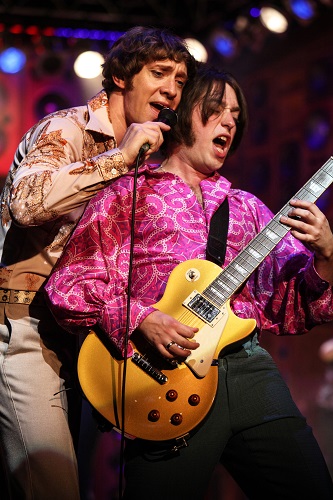 Sunny Afternoon, written by Ray Davies, charts the start of The Kinks and is essentially about the relationships of the four original band members and their struggles with fame, money and America.
As you would expect, the music was faultless. Ryan O'Donnell took on the role of lead singer and song writer Ray Davies and produced a powerful and captivating performance as a young man trying to hold his friends, family and sometimes sanity together through his true love - music. Mark Newman had the challenge of Dave Davies and produced probably the stand out performance of the night. Dave Davies struggled with fame at such a very young age, personality clashes, power struggles as well as issues with drink, drugs and his sexuality. Newman delivered a sparkling interpretation of this beautiful damaged man.
O'Donnell and Newman were brilliantly supported by Garmon Rhys's Pete Quaife and Andrew Gallo's Mick Avory, making up the rest of The Kinks with Lisa Wright as Rasa, Ray Davies first wife and early backing singer for the Kinks. One of the most memorable moments was when the four band members as well as Tom Coles and Joseph Richardson as The Kinks management Grenville Collins and Robert Wace sang an acapella version of the "Beautiful Days". It provided goosebumps and tears to many of the audience.
It did at times feel a little like a Kinks tribute band but that is probably a result of the fact that it's the true story of the band so the cast played roles you're familiar with. It was loud and powerful, funny and moving, thought provoking and inspiring. It is a must see for any fan of The Kinks but even if you are unfamiliar with the band, it is a great musical coming of age journey and will have you rocking in your seats and probably the aisles as well by the end.
Reviewer: Helen Kerr
Reviewed: 23rd August 2016
North West End Rating: ★★★★
Photo: Kevin Cummins