Arthur J Raffles is a character created in the 1890's by E W Hornung and described as a 'gentleman thief' with a partner in crime Harry 'Bunny' Manders. There have been many film versions of Raffles but this production of The Mystery of the Murdered Thief is brought to the stage by the Rumpus Theatre Company and is the first venture of Raffles and Bunny onstage in over one hundred years. It is described as a sparkling, mystery adventure by Director and Designer, John Goodrum and is based upon four classic stories written by Hornung.
As the curtain rises to overly loud dramatic music we are witness to 'Bunny' Manders (Ian Sharrock, a former star in TV's Emmerdale, Heartbeat, the Bill and as Jed Maxwell in I'm Alan Partridge), standing in the dock and being sentenced for a crime he has taken the rap for. His character is brilliantly played by Sharrock who is facially very expressive as he acts out his part to the off stage voice of the judge. There are several characters in this play who we only hear the voice of, as is the case in this instance, as the sentence is passed. There is a basic set which is adapted to suit the various scenes by simple changes of some of the props. During the changes (by the actors themselves) the stage is darkened and the loud dramatic music returns but does little to add the mystery and I find it rather annoying.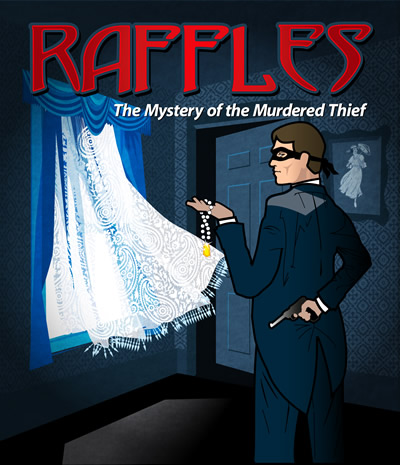 The play is set around the end of Queen Victoria's reign in the early 1900's and tells the story of Bunny's 'chance' reunion upon his release from prison with his old partner in crime, the notorious, Arthur J Raffles. Bunny had believed Raffles was dead after he saw him fall overboard following a theft upon a transatlantic liner and is amazed to find him alive. Raffles suitably portrayed by Nicholas Gilbrook, is keen to continue in his life of crime with Bunny and the two are soon up to their old tricks, with Bunny always the sidekick and in the dark about much of what is going on which brings quite a bit of comedy to the play.
As the past catches up with Raffles there is murder and mayhem ahead but rather than thrilling I found the play slow to get going and more of a farce than a mystery. I was certainly not on the edge of my seat wondering 'who dunnit', with only 5 characters (4 actors) in the play and two standing over a body it was hardly difficult to work out! Although the two main characters were entertaining sadly I was not gripped by the storyline finding it neither sparkling, nor a mystery adventure.
Raffles - The Mystery of the Murdered Thief continues to tour, for further information see http://www.rumpustheatrecompany.co.uk/future.htm
Reviewed by: Lorna Weekes
Reviewed on: 5th September 2016
North West End Rating: ★★★