The Circus Of The Sun creates a story centred around the moon.
Cirque Du Soleil is a French-Canadian company, which started in Quebec in 1984, and has gone on to be the world's leading circus-theatre performance company. Words like phenomenal and outstanding simply don't do this company justice.
Of the several shows currently produced by the company, Amaluna is the one they have brought to Manchester; and to see this show - a heady mix of circus skills, gymnastics, physical theatre, mime, comedy, and heaps of spectacle - head for a very large Big Top in the car park to Manchester's shopping city, The Trafford Centre.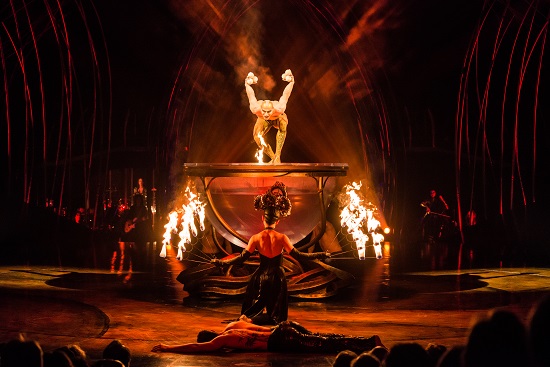 Using as their starting point Shakespeare's The Tempest, Amaluna [Ama = mother / luna = moon] is an island governed by the cycles of the moon and populated entirely by women and humanoid lizards. There is a shipwreck after a huge storm and the company of all male sailors are washed ashore on this island of warrior-women.
The main characters to look out for are [although they are never named in the show - the show is essentially without dialogue and the words which are spoken are a mixture of English, French, Spanish and goodness-knows what else, making it a unique and make-belief speech where action and thought transcend language.] Prospera, the ruler of the land of Amaluna, whose young coming-of-age daughter, Miranda, falls in love with Prince Romeo, the leader of the shipwrecked sailors. Romeo will have to battle the odds and overcome several tasks before being allowed to win his love. One of these is defying the magic and cunning of Prospera's number one lizard, Cali, who is also in love with her and puts untold obstacles in Romeo's path before being finally defeated in battle mano-a-mano. Ariel, although in Amaluna she is called The Moon Goddess, spends most of her time on a hoop suspended from the ceiling and has powers to either help or hinder the two lovers' pursuit of happiness.
A sub-plot involves the hapless and comedic courtship of Romeo's manservant Papulya with Mainha, Miranda's nurse. Serving the same purpose as traditional clowns would in a circus, their little vignettes act both as tension-relief and opportunity for scene changes as most of their antics are in the auditorium itself.
So what exactly is Cirque Du Soleil? It is almost impossible to describe their style and genre in a cover-all phrase. They use death-defying world-class circus performers for some of the most fantastic aerial, bar-work and hoop diving you are ever likely to see; they use amazing dancers, mime artists, jugglers, etc and all of these performers also sing and act to a very high standard too. Amaluna also includes a wonderful water bowl sequence and incredible male pole dancing! It is spectacle of the highest quality, using the most talented and engaging performers from all over the world. It is magical, wonderful, with your heart in your mouth one minute and belly laughing the next. Superbly crafted entertainment, and the big top - which holds over 2600 spectators - makes it all feel very much like a circus, but a very special circus indeed.
Amaluna also boasts an all female band; mostly electric guitars and drums, and with a very contemporary raw rock sound, they play with great gusto and talent as they are visible at the back of the stage and oftentimes come on the stage too.
Do I have anything negative to say? Well, sadly yes, I do. But this concerns the production company not the performers, who were flawless and magnificent. The only programmes I could see for sale were extortionately priced all-colour souvenir brochures, which, funnily, I did not see any of the capacity audience with; and no individual smaller playbill style programmes listing this particular cast. Such a huge shame since now I am totally unable to credit any individual performer and do not know WHO I saw on stage, only what! Even the company's own website doesn't list the performers. This, for me, is a travesty. I can then only confidently credit one person, Diane Paulus, the director of this incredible and emotionally powerful creation.
The Grand Chapiteau is with us here in Manchester until the 9th October and this is a must-see spectacle for all fans of theatre, spectacle, circus, family entertainment, etc... I urge you all to find time to spend a couple of hours with the magical Moon People on the mythical island of Amaluna. Cirque Du Soleil have proved once again that they really are not just at the top of their game, but are creating it as they go along!
Reviewer: Mark Dee
Reviewed: 7th September 2016
North West End Rating: ★★★★★