Having little to no knowledge of the performance I was going to watch tonight or the performer, Joey Hateley a.k.a. The Gender Joker, I was both curious and open minded in what I was going to experience tonight.
Dirty (stylised as diRTy) is a creative, diverse and moving autobiographical performance about Joey Hateley's inner struggle and conflicts with their identity and gender as a female man. With a friendly, professional charm and open vulnerability, Joey walks onto the stage with the assistance of his 'interpreter' Siobhan Rocks, as they try to explain The Karpman Drama Triangle (Victim, Hero and Perpetrator) and two other models to the audience. This leads into a comedic back and forth with Rocks, trying really hard to sign language interpret everything Joey says whilst simplifying Joey's attempts at describing the charts. This made the audience chuckle, preparing us for the more explicit and personal aspect of the piece.
At first I was confused with Hateley's performance, using multimedia to show clips of him dressed as a striking blonde female escort to him emerging from a dark river and crawling to dry, mossy land naked whilst performing spoken poetry on the stage or performing a sexual interaction with a blue shirt attached hanging by wires whilst his hands created their movement.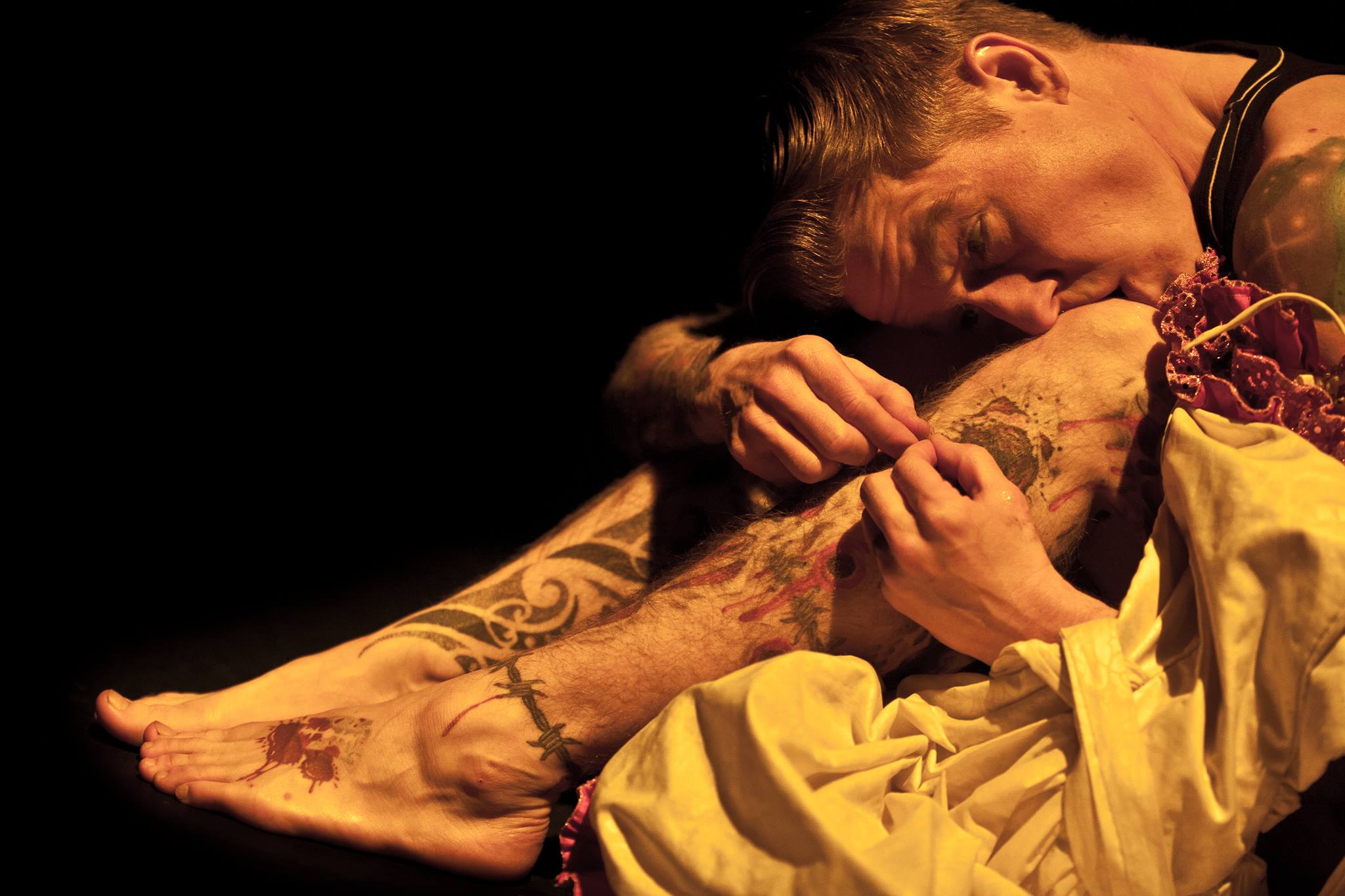 The piece continued to evolve, becoming more macabre and surreal. Trying to figure out how it all connected. Then suddenly in one pivotal moment, everything begins to connect. Everything that myself and the audience witnessed from the beginning of the performance comes to light and Joey stands before us, in his naked form, as we absorb this the riveting reveal and how it's all connected. With Jonathan V. McGrath's directional contribution the piece flows with a steady ease and creativity, helping the piece to excel in Z-Art's large performance space.
diRTy is a fantastic, open hearted and challenging piece of theatre that let's these talented performers express in a way that creates a bond with us to communicate about the subject matters of gender identity and personal secrets. Joey also lets the audience share their views of the piece and the struggles they have been through emotionally, and speak about other subjects that the piece raised. Sharing and communicating with each other like a collective, it showed the power of Joey's piece and how it could be used as a platform for people to be open, talk and come together as the Beatles would say.
Joey Hateley is a brave and provocative performer who has puts his heart and soul into this ten year project which in the end succeeds. This is a fine example of what theatre can do to open doors and bring light to certain taboos that people can come together and discuss as a whole.
This was the Z-arts Manchester preview of diRTy, which opens before touring at DaDaFest international disability arts festival, The Bluecoat, Liverpool on Wednesday 30th November.http://www.dadafest.co.uk / 0151 702 5324 www.thebluecoat.org.uk
Reviewer: Luke Richards
Reviewed: 9th September 2016
North West End Rating: ★★★★★