Sometimes there are moments in your life when you know you have been touched by something a little special. I am in no way star-struck nor am I going to get all gooey and gushing and tongue-tied when in the presence of film royalty; but I do know when I have witnessed something really quite unique, and this evening was one of those times.
Sitting on chairs which looked like they belonged in Buckingham Palace rather than a theatre, and dressed impeccably in evening wear and diamante, this 83-year-old star proved she was still as sharp as a knife, and came across as intelligent, fun-loving, sincere, extremely down-to-earth and still very much in control!
Seated opposite husband number 5, Percy, who acted as host and a foil for the audience's questions, and in front of a large screen upon which relevant stills and clips of her career were shown throughout the evening, she chatted about her life taking questions from the audience.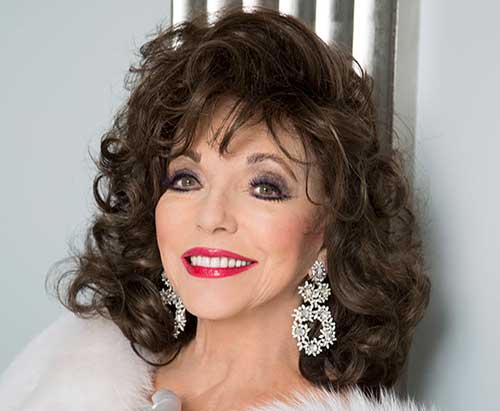 Although there must have been a certain 'format' which these evenings take as this her new show tours the country; nothing can prepare her for the totally spontaneous questions which will undoubtedly be different each night, and her alert and quick-witted responses to these were as good as any A-list stand-up comedians'. When asked by one audience member to proffer advice on her rather stagnant, uneventful and boring monogamy having been with her partner for 23 years, 17 of which she was engaged, Joan's answer was simple, "Leave him!"; and when another rather plucky chap asked her about the time she appeared on 'Good Morning Britain' wearing the same dress as Piers Morgan, she replied, "Wait 'til I tell Piers that! - don't you mean Susannah Reid?" Her husband then cut in and asked her, "Why what could you have done, gone home and changed?!" "No", retorted Joan, "but she could have!"
The subjects ranged from her early years living in London and being evacuated during the Blitz, through to her leaving for 'the cool, crazy and jolly good' Hollywood at the age of 21 and being attached to a studio, and living the glamorous high-life of parties with stars, name-dropping along the way. Her career highs, with Dynasty proving to be not just her but the audience's number one choice, and also her career lows too as she talked about working on a horror B-movie called Empire Of The Ants. I would have thought at this point someone might have mentioned her roles in The Bitch and The Stud, both films semi-pornographic and based on her sister's novels, but no-one did. She did talk about her sister Jackie though, and you could tell her love for her now sadly passed-away sister was genuine, saying that even from the age of ten Jackie would write stories - very good stories - which she would illustrate since at that time she harboured a desire to be a costume designer - something which has stayed with her all her life, as she designs her own clothes still, and has designed many of the clothes she has worn in her films, and most of her clothes on Dynasty. She talked about alternative career choices, [costume designer and a private detective]; her beauty routine [she swears by ice. Ice cubes wrapped in cotton wool on the eyes, or even immersing your head in a bucket of ice]; and she talked about the problems in her life too - an acrimonious court case which she won and the tricky and often almost impossible balancing of her career with being a mother of three young children.
I think my favourite anecdote of the evening came when Joan talked of her interview with Joan Rivers, who asked her, "which husband was the best lover?" to which her riposte was, "why, yours dear!"
For all the glitz and glamour, Dame Joan is an extremely centred lady with a 'take-me-as-I-am' approach to her life and career, which at 83 is still blossoming [although maybe not on Hollyoaks!], and she is always ready with a witty put-down and a glint in her eye.
What a truly inspirational icon, and one of the last stars to have lived through that wonderful 'Golden Era' of Hollywood. The standing ovation could easily have gone on for much longer, but Dame Joan cut it short with her final thought for the evening, "I live my life as if every day will be my last - one day it will".
Reviewer: Mark Dee
Reviewed: 12th September 2016
North West End Rating: ★★★★★