I cannot remember a night in a theatre I have enjoyed more. Tonight's performance was Flawless, Fantastic and entirely Fabulous!
Chicago is an extremely popular show and the packed theatre demonstrated that its appeal has not diminished, even after four decades. I've had the pleasure of seeing this in the West End of London in the nineties and it remains as fresh and vibrant as ever.
The entire cast, from the "boys and girls" right through to the selection of former soap stars, produced stellar performances, working together like one well-oiled, sinuous, sexy machine. The ensemble play multiple roles: singing, dancing and acting as compères; complementing and enhancing the central characters.
Hayley Tamaddon (Coronation Street and Emmerdale) as Roxie Hart, John Partridge (Eastenders) as Billy Flynn, Jessie Wallace (Eastenders) as Matron 'Mama' Morton joined West End star, Sophie Carmen-Jones as Velma Kelly; but their performances more than matched in energy and indeed class, after all John and Hayley are seasoned musical performers themselves. Each of them had a sparkle and a sizzle that was so much fun. I particularly liked Sophie's cheeky and charming characterisation, she really connected with the audience, I loved it.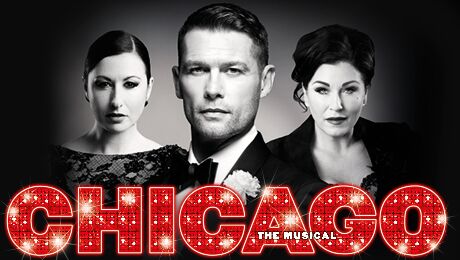 I knew Jesse had a fabulous voice, having seen her on TV as Marie Lloyd; and moving from playing the Queen of the Music Hall to Queen of the Cell Block was a perfect fit. The fact that Jesse has joined the UK touring cast, half way through the run, is equally impressive because the fit is seamless.
Neil Ditt and A.D. Richardson, as Amos Hart and Mary Sunshine also deserve merit. They created humorous characters which the audience warmed to in equal measure. A.D's vocal gymnastics was one of a few surprises Mary Sunshine had for us. I particularly liked Neil's rendition of Mr Cellophane, the arrangement gave him the right amount of space to create empathy and pathos, a beautiful performance.
Finally, Chicago would be nothing without the wonderful band of musicians lead by Musical Director Ben Atkinson. Quite rightly they were centre stage and they were allowed to take the spotlights too. Usually after a curtain call an audience will begin to leave, but the band's enthusiastic final performance stopped us in our tracks.
I cannot recommend this show enough, there isn't anything I can criticise and there is everything to love. The cast and crew continue to achieve the highest standards that are the hallmark of this show; a performance I'm sure John Kander, Fred Ebb and the legendary Bob Fosse (the originators of the show) would be proud of.
Chicago continues its run at the Liverpool Empire until the 17th before returning to the North West End region at the Grand Theatre, Leeds in November. Go and see it!
Reviewer: Alan Harbottle
Reviewed: 12th September 2016
North West End Rating: ★★★★★